Artist Mary Katherine Maddox was considering a career change when the universe sent her a pretty scary sign that it was time to make a move.
The former bank employee had been dreaming of a more creative life, when a man with a gun came up to her teller window and demanded money. "Well, if that's not a sign," Maddox said. That evening she went to dinner with friends to calm her nerves and figure out a plan to move forward. Flash forward almost 7 years later and she's pursuing a life full of creativity as her jewelry and art business M.porium thrives.
"I've always liked to make jewelry, and I like to wear one-of-a-kind things," Maddox said. "I just wasn't sure how to make it unique." The answer came through antique and thrift shopping with her mom. "We'd find boxes of keys, buttons and tags," she said. "We treasure hunt, and I use what I find."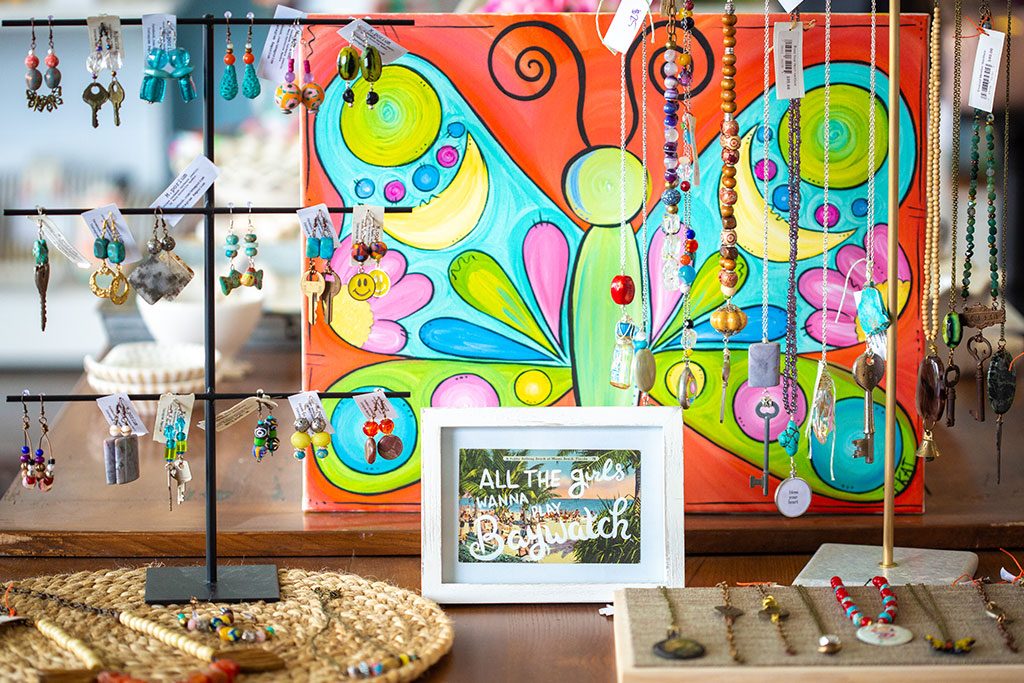 Recycled jewelry and vintage pieces are on-trend at the moment, so Maddox is ahead of the curve. To keep her work interesting, she's always looking for ways to make items even more unique with beads and gemstones.
But making jewelry isn't her only talent. A year ago, she started selling her paintings, making some for herself, and putting some up for sale at Studio Slant. Those paintings were usually bright, pop art pieces that were fun, but had a very different vibe from her jewelry line. While she still makes wonderfully colorful pieces, she developed a more muted style to match her jewelry vibe.
To be more cohesive with her M.porium brand, Maddox started making what she calls "remix paintings." These works of art are made by taking a less-than-desirable old painting and giving it some new life with pop-culture-referencing text and updated frames. For example, she took a lackluster painting of a Victorian woman and covered it with the phrase "females are strong as hell"—a reference to the popular Netflix show "The Unbreakable Kimmy Schmidt."
"It's the same idea as the jewelry," she said. "Nobody wants it as is. Nobody loves it. So I put letters over it and give it a makeover."
The response has been great. Maddox regularly sells her creations at Studio Slant and on Instagram and Facebook. People message or comment, and she takes care of the sale from there.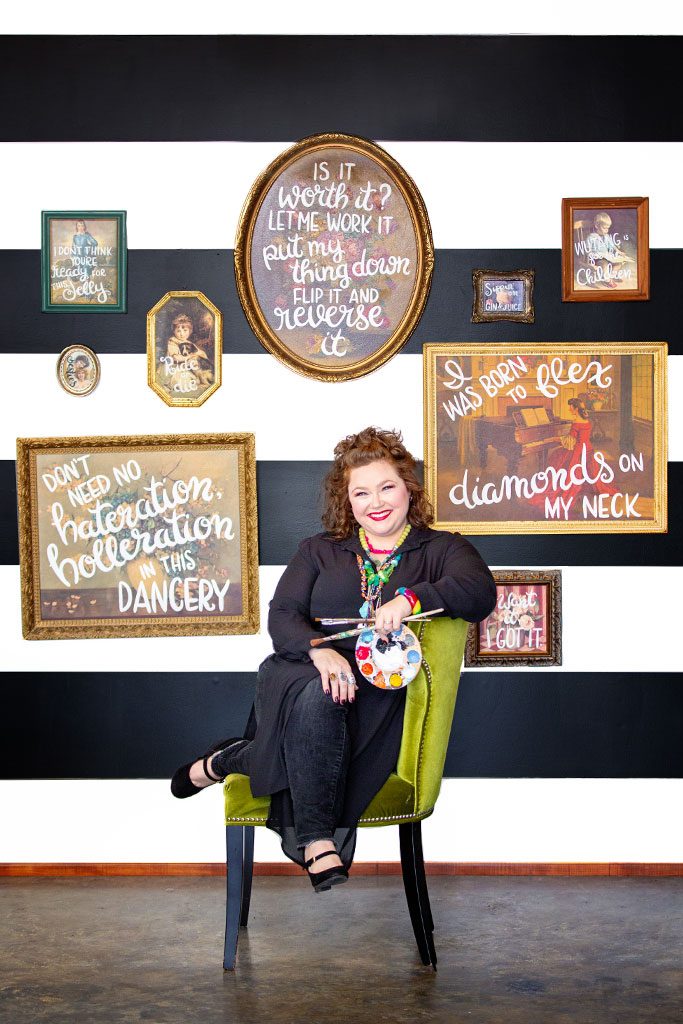 Maddox also enjoys festivals. "I'd love to do more," she said. "I have an angel of a husband and a great group of hype ladies so I'm not there (at festivals) alone. I also just want people to come have fun when they're with me. You don't have to buy something. It's not just about the jewelry. I just want people to come and be a part of what I'm doing."
Maddox didn't get to this point alone. "I wouldn't still be doing this if it wasn't for Christy Chaney and Katherine Taylor (of Studio Slant). Imposter syndrome is real and they always cheer me on. I'm lucky to know a lot of bad mamajamas that support me."
Overall, Maddox just seems thankful to have the freedom to be creative for a living. "Creative things are so undervalued, but they're what make life so great," she said. "I want the lady who wears my earrings to feel like the coolest gal in the room. I want my artwork to make people smile when they see it in their homes every day. Little joys add up."
Find Maddox on Facebook at
facebook.com/mkmporium or Instagram
at @mporium.