The Farmhouse style has gained a lot of traction in recent years. Thanks in part to Chip and Joanna Gaines and their show "Fixer Upper," reclaimed wood, vintage prints, and bright, neutral paint schemes now adorn many American homes and Pinterest boards. But when Danielle and Daniel Hayden dreamed up the idea of the Hayden Farms Education Building at their chicken and cattle farm, function was just as important as form.
It Started with a Sketch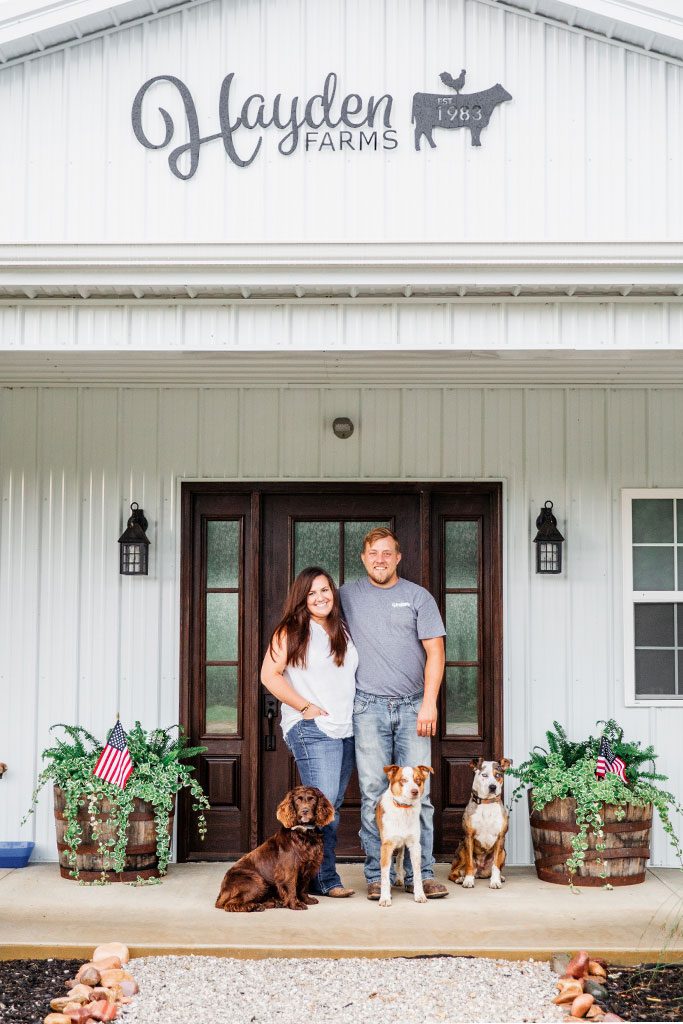 "Two years ago this was all a sketch on notebook paper. I used colored pencils and graph paper, blocked it all out, and then Dan made it happen and built it," said Danielle Hayden, Farm Communications Specialist at Hayden Farms. Danielle and her husband Daniel run Hayden Farms, a multi-generation chicken and cattle farm on the outskirts of Daviess County. Two years ago, the Haydens dreamed of a place where they could host and educate farm visitors on the inner workings of their operation.
"Our idea was a glass walls approach to farming," Danielle said. "With chickens, you have the biosecurity risk, so you couldn't just bring people with germs on their feet into a chicken house. With the viewing room, we can bring them in and see everything because it's all glass wall in there, and experience it without affecting the birds."
They took the idea of a glass walls approach quite literally. A year later, they were hosting a ribbon cutting at the new Hayden Farms Education Building and chicken house viewing room, the first viewing room of its kind in the nation. Featuring oversized windows inside the control room, visitors get a sneak peek inside the chicken house without disturbing the birds. "There's not a lot of accurate and correct knowledge about how chickens are actually raised," Daniel said. "We thought we'd take the proactive and transparent approach at our new operation, which led to the building of the viewing room."
In true farm-to-table fashion, the Haydens didn't want to stop the education at the viewing room. They designed the kitchen inside the Education Building for cooking demonstrations, food safety workshops, and catered events.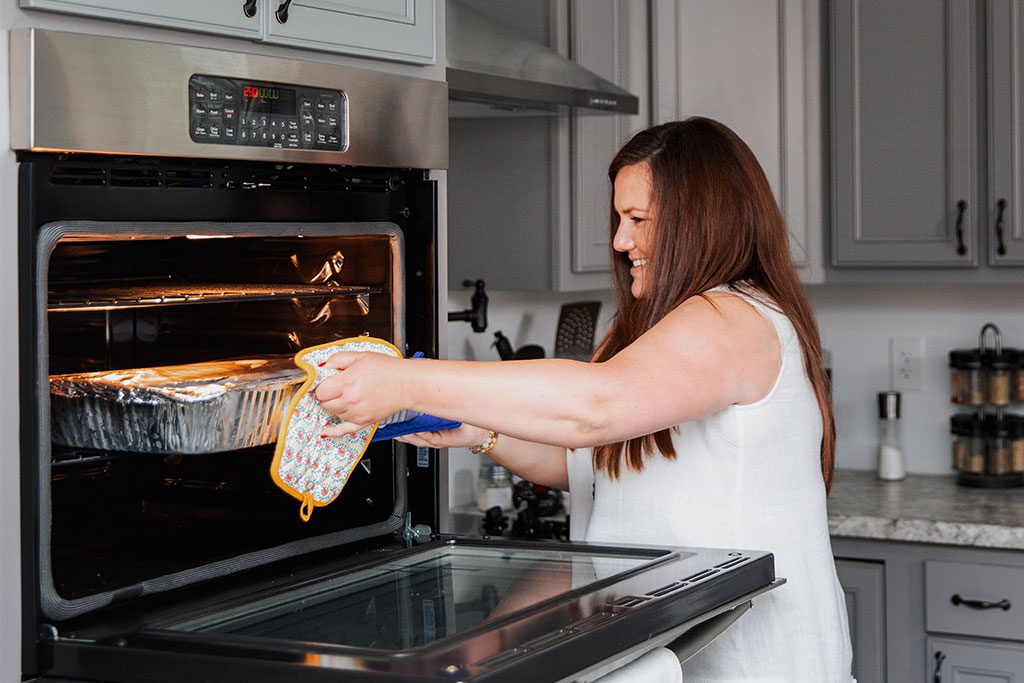 A Focus on Functionality
As an operating farm with workers in and out all day, the Haydens knew fancy flooring wasn't an option. They decided on a finished concrete floor spanning the entire Education Building. "We don't want the guys to have to take off their boots every time they come in. We wanted something that would be easy to clean and a floor that can handle the wear and tear of our lives," Danielle said. "It's nice because now we have this area where the people who work here are able to have a space to come in that's their own, make lunch, and take a break because they work really hard around here."
Where most home kitchens of this size would have an island, Danielle and Daniel knew this was going to be a busy kitchen. To keep everyone from stepping on toes, they decided to keep an open kitchen layout. "We wanted a really wide kitchen because we always envisioned this as a catering kitchen," Danielle said. "I know I've been in situations where there's a bunch of people in the kitchen, and you're all doing different jobs and running into each other."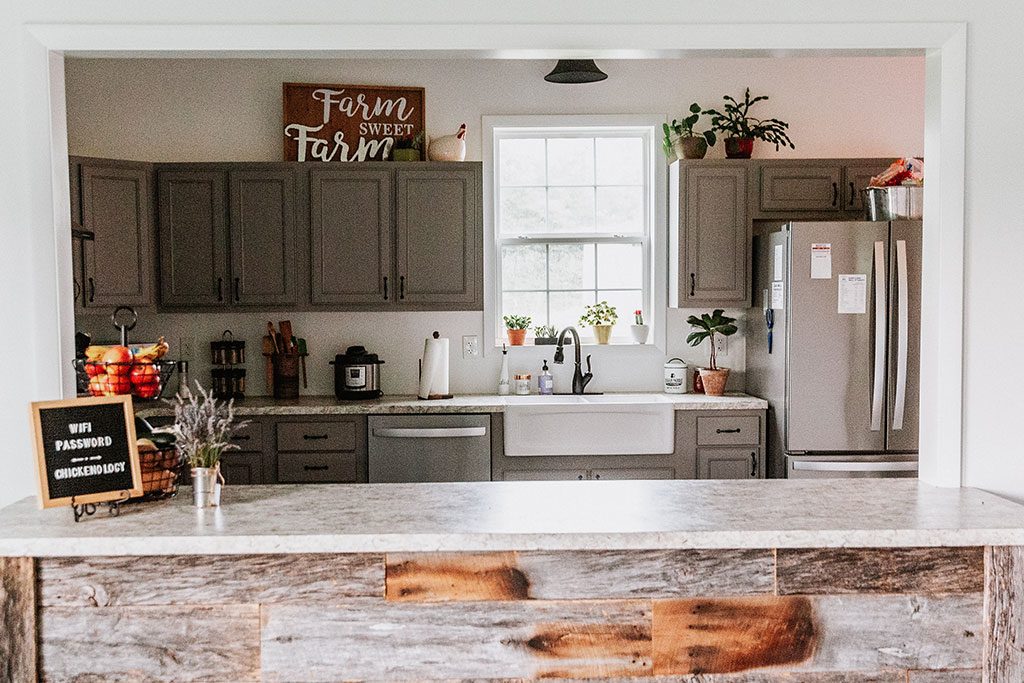 When people think of Farmhouse kitchens, they usually picture white cabinets, but Danielle said white wasn't ideal for them. "I didn't want white cabinets in a farm kitchen because even though that's traditional farmhouse, it's really not functional for actual farm living because it's always dirty, so that's why we went with gray." White paint did find its way on other parts of the kitchen. As a full-time photographer, Danielle realized the importance of white walls and ceilings when it came to helping light her photographs.
Everything (Especially) the Kitchen Sink
When asked if they had any non-negotiables while designing their Education Building's kitchen, Danielle had a couple—a farmhouse sink and pot filler. "My mother-in-law and I both have large gardens, so canning is a big part of our summer. That's why we went with a lot of counter space and pot filler," Danielle said. "I really fought for the farmhouse sink, and it has been wonderful. A sink that big works well for hosting big events because it's easier to fill the large lemonade and water pitchers. Plus, I think it just looks amazing."
"Did I have any non-negotiables?" Daniel said with a chuckle. "No no, as long as my wife is happy, I'm happy."