Mark Bolton is the Chef de cuisine at one of Nashville's most popular restaurants, Rolf and Daughters. But before his career took off in fine dining, Bolton had to start somewhere. For him, that starting place was Owensboro.
Bolton began a career in the restaurant industry working as a cook at Owensboro Country Club. For two years, Bolton learned the ins and outs of the kitchen—how to properly maneuver a knife when slicing, how to prepare and present dishes for guests and, above all, how to cook. All of this prepared Bolton for a career-defining choice he was about to make.
"I was probably 17 or 18 when I started at Owensboro Country Club," he said. "I moved to Chicago at 20 years old."
Compelled by a desire to live in a bigger city and do something "really different" with his creativity, Bolton packed his things and headed for the Windy City, where he enrolled in a one-year culinary arts program.
As willing as Bolton was to hone his skills, he found himself disappointed with the culinary program. Chefs and cooks taught students to make dishes at too fast a pace to truly understand the craft. Even more, Bolton was frustrated that the program focused so much on the basics—things he'd already learned to do while in Owensboro.
"I tell people now, 'Just save your money,'" he said. "I tell everyone who wants to become a chef, 'Just go to a kitchen somewhere. Start from the bottom and work your way up'. You just learn so much more by being in it and getting the repetition down."
After school, that was exactly what Bolton did. He worked at Chicago's BOKA for five years before landing a job at TRU—a Michelin-star French restaurant in the Streeterville area of Chicago. After moving to San Francisco for two years, Bolton returned to Chicago and opened up not one, but two different restaurants—Smith and The Loyalist.
There was some pushback Bolton encountered while trying to get Smith and The Loyalist off the ground, but once he broke those barriers, Bolton opened two highly successful restaurants, and they remain successful to this day.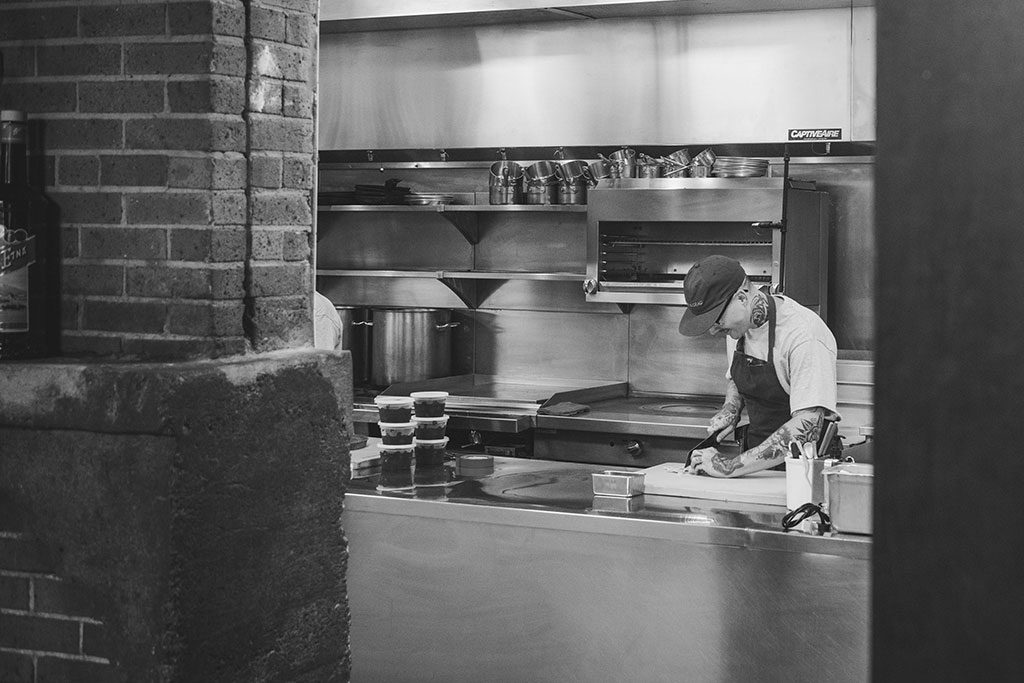 Now, working as the Chef de cuisine at Nashville's Rolf and Daughters, Bolton feels he's hit his stride.
"I was looking for a place not so busy, where I could have a home and a yard," Bolton said of his move to Nashville. "I'd been to Nashville and loved it."
After speaking with the owner of Rolf and Daughters, a connection was made between the two of them, Bolton said. He and his fiance were living in Nashville only two weeks later.
"I get to control the whole menu," he said of his role. "Our philosophy is, we get every single product from a farm [in the area]. We focus on whole animal butchery—we utilize every part of the animal."
Agriculture is huge in the Nashville area, Bolton said, which makes his restaurant's farm-to-table approach even more lucrative.
"There's so many farms here. There's no reason you wouldn't source from here," he said. "Winter's a different animal, though. I got here in mid-January 2018, and there wasn't much produce to choose from, so I tried to hone in on it."
Because of Bolton's idea to have farmers store parts of their harvest during winter, he single-handedly spearheaded a new farming technique in the Nashville area. Bolton said the storage of crops during off-seasons makes it much easier for chefs to utilize produce for their winter menus.
Rolf and Daughters features an ever-changing menu that is manifested through Bolton's creativity and skill and, after six and-a-half years, the restaurant has maintained a 4.7 out of 5 rating on Facebook.
"Rolf and Daughters opened in 2012 in the midst of a restaurant boom, but even with all the new options in Nashville, it has remained one of the hottest tables in town," said a critic from food and drink travel guide site AFAR. "The restaurant feels welcoming with its dim lighting, brick walls and locally-made Holler Design furniture."
Serving dishes that range from squid ink paccheri with octopus, to chicken with preserved lemon and garlic confit, patrons can find the abstract, the classic, and the-everything-in-between at Bolton's restaurant, and that's all by design.
"We've built trust with our diners where we can do some creative stuff," Bolton said. "We don't do weird combos. We're just trying to pull all these flavors from beautiful produce we get. I'm always thinking, 'How can we make this better? What if we did this instead?'"
In the end, Bolton said everything he changes—from the oil used in a certain dish to the city in which he lives and works—is done with a single purpose.
"We change to evolve," Bolton said. "Sometimes change can be tough on guests, but when someone in your restaurant tries something new, something they aren't sure about, and then you see their face light up when they taste it, it feels pretty amazing."