Countless opponents have absorbed the pounding defeat of his immense hands. Numerous dignitaries have had the honor of receiving a firm, confident handshake. Millions watched as those powerful hands trembled resiliently as they lit the final torch at the 1996 Olympics in Atlanta, Georgia. Yet only one man can say that he has held Muhammad Ali's hands inside of his own in order to immortalize Ali's legacy through the gesture of a gentle thumbprint.
The Muhammad Ali Center in Louisville, Kentucky was founded in 2005 with the mission "to preserve and share the legacy and ideals of Muhammad Ali, to promote respect, hope, and understanding, and to inspire adults and children everywhere to be as great as they can be." After eight years, "the Muhammad Ali Humanitarian Awards were created in 2013 as a way to publicly recognize and celebrate the greatness of people from around the world." When considering a design for the awards, the Ali Center contacted local glass artist, and founder of Flame Run Glass Studio, Brook White. They approached the Owensboro native about creating a one-of-a-kind art piece that would recognize others and propel Ali's legacy into the future while he was still alive. Initially, they came to Brook with the idea of symbolizing Ali's strength in some way, and suggested doing a glass casting of his hands. Knowing how long this process would take to set up and how much heat it would require, Brook had concerns about the idea and did not want to cause "The Champ" any unnecessary discomfort. Brook finally contacted the Ali Center with a plan that would not only afford him the opportunity to meet the legend, but preserve the boxer's legacy for years to come. When asked what he had come up with, Brook stressed the need to meet the boxer in person. Brook says that they sounded surprised and almost a little doubtful at first, but when he finally shared that he needed Ali's thumbprints, there seemed to be an audible sigh of relief, and perhaps even that of delightful interest.
The meeting was quickly arranged and took place on a late afternoon in August at a downtown Louisville hotel. Brook was given twenty minutes to work with Ali and obtain his thumbprint. Brook recalls of the experience, "I got to be in his presence for a short time. It was a little bit sad, but so much was cool about it." Although many people feel that Ali was just a shell of a man after being diagnosed in 1984 with Parkinson's disease, a progressive disorder of the nervous system that affects movement, Brook says, "He was in there. He smiled. His eyes kind of lit up. He was aware of what we were doing. He would put his thumb in the ink and do it himself." But what Brook marveled at the most was the size of Ali's hands. "His hands were huge. My hands looked like my ten-year-old's hands in his." Thankfully, Brook's friend, graphic designer and photographer, Matthew Gotth-Olsen was able to capture a compelling image of this encounter.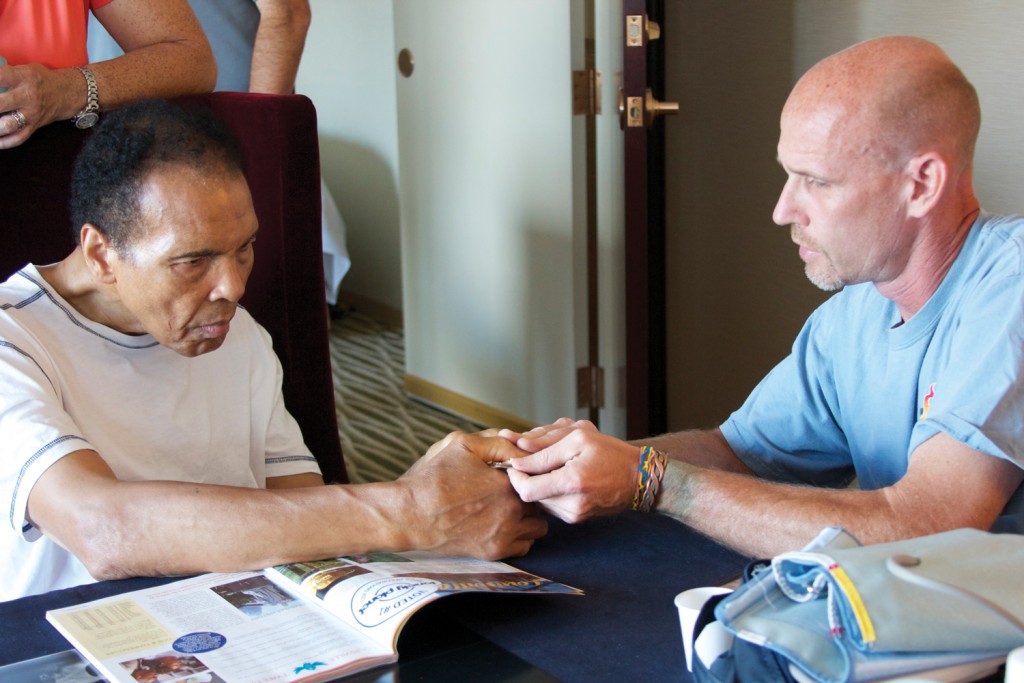 While it may seem that obtaining Ali's thumbprint may have been the most difficult step, it was shortly after that the real work began. There were two levels of awards established, so two unique designs had to be created. A larger award would be given to the Kentucky Humanitarian of the Year, the Lifetime Humanitarian recipient, and the overall Humanitarian of the Year. These pieces were designed to be "an art piece in and of themselves" that featured "a magnification of Ali's thumbprint as an abstract design on the surface." In order to accomplish this, a piece of deep blue blown glass was rounded and flattened in the hot shop. Once it cooled, Brook and his team began the intricate process of adding the thumbprint. First, the print was blown-up, and then the vessel was covered with a thick, rubbery vinyl material, rubbed with charcoal, hand-drawn with Sharpie, and cut out with an X-Acto knife. After this, the piece was sandblasted for nearly two hours to give it natural ridges and a three-dimensional, textured feel. In all, Brook says it often "takes longer to sandblast a piece than to physically create the piece." When complete, the design had an abstract feel like that of a river or body of water, but Brook says it was about "taking something that is his (Ali's)" and sharing it with others, remembering that beauty is in the eye of the beholder." In the last three years, Brook has had the honor of seeing such big names as Harry Belafonte, President Jimmy Carter, Christina Aguilera, Michael Bolton, Common, Gina Davis, Susan Sarandon, and Jim Brown receive his beautifully crafted pieces. He has even had the pleasure of meeting both Sarandon and Brown at the event in downtown Louisville.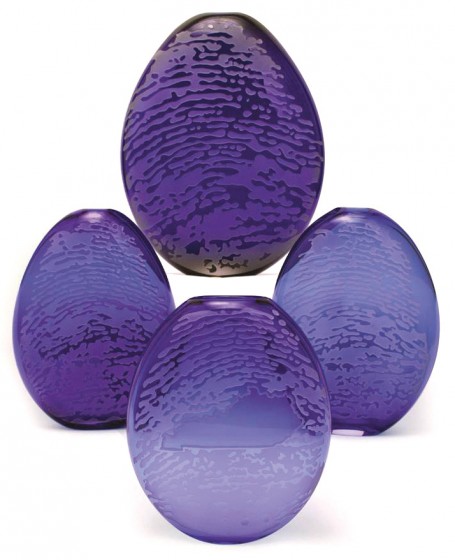 In addition to the Humanitarian Award, another award was created to recognize six young people, ages thirty and under, from around the world that served as role models by adhering to each of Ali's Six Core Principles: Confidence, Conviction, Dedication, Giving, Respect, and Spirituality. This smaller award consisted of hot-sculpted glass in a lighter blue color surrounding a yellowy-orange flame, which was then combined with a high resolution scan that allowed "The Champ's" life-size thumbprint to be etched into the glass. There was no intended connection between the image of the flame and Ali's infamous Olympic flame lighting. Instead, Brook says that the piece was created more as a symbol of Ali "passing on the torch" to future young leaders. He also noted that while the flame awards all resemble one another, each is unique, and is directed by "whatever my artist's vision is that day."
Although Brook can't pinpoint exactly when, he says that he has always been captivated by Muhammad Ali. He remembers watching him on ABC's Wide World of Sports as a young boy. He loved that Ali could be "funny, witty with his lines, intelligent, and sincere, yet he wasn't scared at any point to stand up for himself." Brook's admiration for Ali continued to grow, and shortly after he moved to Louisville, the Muhammad Ali Center was constructed. Brook says, "For me it was a gradual education of who he was as a person, rather than the character portrayed on TV." A short while later, Brook was inspired to create a unique piece of art that would represent the letter "A" for Ali in a book entitled L is for Louisville. The art piece featured purple glass with a butterfly etched on one side and a black and yellow spiral with a bumble bee on the other. The piece, which had been made specifically for the book, went to exhibit and, after several months, was returned to Brook's private collection. While he originally crafted this piece with Muhammad Ali in mind, he never dreamed that Ali would ever see it, much less be presented with it by Yum! Brands some five years later. Yet, when he was contacted by Yum! and asked if he could design a piece to honor Ali at an awards ceremony in California, Brook realized that the perfect award had already been created. Knowing that piece was personally placed in Ali's hands and displayed in his home helped Brook to feel that he now had "this connection to him."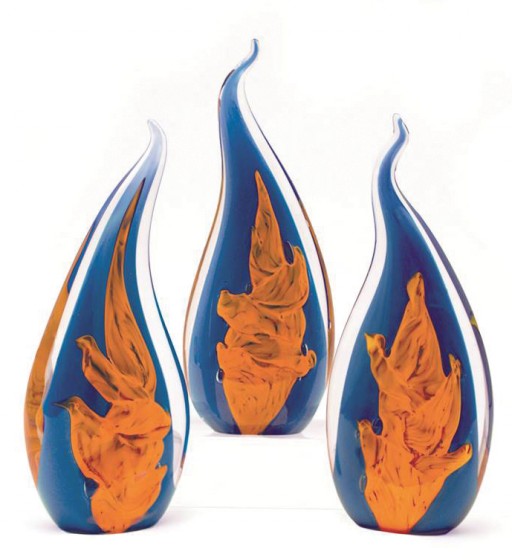 Brook joined the town of Louisville, and the rest of the world, in mourning the loss of "The Greatest" this past June. He watched intently as the nineteen-mile funeral procession passed near the studio, and also assured that he had tickets so that he and his children could attend the memorial service. Brook says that he needed to share this experience with his children because, "A ceremony of this magnitude is one that we will probably not see the likes of again…an internationally-known figure that called Louisville his home. He actually stood for something and was about something." This year the Muhammad Ali Humanitarian Awards are scheduled to take place at the Marriott Louisville Downtown on September 17. In the next month, Brook and his team will begin creating these awards and selecting those that will be used for the ceremony. Even though they have yet to announce who this year's award recipients will be, Brook is looking forward to attending. With the passing of Ali this year, Brook expects this year's awards "to be quite an emotional affair." One thing is for certain, Brook White has been given the unique responsibility of preserving the memory of Muhammad Ali in stunning glass art that demonstrates "him leaving his mark on the world."