Lauren Fitzmaurice has always been creative – from designated sign-maker for her college sorority, to school performances and classroom projects, she incorporates into her role as a local grade school teacher. Though she has tapped into her artistic creativity with handwriting, she never knew her creative niche until she discovered calligraphy.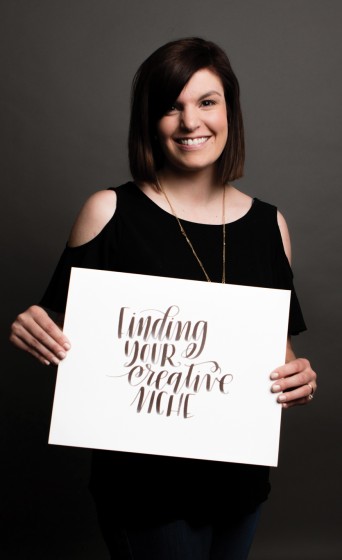 In January 2015, Lauren finished a difficult year, as her youngest child, following birth, had open-heart surgery. After this challenging time was behind her, she decided that in order to be the best mother, wife, teacher and friend she could be, she needed to strike a balance in her life. For Lauren the best way to do that was to find an outlet for her creativity.
From her interest in handwriting, she researched and found calligraphy, or lettering, had evolved into a modern form very popular on sites such as Pinterest and Instagram. Her mother bought her an online calligraphy course that she enjoyed immensely. Within a month, she took her first envelope order for a wedding. Lauren quickly knew this time she spent honing her creativity could benefit others for special occasions. So she decided to carve out two hours a day for her art while kids are asleep or outside and other priorities have been attended.
From there, her business, Renmade Calligraphy, was launched. Renmade was born from a nickname given in college. She was one of six Laurens amongst her sorority sisters, and became affectionately known as "Ren." It's her personal way to deliver a homemade product – Renmade.
Lauren took to Instagram to post work and track her progress as an artist. Though following was slow, she was pleased in August 2015 to have 2,000 followers. But through collaborations with other artists and continued education in calligraphy, as well as being chosen, through application to Tombow Design Team (known for their pens and crafting supplies), Renmade has surpassed 70,000 followers to date. Lauren is amazed and honored that so many people follow her work, and she uses that platform to always encourage others (and herself) with a message of positivity and living creatively.
Lauren is left-handed, and through Instagram, she helps other lefty calligraphers. When she began, she was unsure how this would impact her lettering. As a lefty, she had to teach herself techniques on how to hold her pen. The art does come easier to a right-handed person, and Lauren has put in thousands of hours on how to hold her pen or brush, as well as learning to use muscles in the forearm to keep her hand floating so as to prevent the smearing many people face while writing with their left hand. Though she admits she still has the occasional smear, she agrees practice has helped minimize lefty pangs. In addition to learning new techniques for herself, Lauren gives tips to her followers to help them achieve the best result.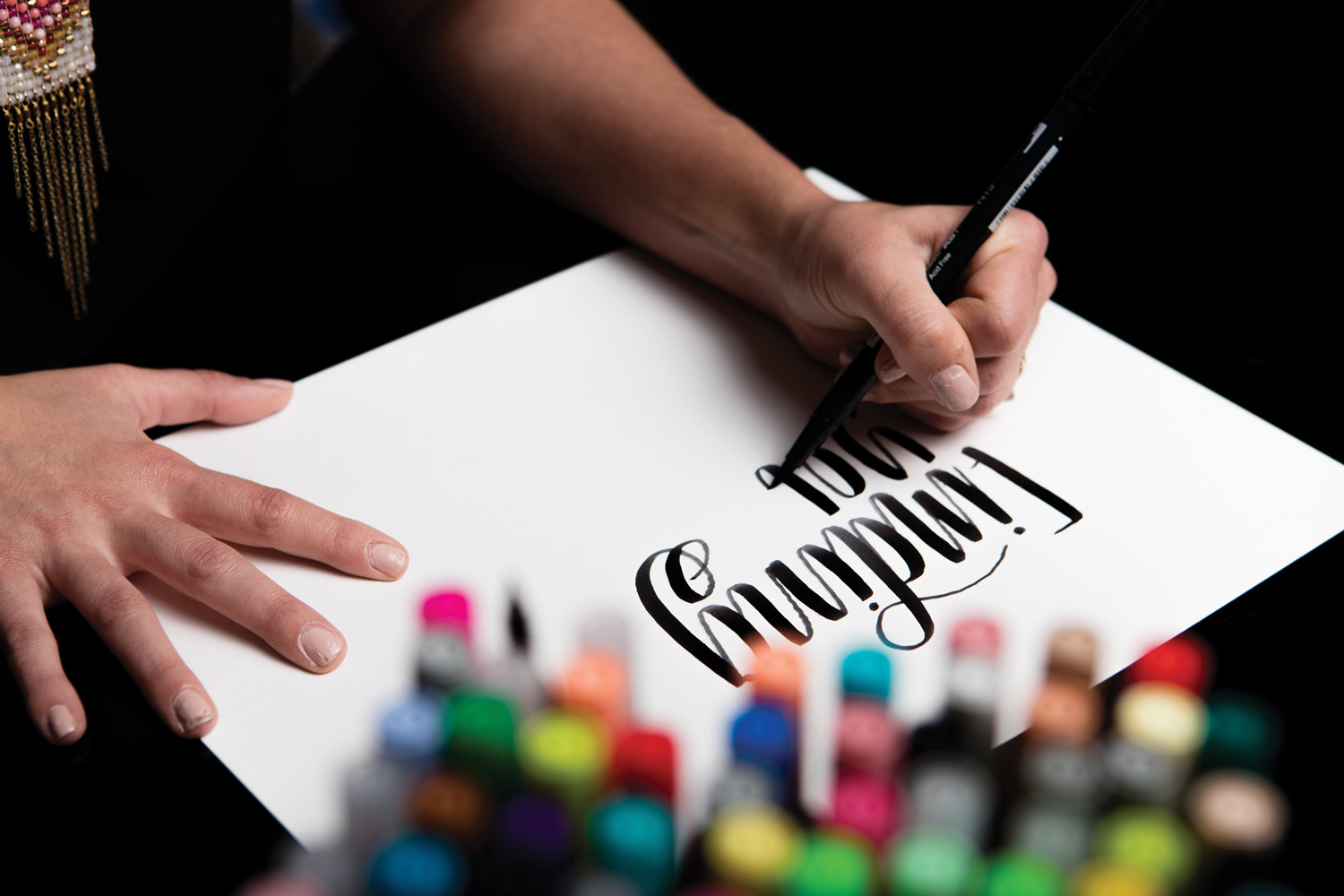 She works with many others, spanning the globe, in a community called "The Letter Lovelies." This platform allows Lauren and others to share their work.
Her first loves are family and teaching. Her children are creative by legacy, as her husband is an art teacher. Add that with Lauren's passion for art, and it's easy to see why her four-year-old has already expressed interest in playing with brush pens – like mother, like son.
As Lauren looks to the future, she will continue to hone her craft, and plans to host workshops that help other lefties find tips to share their love for modern calligraphy. To keep up with the growing interest, she is learning Photoshop and Illustrator to further enhance her creativity and turn her work into digitized prints to sell in her online shop. Lauren is excited to use the position on Tombow's Design Team to provide insight and encouragement to other artists to share their work.
Renmade Calligraphy shouldn't be just a challenge for people to take up lettering, but Lauren says she hopes that others will find something that makes them happy, "whether it's cooking, writing, lettering, anything. Calligraphy has enhanced my whole life, as a teacher, wife, and mother of two. I'm better for others. Just find a couple of hours to yourself and practice being creative – live creatively!"
For more information about Lauren and Renmade Calligraphy follow her on Instagram (@renmadecalligraphy) or at renmadecalligraphy.com.