Justin Marks, Stewart Ijames, Cole Sturgeon and Neil Holland have traveled similar paths to get where they are today. Like millions of boys in America, they grew up watching baseball and dreamed of playing in the big leagues one day. Like thousands of kids, they spent countless hours on the little league fields here in Owensboro.
All four played baseball at Owensboro Catholic High School within five years of each other. Continuing on, they even stuck together and played college baseball at the University of Louisville.
It was Justin who set the precedent of playing at UofL after Catholic High. Stewart and Neil were both considering going to Ole Miss to play for Coach Dan McDonnell's Rebels baseball squad. But when McDonnell was named coach at UofL in 2006, Stewart and Neil decided to follow him to Louisville and rejoin Justin. Cole made his way to Louisville a few years later.
After enjoying successful collegiate seasons and being drafted, the four friends are now working their way up Minor League systems in hopes of breaking into Major League rosters.
They are all going their own ways now, but their friendship is still as strong as ever – as you'll see in this interview. Owensboro Living caught up with the former Aces/Cardinals prior to spring training to get an update on their respective 2016 seasons.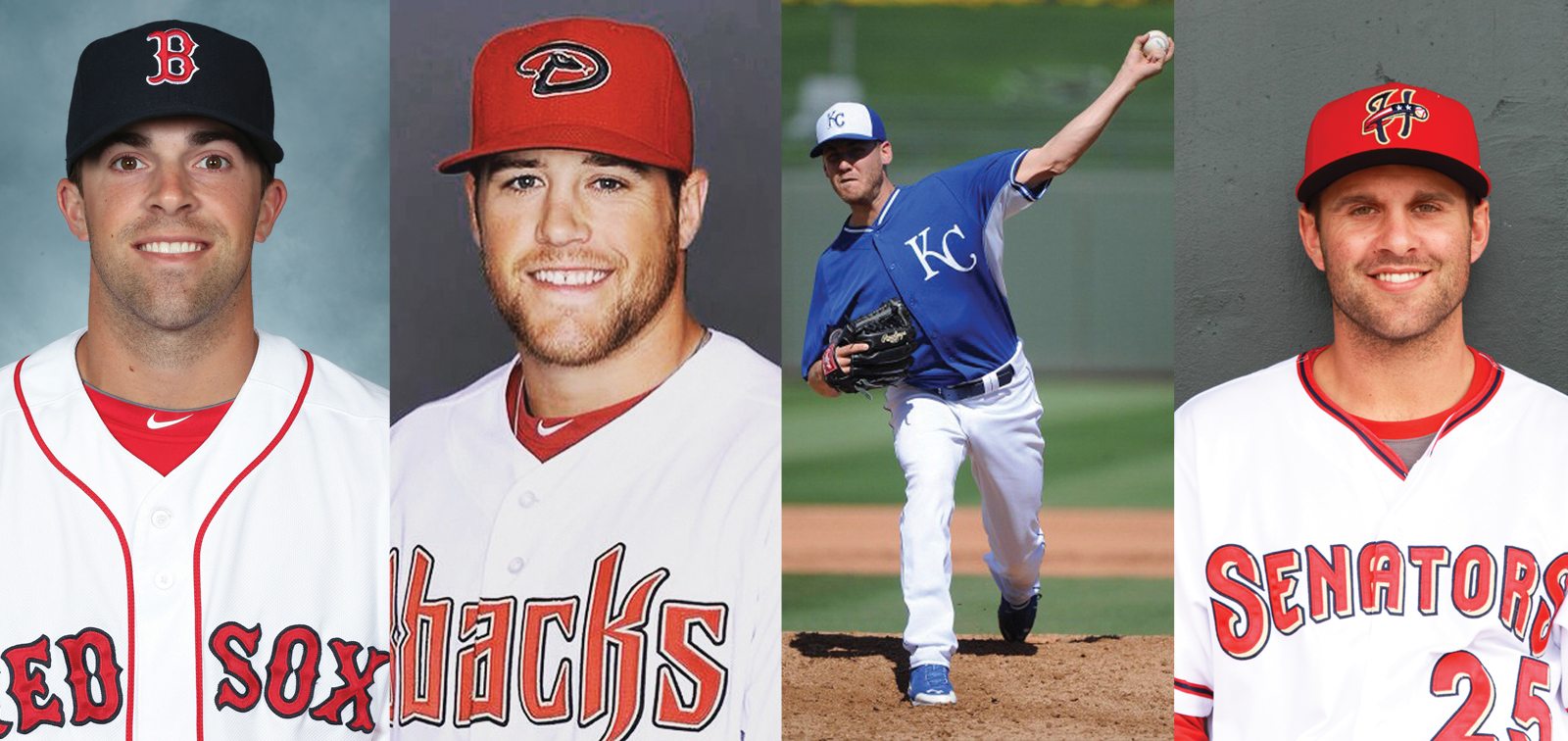 First, can you give our readers an update as the 2016 season begins?:
Justin – I was holding off this year, not sure of what I wanted to do. I wasn't really sure if I wanted to retire or not, but a good opportunity presented itself with the Tampa Bay Rays. I didn't want to just sign with any team. When the Rays called, it seemed like a perfect opportunity: finally being on this side of the country; not playing out west; being closer to family; they needed left-handed pitching – it seemed meant to be. We'll be down in Florida for spring training, so we're excited about it.
I'll be reporting to big league spring training to compete for a spot, so we'll see how it goes. It gets my name out there, so at least they'll be able to see me pitch in spring training, then hopefully they'll call me up if they need help this season. If I don't break with the team and stay in Tampa, then I'll be in Triple-A, which is in Durham, North Carolina. Chances are favorable – there are always trades and sometimes injuries happen.
Cole – This is my second spring training. I ended last season in Portland, Maine with the Seadogs in the Red Sox organization. I spent most of last season in Salem, Virginia, which is High-A, went up and down twice, and ended up in Portland, so that's where I'm starting this year.
Neil – Well, last year was a frustrating year for me. I had my best season in 2014, and I moved up from Double-A to Triple-A. They invited me to the Arizona fall league, where I had a heavy pitching schedule and started experiencing some elbow pain. I took some time off, then had bone spur surgery in May, but it got even worse, so I had Tommy John surgery in August. After rehabbing for six months, I'm finally throwing again. I have two months of season left with the Washington Nationals. When my contract runs out, hopefully they'll pick me back up as a free agent.
Stewart – I ended last season right where I started the year, in High-A with the Arizona Diamondbacks. But I feel very fortunate and very blessed to be where I'm at. I think I've got a better chance of getting into the Major League right now than I ever have.
What do you mean by that?
Stewart – My route was a little different than these guys. I played in the Independent League after college, but it all happened the way it was supposed to. If I had signed out of high school, I would not have developed my game the way I needed to in college. If I had signed in college, I wouldn't have developed mentally like I did in the indy league. Playing in the indy league is a slower pace than college, so it allowed me to settle into my game and have fun with it. Now it has all come together for me.
Moving up from High-A to Triple-A sounds like a roller coaster with lots of ups and downs.
Cole – It definitely feels like that. It's hard to keep up with. I'm living it and it's hard for me to keep up with. [All laugh.]
Stewart – Let's see, in the past year and a month, I've played for five teams, so that gives you an idea.
Justin – It gets better as you move up to Triple-A. But I remember being where they are at, in Single-A and Double-A. Those first couple years can get crazy.
Just for fun, who was your favorite player to watch growing up?
Justin – We watched the Cardinals a lot growing up. Ozzie Smith and those guys.
Neil – Me too. I liked David Eckstein. I really didn't watch many pitchers. I was a position player back then, so I watched short stops and second basemen. I really liked watching Josh Hamilton in the beginning of his career.
Cole – My dad was a huge Red Sox fan, so that's who I watched a lot growing up. I got really lucky being drafted by them. I remember when they won the World Series in '04. There's a lot of history with them, so to be a part of it now is pretty cool.
Stewart – Whatever team Ken Griffey Jr. played on. Mostly the Mariners. I used to burn his swing into my mind and try to be like him.
What about a current player?
Justin – I got to be a part of that Kansas City Royals team that went to the World Series and the ALCS the year before. I can't pick a certain name out, but it was the way they carried themselves. They were such a tight-knit team. They showed you how winning is done – it's not always about the superstars. So that was fun to watch. I saw a lot of guys on that team with a really good work ethic.
Cole- I've been fortunate to be around some guys I grew up watching. Obviously seeing David Ortiz and Dustin Pedroia was pretty cool. But also some of the young guys like Mookie Betts and Jackie Bradley, who I watched in college playing in the College World Series when they were on the verge of being superstars. To be in the dugout with them last spring training was pretty cool – and to be able to pick their brains and see how they go about it.
Neil – I like watching pitchers, especially the Mets pitching staff. I'm a sidearm thrower now, so Darren O'Day is who I watch and study the most. The catcher who caught me was actually Darren's catcher in college, so he helps me a lot by telling me things that Darren did.
Stewart – I like to watch players who make the game exciting. Manny Ramirez, David Ortiz, and Miguel Cabrera. And now it's Mike Trout, and Bryce Harper. These guys play the game well and have a blast doing it. That's how I try and play the game also.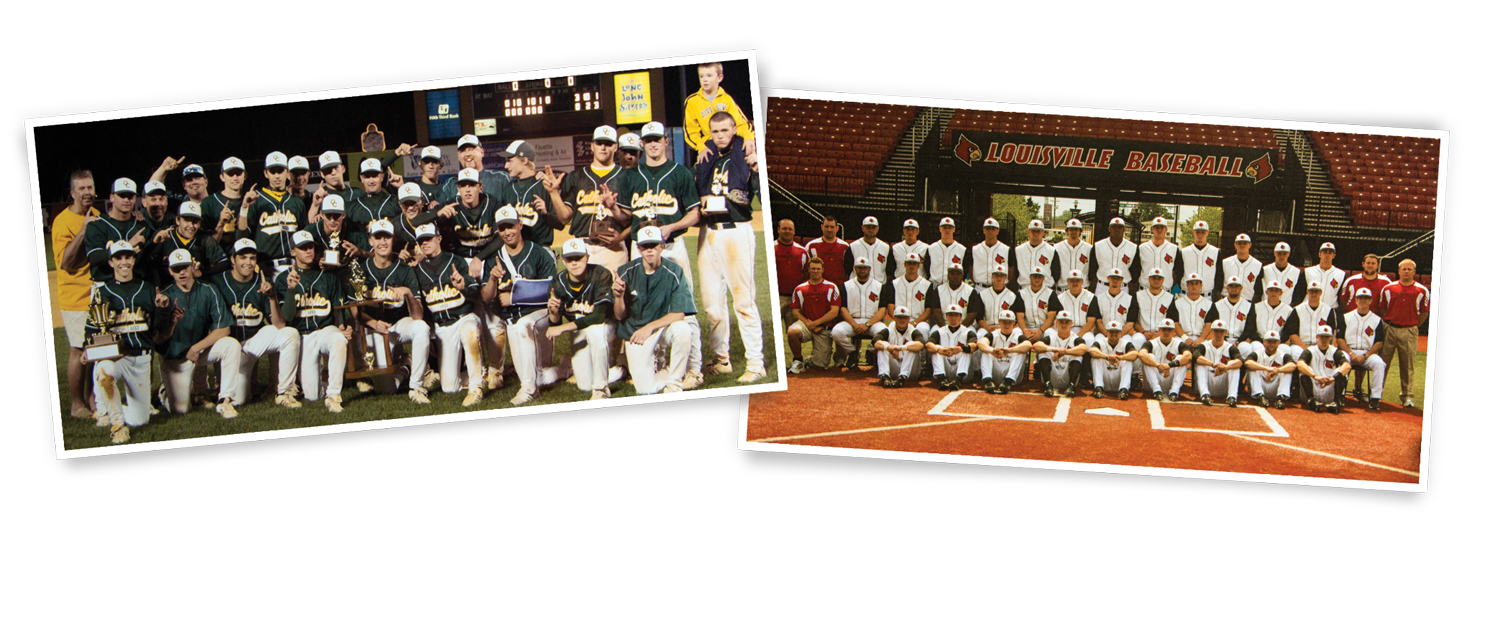 What does it mean to have this connection together after all these years?
Justin – Having these guys to work out with and throw with in the off-season really helps. It's a lot easier when you're not doing everything on your own. My first couple years when I signed I was here (in Owensboro) in the off-season by myself so it was a little bit tougher. This year has been a better off-season for me because it's been more structured with hitting at Full Count and working out at Edge Elite.
Cole – Yeah, it helps a lot to have these guys. Spring training is tough, so you have to come prepared. There's early mornings, late days, a lot of traveling. Plus we all kind of know what the other is going through.
Stewart – Without a doubt! It makes a huge difference. That's one of the reasons I love Owensboro so much is because there's such a huge talent pool – amongst all sports.
Neil – It definitely helps to work out with these guys, throw with these guys, and talk baseball. I was talking to my trainer about throwing in the off-season and I explained that I would have these guys to throw with and I still have access to facilities at UofL any time. He was shocked when he heard that because not everybody has pro players to work out with and access to facilities in the off-season like we do. Because of these guys, I don't have to report early.
Stewart – And it's fun. I think we make each other better. We all have that competitive gene so when we're working out together and seeing the other guys working hard, it definitely drives you to be better.