Mike Wolfe and Frank Fritz from History Channel's "American Pickers" tv show were in Owensboro on Monday.  The Antique Archeology van was spotted in Daviess County.  The duo were filming for a new episode at Windy Hollow with the family of Hal Miller.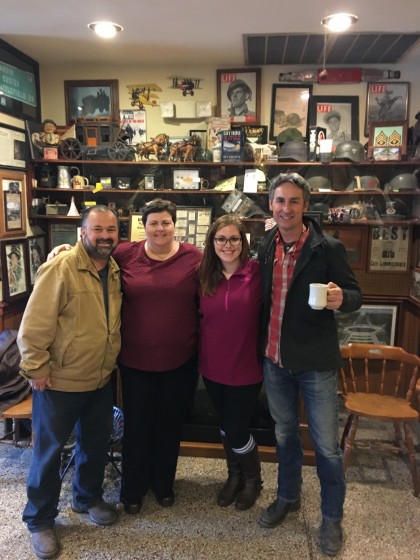 Hal Miller was born Sept. 26, 1923 in Owensboro. He was a veteran of World War II, where he served with the 297th Engineer Combat Battalion throughout the European theater of the war, beginning D-Day invasion of Normandy, France. Miller served through five campaigns with the 297th.
After returning home, Miller went to college and later became a local businessman. He built the Owensboro Drag Strip in 1958, and later Windy Hollow Speedway in 1970. He also operated the Windy Hollow Country Store in 1968 and later operated the Windy Hollow Recreation Area and Windy Hollow Restaurant, which were built by his twin brother, Thomas "Tom" Miller. The Windy Hollow Restaurant became a local attraction and museum that was filled with historical pieces from WWII, Western movie posters and more. Hal was an avid collector, a friend to everyone and always had a positive attitude that he shared with all he met.


"American Pickers," follows childhood friends Mike Wolfe and Frank Fritz, antiques collectors who travel the U.S. looking for rare artifacts and national treasures.