In Downtown Owensboro
Photos by Jamie Alexander
David Haynes, Max Garvin and Will Johnson are creating an entertainment complex at 800 W. 2nd St. Combined with Haynes and Garvin's other successful business, Escape Today, located next to their new brewery, The Brew Bridge, the three have a goal of creating an environment where anyone in Owensboro can go for something to do. If all goes as planned, next year they will also open a mini-golf course behind the brewery.
"It's all about inclusivity," Haynes said. "It's not 'that' dive bar and it's not that hoity-toity—it's for Owensboro."
That philosophy — and innovative planning — is what brought Escape Today to Owensboro four years ago. Since then, Garvin and Haynes have continued to add to their escape rooms, including Harry Potteresque and "Stranger Things" rooms.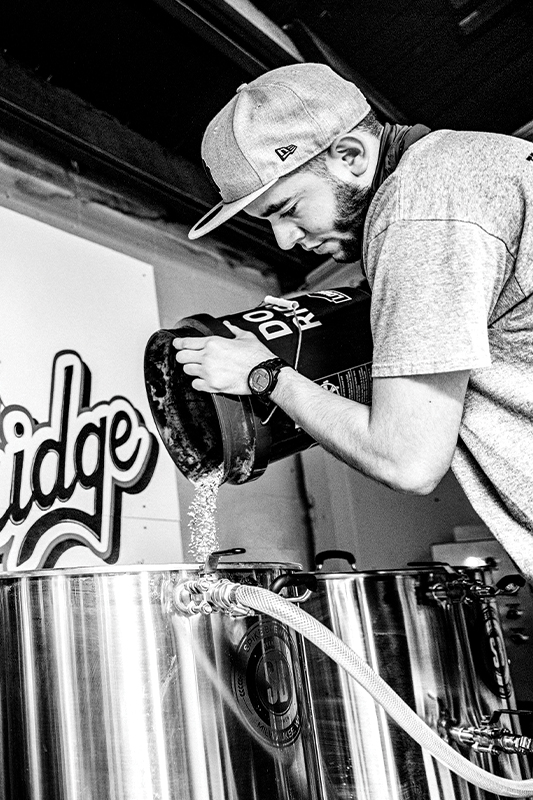 The idea for creating this unique recreational real-life adventure game began after a trip to participate in an escape room. Neither went in thinking of creating one themselves, but afterward, the two began discussing how they could do the same thing—but cheaper and better—in Owensboro.
"Our goal was to have as high of quality as we could with the cheapest prices," Haynes said, adding that they are currently the 'best deal in the nation' since they also offer customers an hour of play in their 60-game arcade.
They added an ax-throwing area in 2019 that has become quite popular, especially with groups of women, and when they decided they needed more space, the two knew they wanted to have a location where they could also expand into a small-batch brewery. This is when Johnson entered the picture. He is a homebrewer who typically made five- to ten-gallon batches, and experimented with a multitude of recipes while also talking to brewmasters at various breweries in Kentucky once he went into business with Garvin and Haynes.
After several months of looking at over 25 locations, they settled on the site where Barnaby's Nightclub was located.
"We want to make an impact," Haynes said of the intentional choice where they are located and its proximity to downtown. They have a parking lot, which is extremely important to patrons who do not like the parking opportunities—or lack thereof—in downtown Owensboro, it is on the trolley's route, and it is included in the downtown Entertainment District, which allows patrons at participating businesses to leave the premise with an alcoholic beverage in a specially-marked cup.
The brewery, which opened July 10, 2020, was scheduled for a February opening, but the owners pushed into late March, without knowing what was coming with the pandemic. With the mandated closures, the three optimistically decided it was the perfect time for the interior work they had originally planned to complete after opening. This included a wall made of reclaimed staves that create a basket-weave effect.
Johnson said they had to create the wall three times—once because it needed support, the second because the plywood they used for support could be seen, and the third and final with the plywood painted black.
They also removed the drop ceiling only to discover beams that are eerily similar to the shape of the Blue Bridge, so they painted them blue.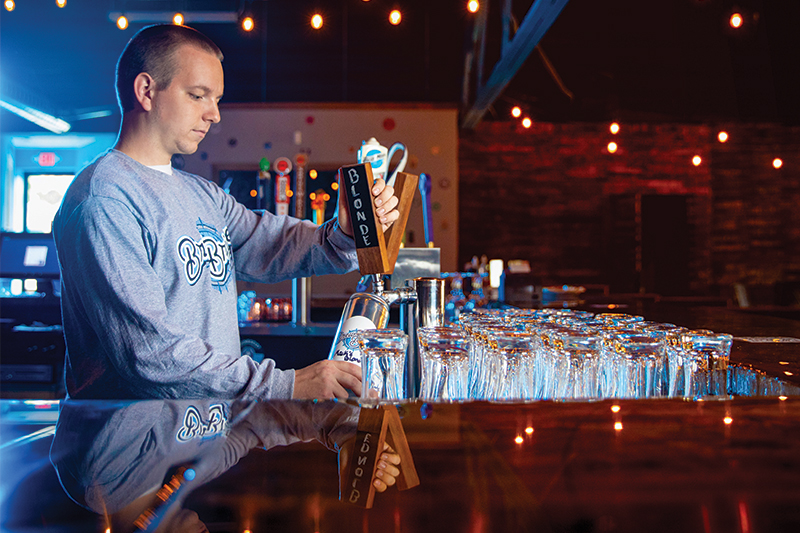 It is this optimistic attitude and can-do work ethic that drives these three millennials to believe they can achieve anything. They all admit they are unfamiliar with the word "no," they are always thinking of ways to add a new element, and they don't get frustrated when the timing for their business ideas doesn't work—they just find another way to do it.
As Governor Beshear changes the state's restrictions for restaurants and bars, the owners continue experimenting and serving their patrons—at whatever capacity is allowed. In fact, the mandated bar closing at the end of July saw the Brew Bridge close, but in reality, it could have stayed open because they are a brewery with a full kitchen, which is known as a brewpub.
It's the kind of curve balls that most entrepreneurs would find frustrating, but these three know that when they are able to open to full capacity—whenever that is—that people will come and enjoy it. And not just beer drinkers, but people wanting an escape and to learn about small-batch beer-making while enjoying food prepared in their full-service kitchen.
Their menu includes appetizers, sandwiches and salads that pair well with their beer selections, and all can be ordered through a local delivery service or for curbside pickup.
Johnson said that when he was researching what equipment they would need, the breweries he visited were very open and shared what would help in their success. He said that often breweries sell equipment at cost to other breweries because they don't see it as a competition.
Haynes agrees that it isn't a competition, and that breweries are in it together. He said, for example, if someone likes a beer brewed at another craft brewery, they will visit Brew Bridge to find something similar and vice versa.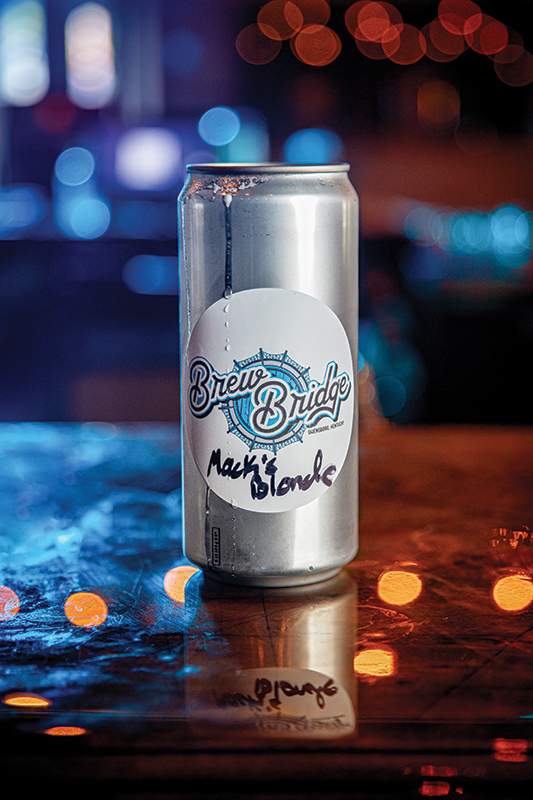 "This gets people who don't do craft beer to try it…then try another," Johnson said.
Currently, Brew Bridge has two varieties, but they will expand that soon when they acquire more equipment in October from another brewery that is upgrading. They produce roughly 30 barrels monthly, and each barrel serves 6,000 pints.
Haynes said that many of the laws around the distribution of alcohol are archaic, and that was something the state was working on changing prior to the pandemic. But Brew Bridge is able to ship and deliver their beers with meal deliveries, and soon they will expand to other restaurants.
With degrees in chemistry, biology and history, the three owners are definitely having fun with their presence in Owensboro, and hope that it encourages other young entrepreneurs to go for it.
"We have had so much support from the city… EDC…visitors bureau and chamber," Haynes said. "They tell us 'we want you here, you are doing great things for the city.'"
With 15 employees and 25 employees between the two businesses, Haynes said he enjoys that he can give people a career.
"It's all about the community," he said. "There is no magic."
Garvin said they are "a little stupid," but they planned a ton for how to be successful, and they are currently doing so with little debt—even with the current restrictions.
And they have had a lot of help from their families and friends.
While the three aren't sure what their future successes will be with the brewery because, as Garvin said, "We haven't even been open [to full capacity] with COVID, so how do we know?" they feel confident that the Brew Bridge will be an Owensboro attraction for eating and drinking for years to come.
"We want to make an impact," Haynes said.