It's not very common for somebody to win awards the first time they try something. But that's exactly what Owensboro native Joe Christian did when he tried his hand at making a stave (a type of snare) drum. You see, Joe is not a drummer. He's a singer, songwriter, guitar player, a hobby woodworker, and an engineer at heart, but definitely not a drummer. But by the grace of God, he stumbled upon something in making that drum that no one had ever mastered before.
"You can have an idea," says Laudo Drums founder Joe Christian, "but if you never do anything with it, no one will ever see the value in it." Joe's discovery was an idea that he believed would make a better- sounding drum. Traditionally, drum makers use glue to hold the pieces of stave drums together. But glue isn't wood, so it doesn't resonate, and therefore dampens the sound. Christian came up with a now-patented way to attach the pieces of wood without using glue.
The result earned Laudo Drums a second-place overall finish at the 2014 Snare Drum Olympics in Nashville, and won first place in the blind competition out of a group of more than 20 of the top drum manufacturers in the industry. The unbelievable part is that the drum that won was only the third one Joe ever built.
The Back Story
It all started when an old friend from church, Scott Doughty, asked Joe to make him a stave drum, because Scott couldn't quite get the angles to line up right since he didn't have the right equipment. Joe did some woodworking as a hobby and made a Cajon (hand drum) that Scott was pretty impressed by. So at Scott's request, Joe decided to give it a shot.
After thinking it over, Joe came up with a revolutionary way to interlock the pieces of wood that didn't require glue to hold them together. He truly believes it was inspiration from the Lord. Joe then spent hours meditating, drawing and brainstorming as the design fell into place.
"It took a long time," Christian admitted. "There was a lot of math and mechanical drawings involved to come up with the tooling to do what I was wanting to do." After months of researching, planning, preparing, and designing, Joe's glue-less shell drum was born. "Once I got it, I worked with a patent lawyer to get the patent for it."
Next, Joe and Scott assembled the first prototype and they were both immediately impressed with its tonal quality, sensitivity, and volume. Joe began lending out the prototype to selected drummers and sound engineers and received great feedback. A year later, the patent was granted and a meager production was underway.
Considering a name for the drum was another journey in itself. After much thought, Joe felt impressed to go with the name "Laudo," which is Latin for "I praise," partly because he wanted to give praise back to God for the idea, and partly because he hopes it will be an instrument of praise as well. Not to mention the phonics had great potential for marketing. A witty name for a witty idea.
Drum Olympics
Confident in his product, Joe entered a Laudo spalted hard maple stave into the 2014 Snare Drum Olympics in Nashville this past September. Out of a group of more than 25 drums, including 20 of the top drum manufacturers in the industry, a team of five judges (professional drummers and professors) ranked the Laudo drum first overall in the blind competition. For the blind competition, the judges sat with their backs to the drums and judged them solely on their sound. The drummers for Brad Paisley and Rascall Flatts were two of the five judges.
The drum also placed first in the segmented shell category and won second place in the public vote.
Since the competition, there has been a lot of interest in Laudo Drums. So far there's been nothing but good feedback. "Everybody who has played the prototype has really liked it," Christian said. As for the future of Laudo Drums, Christian says he may be interested in licensing the technique one day. But for now, it's back to the woodshop to make more hand-crafted, glue-less, award-winning drums.
For more information, pictures, and reviews, visit the website at www.laudodrums.com, or check out Laudo Drums on Facebook at www.facebook.com/laudodrums.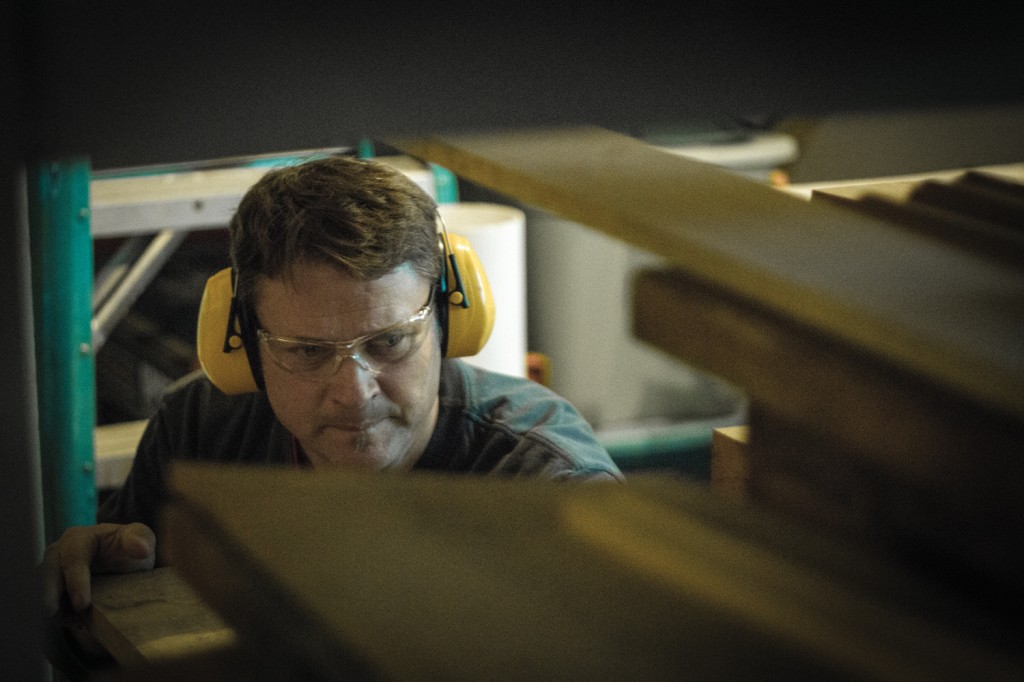 [tw-divider]2014 SNARE DRUM OLYMPICS[/tw-divider]
FIRST PLACE OVERALL: Blind Judging Competition
FIRST PLACE: Segmented Shell Category – Blind
FIRST PLACE: Segmented Shell Category – Overall
SECOND PLACE OVERALL: 2014 Snare Drum Olympics
SECOND PLACE: Segmented Shell Category – Subjective
SECOND PLACE: Nashville Drum Show – Public Vote