After a successful fundraising effort for St. Jude Children's Research Hospital last year, where he joined Chad and Jaclyn from WBKR for 12 hours of non-stop walking and jogging on a treadmill, Bradley Dehart was looking for a new way to raise money for the charity this year.
"I wanted to do something that involved not only myself, but those who have inspired me both at work and in the community," Bradley said. "And something that would also incorporate the people who donated."
What he came up with sounds almost as crazy as spending 12 consecutive hours on a treadmill: creating and selling a cookbook – by himself.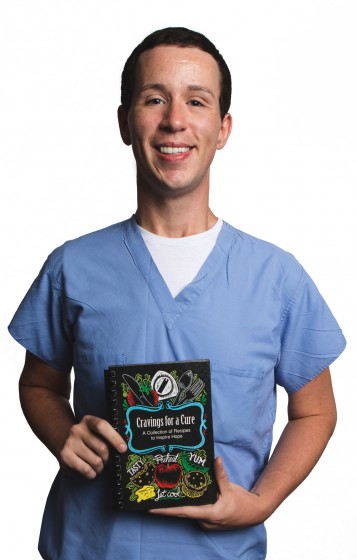 To pull it off, Bradley used his tax refund to cover the publishing costs, so that 100% of the proceeds could be donated to the kids at St. Jude.
The idea hit him one day when he was helping a friend move, and they were boxing up kitchen items. "I noticed several cookbooks that were fundraisers. I thought that would be a great way to incorporate more people by inviting them to submit their favorite recipes," he explained.
Bradley ended up with over 200 recipes, ranging from potluck favorites to secret family recipes collected from coworkers and other people who have inspired him, and Cravings for a Cure was born.
"At work, we celebrate with food. We grieve with food. Food unites people," Bradley said.
Another advantage of the cookbook idea is the ability to reach more people by accepting orders online. To do that, Bradley set up an online form through jotform.com that's integrated with an online shopping cart through PayPal, which opened the opportunity for sales to even more people.
Just a few days after opening online sales, orders had already been placed from Oregon, Indiana, Ohio, Florida and several cities across Kentucky. "They are being shipped to 30 states and six countries worldwide!" Bradley said. "I can't believe how wide-spread this is." His original goal was selling 300 cookbooks. That goal was reached the first day.
Cravings for a Cure was also sold at WBKR's "Denim and Diamonds" event on February 26, 2016 at the Empress Theater.
To date, 1,000 copies have been sold, resulting in over $5,000 in proceeds donated to St. Jude Children's Research Hospital in Memphis.
Anyone interested in purchasing Cravings for a Cure is asked to email their contact information to [email protected].