Newly-sworn-in American citizen Atinuke Wilhite is full of gratitude, and counts each day as a blessing. It's hardly what someone who has lived her life might think, but she continually and consciously reminds people.
Originally from Nigeria, Wilhite was living in Nigeria with her husband and four boys when, in 2003, her husband died. She said that caring for her boys became difficult, but that God finally provided her with a job at Hope for HIV/AIDS International, an organization whose mission is to motivate, educate and mobilize communities in Nigeria to eradicate poverty, reduce malaria and combat HIV/AIDS. Because of her hard work in this organization, she was nominated to receive an award in 2013 from the U.S. Ambassador in Nigeria.
While working at the organization, Wilhite befriended a U.S. volunteer working in Nigeria. This friend introduced her to a man from Kentucky whom she began communicating with. After two years, she moved to Owensboro to be with him, but it did not work out, and Wilhite found herself needing a place to stay due to her circumstances.
Wilhite ended up at OASIS Women's Shelter in October 2014. Unable to work due to not establishing permanent residency, and with nothing to her name, Wilhite began the process to establish permanent residency, and was denied.
Through counseling at OASIS, and everyone's support for her, she led by example during her stay. She volunteered to help others at the shelter, because she truly believes that living there — with free housing and free food — was a blessing in her life. She served as a dorm monitor and a secretary throughout her stay.
Her time at OASIS was extended, but eventually she had to leave because she said there were more people who needed a place to stay.
"But they didn't just put me on the street," she said. "They helped me find a different shelter, which was the Pitino Shelter."
Upon moving to the Pitino Shelter, Wilhite began to battle depression, because she was unable to work and support her children in Nigeria. She was then introduced to River Valley Behavioral Health, where she stayed for only four days, because it was a program where she had to remain on campus, and God had other plans for her, she said.
Wilhite was asked by her immigration attorney, who was familiar with her divorce and immigration case, to speak about domestic violence to lawyers and judges from across Kentucky who were invited to a conference in 2015. At the conference, Wilhite talked about her achievements in the OASIS program. Unbeknownst to her at the time, one of the audience members was the non-residential living director of OASIS.
"She was to speak after me, but when she got to the stage she said 'I have nothing more to say because she [Wilhite] has said it all,'" Wilhite said.
The director then met with Wilhite and said they were going to appeal the process to get her green card (permanent residency).
More than that, Wilhite was asked to move back to OASIS so they could work to appeal and hopefully get her green card and U.S. citizenship.
"By the glory of God, I was approved (for permanent residency) in 2016," she said. "As I went through all of these experiences, I did not let my boys know what was going on. I tried to remain strong. And all of the things I was able to do were not my power, not by my mind, not even by my righteousness; it is the grace of God. The grace of God is what kept me going."
Wilhite said that at several points, she felt like giving up, but that was when God showed up. Wilhite said that one night she was so upset at the Pitino shelter she cried herself to sleep and when she woke, God had put some good people around her to support her financially and show her hope.
Other moments have shown her that she is not alone, though she believes they have been tests of her faith. "I believe in God for so many things," Wilhite said. "I have seen the signs of God and wonders in my life."
Once she received her green card, Wilhite was able to work in the community at Home Instead Senior Care and the downtown Hampton Inn. She also began work to complete her GED.
At this time, Wilhite also moved into the transitional apartments through OASIS. She saved money to get a one-room apartment on her own, and began saving to buy a car — even though she didn't know how to drive.
"When you find yourself away without a family, you have to be strong for yourself. Your kids are there looking up at you. You are an example for them. If I don't stay strong for them, what type of example am I laying down for my kids?" Wilhite said. "As long as it is a legitimate thing, I am going to give all of my strength. I am not a quitter. I don't quit easily. That is just how God made me."
Wilhite also completed her phlebotomy degree at Owensboro Community and Technical College, and completed her clinicals at Owensboro Health.
"My passion is taking care of people. That's what I love doing," Wilhite said.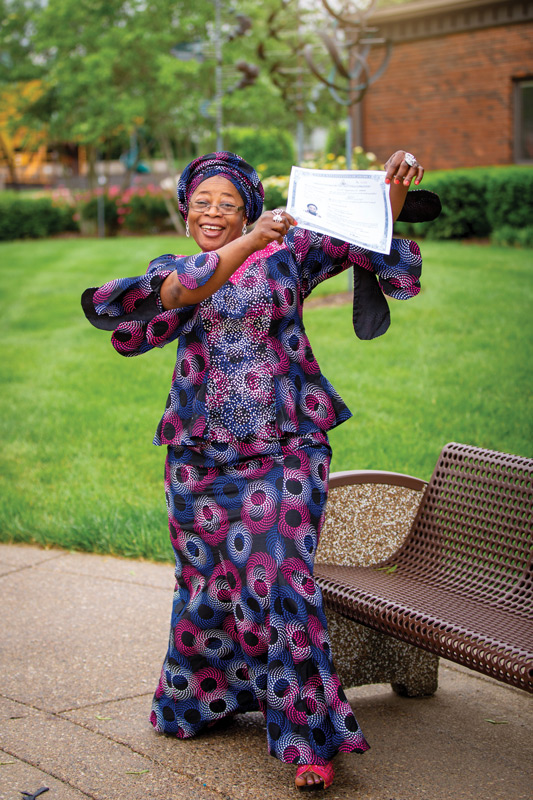 In March of 2018, she heard about employment at Wendell Foster, and began working solely at Wendell Foster as a direct support professional. After a few months, she was recommended by Wendell Foster staff and residents to become a house supervisor.
"'I don't think I can do that,' I said, but they said 'Yes, you can, you can do this,'" Wilhite said. "I am glad I am here. People are very supportive here."
Since then, she has moved from a one-bedroom apartment to a three-bedroom house, which is where she lives now. She has not seen her children since 2014, although she video calls with them, and all four of them want to come to the United States. She applied for her citizenship, and in January 2019 passed the test and interview.
"They are so proud of their mom," Wilhite said. "They call to check on me, and they call to make sure I am fine. I have amazing boys. They are good children."
Wilhite thanks the citizens of Owensboro for being so good and supportive of her while she has been applying for citizenship. She said that the gifts she was given along the way — bus passes, free accommodations, opportunities and care — all contributed to her becoming a citizen.
As a citizen, she is now able to apply for a Habitat for Humanity home, something she looked forward to while living at OASIS.
On April 24, 2019, Wilhite was sworn in and received her U.S. Citizenship certificate in Louisville. She traveled there with Wendell Foster residents and some friends, and over 32 countries were represented at the ceremony of 100 people.
"It is a great achievement and I am glad now to be an American citizen," Wilhite said. "When they call out American citizens, I can now raise my hand and say I am one of them. This is a great achievement. People should not give up on their dreams. Trust in God and believe that all things are possible. He is alive and I didn't do it all by myself."