Recognizing the Contributions of Coach Nancy Schmeal to the Sport of Cheerleading
Photos by Jamie Plain
For more than half of her life, Nancy Schmeal has been a cheerleading coach. Working with young people and watching their growth are the main reasons, but she is also excited that cheerleading is finally recognized as a sport. 
"It's come a long way from the days where we tried out in front of the entire school and it was considered a popularity contest," she said. "Today, cheerleaders are recognized as true athletes."
Schmeal said her dad was a natural athlete and coached many sports; her brother played basketball, and she grew up attending many sporting events.
"I loved the excitement during games and cheering on the teams," she said. "I naturally love to encourage people and cheerleading is exactly that."
Schmeal began her cheer career in eighth grade at Thruston Elementary School, but it was short-lived as she didn't make the cheer team until her senior year at Daviess County High School.
"At that time, we had to try out in front of the entire school and the students voted and selected the cheer squad," she said.
Schmeal cheered all of the years she attended Kentucky Wesleyan College, serving as captain her senior year. Those years also had Schmeal cheering for two Division II NCAA National Championship Basketball teams.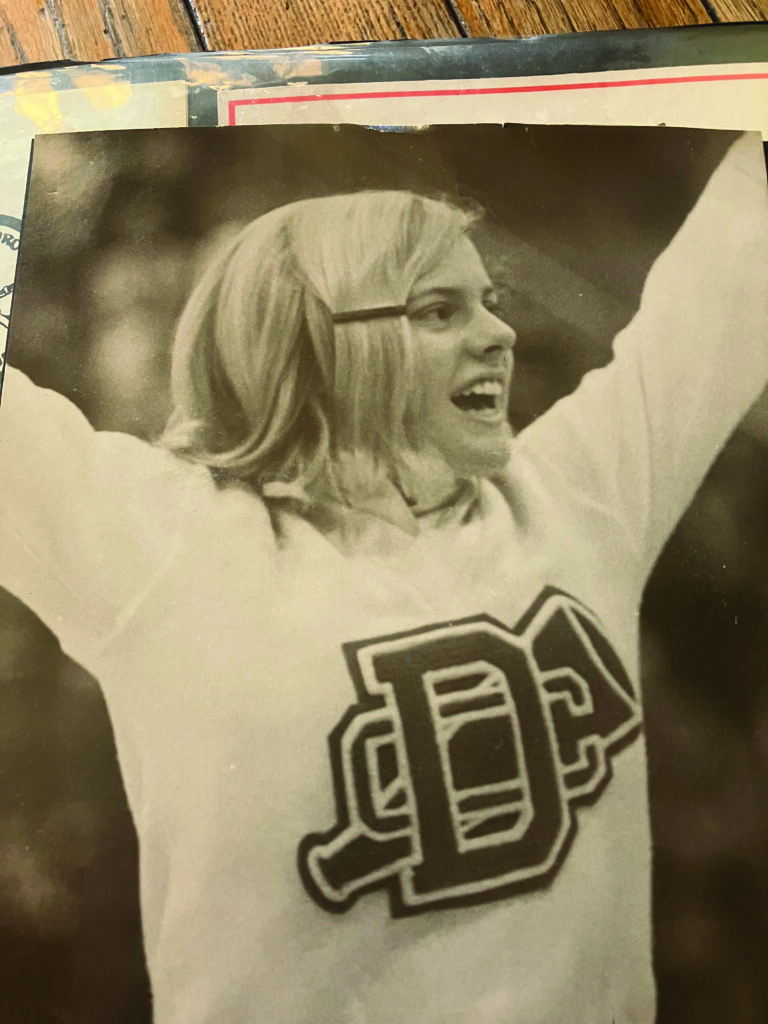 She entered the world of education, ultimately teaching physical education and health for 33 years at Apollo High School. In 1971, the year Apollo became a high school, she began as head cheer coach and did that for six years until her daughter Jamie was born.
But she did not stop coaching cheer. She became the head cheer coach at Kentucky Wesleyan College and remained in that position for five years.
Schmeal re-entered the younger cheer coaching world when Jamie was in eighth grade at Burns Middle School and she served as head coach for a few years, also serving as head coach for Apollo's diving team because Jamie was a diver.
"The school needed a diving coach, so I agreed to serve as coach for Apollo," she said. "While I did not have diving experience myself, only a spectator and background in cheer and tumbling, I enjoyed the experience."
Schmeal said the diving community was small and all of the divers from the local high schools practiced together.
"It was a collaborative coaching experience and unique that we were all coaching our competition and the kids were practicing with their competitors," she said, "The divers and coaches were supporting and encouraging one another."
Schmeal's youngest daughter Kellie also had her mom on the sidelines coaching her seventh and eighth-grade years at Burns and her junior and senior years at Apollo.
"It is exciting being around young people as they learn, grow, and develop in the sport they love and also witness their personal growth as they become young adults," she said. "I have been involved for so long, it is an integral part of my life. The student-athletes have taught me as much as I have taught them."
Schmeal said that cheer also provided an opportunity to engage with others who shared a love of cheer and also an outlet for her as her husband struggled with a very long illness.
"I have never been disappointed in choosing to work with young people," she said. "It is exciting to teach the physical skills that are required in cheer. Watching their efforts to improve and their confidence grow is one of the most rewarding aspects of teaching and coaching. God has blessed me by allowing me to be able to coach for so long."
When Schmeal retired from teaching at Apollo, a surprise celebration was held during halftime at a basketball game to recognize her.
"Many of my former cheerleaders attended the game to surprise me," she said. "There were some cheerleaders there going all the way back to the first team I coached in 1971. It was a great honor to see all of them and meant so much to me. Many of the young men and women I have coached have been so kind to stay in touch with me. I enjoy hearing about their family life and personal success."
For the last 17 years, Schmeal has served as an assistant coach at Apollo and said that the amount of athleticism and dedication to cheer has changed over the years, making it a year-long sport.
"It is truly a sport that requires collaborative teamwork, and one athlete can't shine without the others," she said.
She said that is true for all basic human needs, and many sports teams are an extended family that provides support and encouragement to each member.
"All people want to be liked and accepted," she said. "We all need affirmation when we are successful and want to feel we are a part of something greater than ourselves."
She also credits sports with teaching discipline, goal setting and teamwork, all of which are important in future endeavors, she said.
Schmeal isn't finished giving back and continues to be rewarded by the relationships built during the sport in practice, and reflects on relationships she had with teachers who encouraged her, helped her gain confidence and made her a better person through their influence.
"I hope I have been the same positive influence in the young lives of those I have coached and taught," she said. "I have learned far more from teaching and coaching than I ever taught. It gives me great joy even today." OL