Photo by Jamie Plain
Known throughout town and by countless visitors, Andria's Candies is an Owensboro institution, offering mouthwatering confections made in their giant copper kettles.  And since this is our "Shop Local" issue, we couldn't think of a better time to feature this local favorite.
The storefront is actually open year-round, but co-owner David Atkinson said that most people think of them as a seasonal business.
"Christmas, Easter and Valentine's Day – those are the ones," he said.
And currently, Atkinson is preparing for the season of bourbon balls and nut brittle that so many customers give – and hope to receive – as gifts.
"Seventy percent of sales at Christmas season is our bourbon balls," Atkinson said, adding that the newer Kentucky-themed packaging makes it a souvenir.
Atkinson also said there is a common misconception among customers purchasing the bourbon balls – that the alcohol is cooked out.
"It is a cold recipe," he said of the bourbon, butter and cream that are mixed with bourbon-soaked pecans.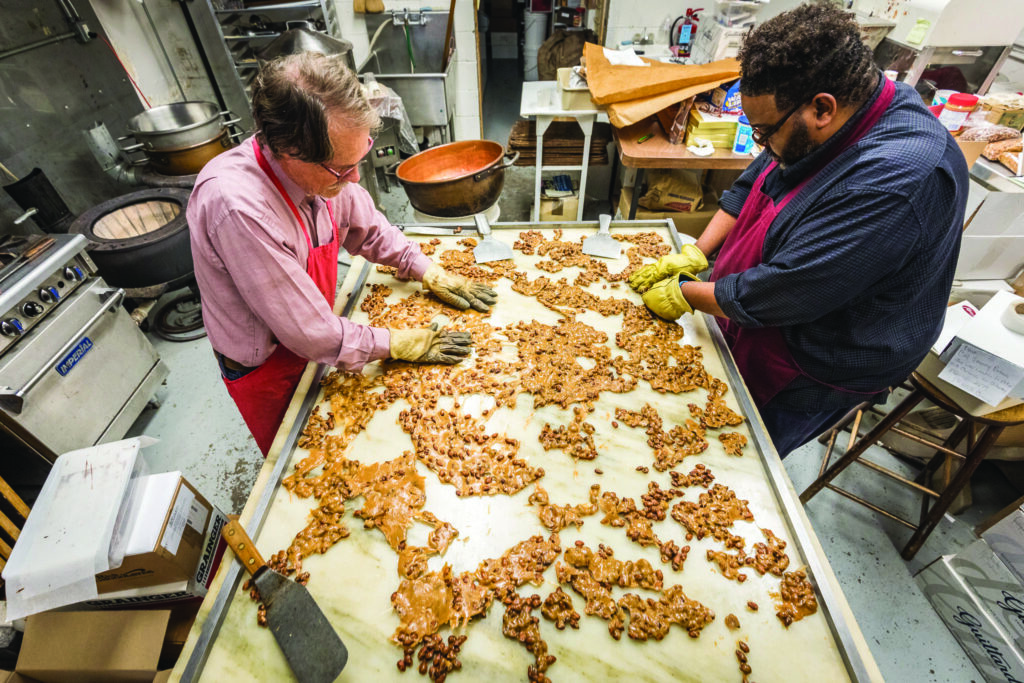 He said that their bourbon balls do not have a formulated recipe for the amount of bourbon used – they just can't use more than what can be shaped into a ball. After that, they are covered in chocolate.
"We use as much as possible, but we have to be able to work with it," he said.
Also popular are the nut brittles, which are similar to toffee but without the chocolate. Large batches are made using roasted nuts and heating the brittle to the breaking temperature.
Thomas Andriakos opened Andria's in 1959, and Eva and David Atkinson purchased it in 1991.
For many families, the tradition of receiving Andria's candies is a simple pleasure.
Atkinson said the best way to place an order or to see the inventory is to call or visit from 10 a.m. to 4:30 p.m. Monday through Friday and Saturdays in late December. Andria's showcases some of their candy on social media. And while many retailers offer online ordering, the only way to get your hands on Andria's famous treats is to go by the store or call in an order.
"We're an old-fashioned candy store and we still do business the old-fashioned way – by phone," Atkinson quipped.
Andria's is located at 217 Allen Street. OL