A 30-Year Owensboro Tradition
Photos submitted by Owensboro Dance Theatre
For many in Owensboro, the first weekend in December each year means one thing: Owensboro Dance Theatre's performance of The Nutcracker. This year's performance, sponsored by German American Bank, marks the 30th anniversary of the well-known story being put on for the greater Owensboro community. Though a few small changes may be noticeable to seasoned audience members, the show will be primarily the same – an enchanting holiday classic honed to perfection over three decades, and danced straight into the holiday hearts of those who watch it.
According to Joy Johnson, artistic director, and co-founder of Owensboro Dance Theatre (ODT) it was her co-founder, Karen Carothers, who was the driving force behind making a local production of The Nutcracker (a centuries old tale, turned ballet by George Balanchine in the 1950s) a reality. "Originally, I was dubious," Johnson recalls, "I thought it would cost too much, for starters." Carothers, who danced for the Lexington Ballet for ten years, continued to pursue the issue. "I loved it," she says of The Nutcracker, "I loved everything about it, and I felt strongly that our town needed this tradition." Soon after the opening of the RiverPark Center (RPC), an Evansville group wanted to put on a rendition of the show, and Carothers knew ODT could not let another group take that opportunity. Johnson and the ODT board of directors came around and preparations began.
"It was a lot to do, because at that point, we didn't have as many teachers," Johnson recalls. ODT's Nutcracker has always been custom made to accommodate a larger number of dancers than most productions, to maximize participation. Initially, costumes had to be bought or made, backdrops had to be rented or fabricated, and choreography had to be developed. Early shows included more tumbling and gymnastics, as Johnson Dance Studio offered those activities at the time. These days, the company is on about the third generation of costumes, Johnson says. The most significant change over the years is technology, which eliminated the need to rent, buy, and store huge backdrops. "It's so much easier," she says.
Since the beginning, school performances have been at the heart of ODT's Nutcracker. Johnson loves to hear from teachers who take their classes to the performance. "Every year, I get feedback that the students love it and that it opens their eyes to the possibilities of theatre and dance," she says. In fact, The Nutcracker ballets serve as an entry point into the world of ballet for people all over the globe each year.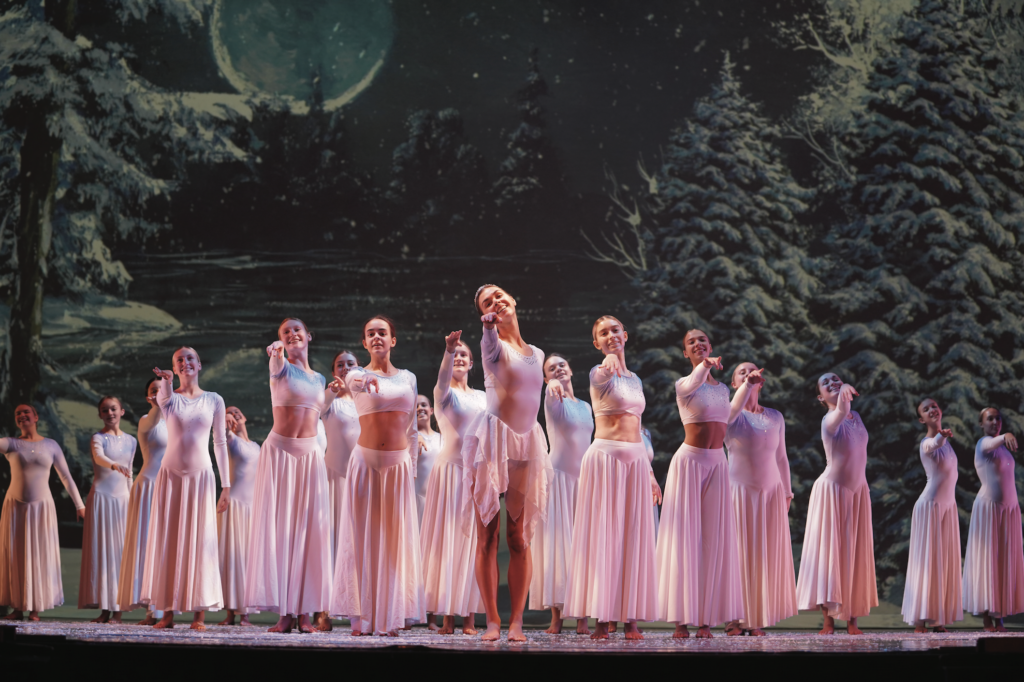 Johnson and Carothers share many sentiments surrounding the production. Both of them note "Snow" as their favorite dance scene. They are also immeasurably proud of the opportunities given to dancers of all levels who participate. "I don't know any other Nutcracker that has as many kids as ours," Carothers says, "from package to lead role, there are so many opportunities to participate and grow." Johnson finds fulfillment in the healthy competition for lead roles, many of which allow the dancers to gain experience while paired with a professional dancer. (ODT brings in professional dancers for lead male roles.)
Madalyn Castlen, a senior at Owensboro High School, and a 5-year member of ODT's Company, will dance the role of Snow Queen this season. "I always looked up to the older girls, and I always wanted to be Snow Queen because I loved the costume, the lifts, the music, and the presence she put on stage," she says. "When I was little, I always watched the snow scene and pretended that I was the Snow Queen. I never did that with other leads." Castlen, whose views exemplify Johnson and Carothers's pride in the process, adds that she hopes she inspires the younger dancers to work hard for a lead part someday.
Not only directors and dancers see the benefit in the experience. Madison Silvert, the father of two ODT alumni, has been in the Nutcracker several times. He says, "I cannot overstate the incredible value this production brings to our community each year. It develops strong and responsible children and young adults while presenting a high-quality production of the classic ballet, that for many local families, is as much of a Christmas tradition as opening gifts." OL