Photo by Katie Rhodes Photography
Katie Cecil is a second-generation farmer at Cecil Farms. But running her own florist business at Cecil Farms was not her original plan when she returned to Daviess County in 2017.
Cecil previously worked at Chick-Fil-A as a marketing director in Nashville, but returned to manage wholesale produce distribution for the family farm where she oversees the produce team. Her long list of duties includes oversight of seeding in the greenhouse, transplanting in the spring, and scheduling daily harvesting in the summer.
In addition to her day-to-day duties on the farm, her dad also had the idea for her to grow some flowers. So he gave her seed packets of zinnias to plant in various locations that were too small to farm or were not the right soil mixture for crops. She didn't know much about growing flowers at first, but soon she had enough to take to the Owensboro Regional Farmer's Market, where she was already taking produce to sell at the Cecil Farms booth.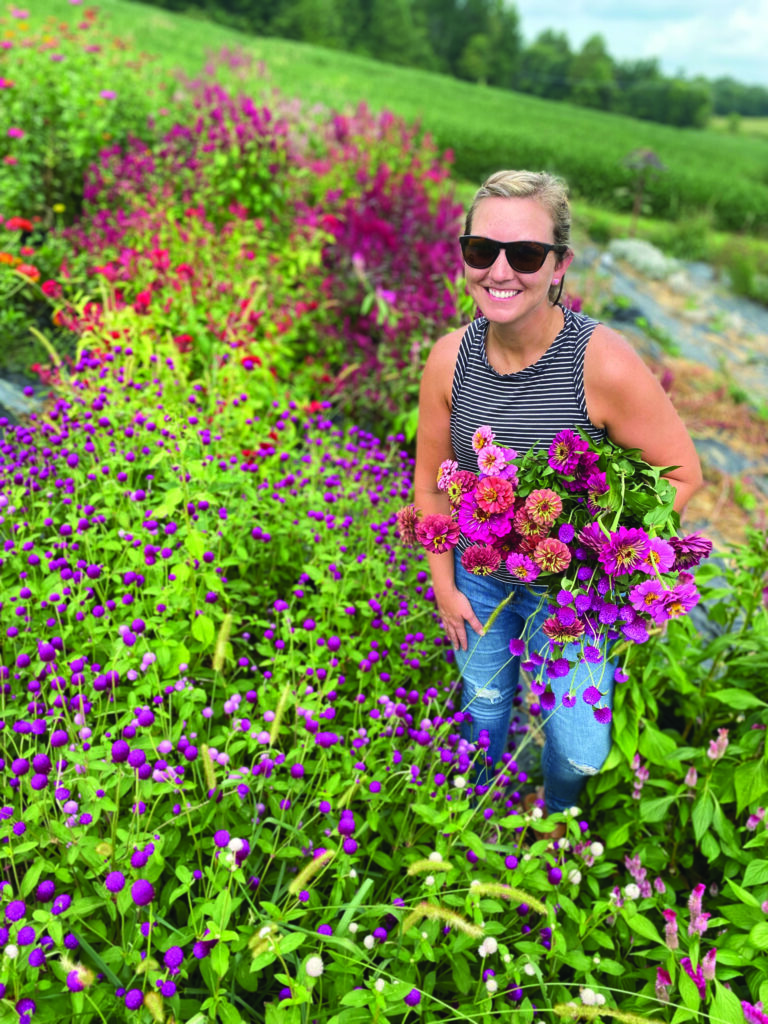 "People started buying the fresh-cut flowers and we were onto something," she said. "Zinnias are not hard to grow – they kind of take care of themselves."
Out of this came Katie Ann's Flowers, a small business at the time.
In 2019, White Chateau opened at Cecil Farms and Suzanne Cecil and Katie decided to add event florals to the event experiences that were being booked at the venue.
"My first event was a cousin's wedding," she said. "Suzanne is who said that I could order flowers at cost, so that was my first go at ordering and arranging."
Katie began taking online courses from well-known professionals in the floral industry. She learned how to make bouquets, boutonnieres and centerpieces for the upcoming wedding and began studying what flowers went together and what seasons to grow certain flowers and varieties.
"I did overorder," she said of the wedding, but she also did some advanced pieces. "I just jumped in."
October of 2019 was Katie's first paid florist job for a wedding and the photographs of the flowers were featured in Kentucky Bride, an award-winning bridal magazine. Since then, Katie's flowers have been featured four more times in the magazine and online.
Cecil now grows flowers for clients throughout Western Kentucky and designs more than 30 weddings each year that use her flowers and greenery. She uses those same plots of land to grow the "random fillers" she uses for weddings and also what she dries to make wreaths. She also hosts classes at the farm where people make their own wreaths from her greenery.
Using heirloom seeds, something she adds to every year, Katie is able to incorporate her own flowers and greenery into the weddings and events for which she creates arrangements. She has partnered with White Chateau for several shows but said that many times, she is not able to because of timing.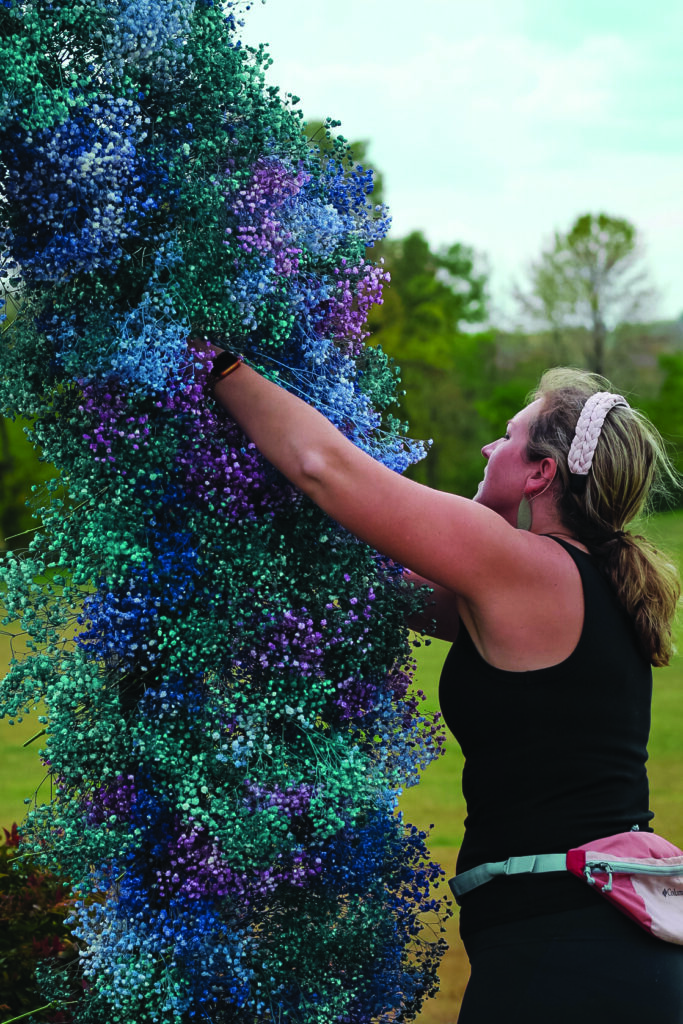 "I am involved in agricultural programs and the dates collide," she said. "The programs require a lot of travel – and that is the season of life."
At the beginning of 2022, Katie was one of 22 individuals selected for the Kentucky Agricultural Leadership Program, an intensive leadership development experience that she said was an honor to have been selected to participate in. Many of Katie's family members and friends have gone through the two-year program, so she knew what to expect.
In November of 2022, Katie was named Kentucky Farm Bureau's Generation Bridge Advocate of the Year because of her involvement with KFB at the state and national level in conversations about farming and farm labor. She also created The Academy at Cecil Farms, a year-long program to provide interactive farming for school-age children.
Katie sees more males in her farming community and programming, but she said that within the flower industry, she has "leaned into" other women in the area who work with flowers, especially Lindsay Hart, the owner of Petal and Pine Design.
"She brought me on board, and she doesn't see me as competition," Katie said.
She also credits local florists who purchase flowers from her when in season, including Meagan Cooley, who previously owned a flower truck and now has a storefront in Owensboro in Old Town Shopping Center.
"We can all sit at the table," she said.