Photos by Jamie Plain
Nearly a decade ago, local firefighter Barry Raymer and his family began growing and selling pumpkins under the business name "Glowing Jacks." Raymer then shifted his time to another passion as his kids grew older: chainsaw carving.
Raymer's resilient work ethic, talent, and passion for chainsaws have led him to sculpt masterpieces out of several types of wood. His pieces range from several elements of nature — such as landscapes and animals — to his favorites, such as tree men/wood spirits.
"I had always been into chainsaws, and one day, I saw someone doing it and was intrigued," Raymer said. "I've found it to be the ultimate stress reliever, allowing me to escape. It's peaceful for me to make things, and I've gotten good at it."
It wasn't always easy for Raymer, though. He said his first creation was a pumpkin he immediately threw in the "burn pile." However, his skills quickly progressed into what he refers to as the ultimate creative outlet.
One of the best places to buy Raymer's work is at the Owensboro Regional Farmers' Market at 1205 Triplett Street. Raymer started selling there last year and returned for 2023.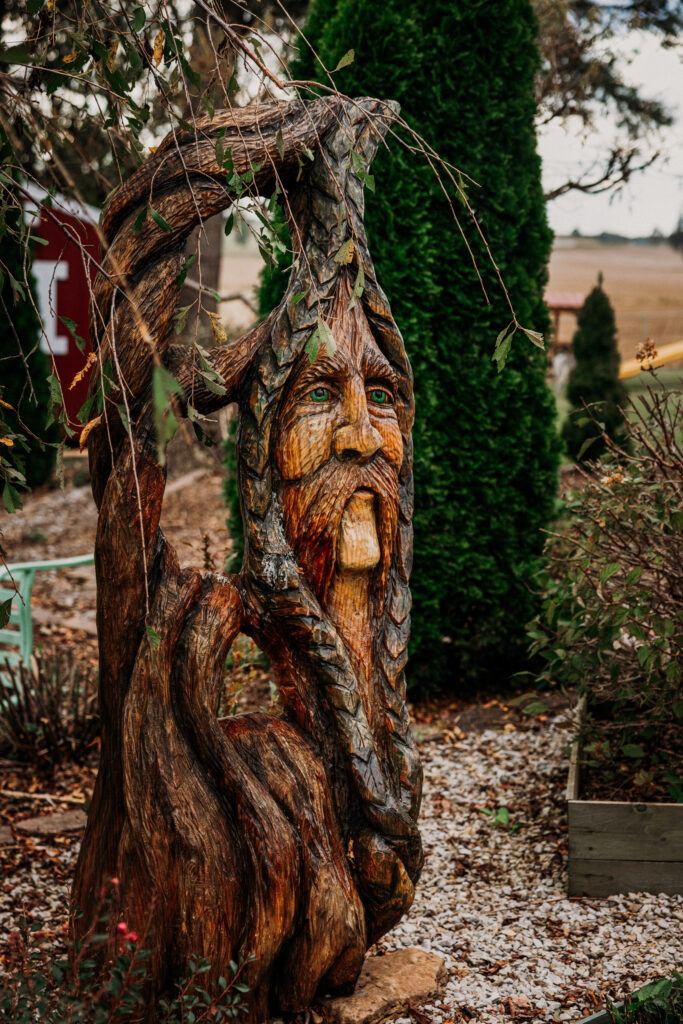 "I do get a lot of requests, and most of them I can make. When I make custom pieces, I always tell people that I have a style and can get close to what they want, but sometimes the wood has other plans," he previously said.
His ultimate goal is to turn the hobby into something he can do full-time.
"Right now, it's something that I only get to do as a side passion and an income assist, so I really hope to turn it into a full-time gig that not only allows me to provide for my family but enables me to do something I really love," Raymer said.
Outside of crafting the pieces to sell, Raymer recently began entering competitions within the hobby.
"This is my first year getting into competitions – I've done two so far this year, and I have two more to go," he said. "It's a great time to test your skills against others while learning from the competition."
The tournaments can last up to three days, and challenge contestants to carve an extravagant work of art. Raymer has enjoyed the competitions so much he's decided to host a competition in Owensboro later this year.
The first-ever Bluegrass Chainsaw Showdown will visit the Owensboro riverfront the weekend of November 10 at the Holiday Inn and Riverfront. The competition will feature 10 artists from all over the U.S. from 9 a.m. to 5 p.m.
The competition marks the first of its kind for western Kentucky, as the carvers have 20 hours to convert a 7-foot log into a masterpiece. The artists will also compete in two quick carve competitions – limited to one hour.
"We had been to several shows, but we had to travel so far because there isn't anything like this in the area," Raymer said. "I contacted a few people, and it grew from there. I contacted the Holiday Inn, and after they said they were all in, we got the ball rolling."
Attendees can watch the artists work all day long and have an opportunity to purchase the creations in a public auction. The carving will run from 9 a.m. to 5 p.m. on Friday and Saturday and from 9 a.m. to 1 p.m. on Sunday.
"We're only having 10 contestants this year, keeping it small to see how things go," he said. "We aim to have 20-25 carvers next year and a much larger event."
Glowing Jacks Carvings and LinGate Hospitality are partnering to host the event with the help of Maxwell Lumber, Hagan's Outdoor Equipment, and more. Funds raised from the auction will benefit the local Christmas Wish Foundation.