Barbecue isn't a new thing for John Foreman, owner of the Old Hickory restaurant in Owensboro. His family has been smokin' every type of meat imaginable for five generations; dating back to his great-great-grandfather, Charles "Pappy" Foreman, who started cooking on the side when he was working as a blacksmith in 1918.
Growing up, Foreman wanted to be a lawyer. But before he was even a teenager, he started working for his dad in the family restaurant, and eventually, all that smoked meat wore off on him.
"It's kind of in your blood," said Foreman. "Once you get around it, you're just kind of drawn to it. Once I got to see the pits, see the process, I really liked it and I just wanted to be a part of it. It just grew on me over the years."
In 2012, his passion for barbecue stepped onto a national stage when he received an interesting phone call. Producers from the television show "BBQ Pitmasters," which airs on the Destination America channel, asked him if he would be interested in participating in an upcoming episode.
"Just one day out of the blue they called me and said they were doing a show on Kentucky and wanted me to be on it," he said. "I had to make a video and send it in, like an audition I guess. You had to show your pit, which I didn't have. I had to go find one."
On "BBQ Pitmasters," contestants don't know what the cooking challenge will be prior to the show, so Foreman said he cooked everything from chicken to buffalo to get ready for the competition. When the time for the show finally arrived, the mystery meats turned out to be a fresh ham and mutton.
"I've been around mutton all my life," said Foreman. "I felt like I knew the best way to do it. I just cooked it the way we would cook it here [at Old Hickory], the exact process actually."
Foreman and his secret recipe, passed down five generations, were pitted against two other Kentucky BBQ connoisseurs – Roy Henry of Boogalou BBQ, also in Owensboro, and Mike Ramage of Still Smokin' BBQ, based in Louisville, Kentucky. The backdrop for the show was the annual Big Buffalo Crossing Cook-Off held in Munfordville, Kentucky. The three teams had 12 hours to 'Q' their meats to juicy perfection for the judges, Aaron Franklin, Tuffy Stone and Myron Mixon – all considered to be celebrities in the barbecue world.
"It was pretty intimidating when you've got three barbecue judges that are that famous sitting up there watching you," Foreman stated. "I was really nervous about Myron. I've seen him tear people apart. I wanted to do my best; I wanted to make sure I put my best out there."
At one point during the cook-off, Foreman's pit, which he said he'd only used three or four times prior to the show, got too hot searing the outside of his ham while he stepped away to tape another part of the episode. However, what looked initially to be a game-ending problem turned into a game-changer. He said ham can be extremely difficult to cook when there's no fat, and the hotter pit managed to cook the pork just right.
According to Foreman, it was a tough contest, and it was hard to tell who would come out on top. Still, he felt good about his chances three-quarters of the way through the twelve-hour, marathon cook-off. By the end, Foreman was feeling all kinds of emotions – exhaustion from not sleeping the night before, confidence in his traditional Kentucky BBQ recipe, and nervousness about how the judges would view his creation. Those feelings all changed in an instant when Myron held up an Old Hickory t-shirt, declaring John Foreman the Pitmaster Kentucky Champion at the end of the show.
"I was very proud, not really for me. I was proud for the restaurant and all the people who work here," he said. "I was more proud for Owensboro and the people I'm around. I was also proud for my dad. To me it was more recognition that he deserved rather than me, and I often wonder what my great-great-grandfather would think of the tradition he started."
In the end, the celebrity status (or the $2,000.00 cash prize) hasn't changed his routine. Foreman still comes into the restaurant on Washington Avenue and preps the pits with the day's chicken and ribs, which he says need to cook for five to six hours. The mutton, barbecue beef and baked beans cook all night, according to the Pitmaster Champion. The only difference is that now he gets customers from all over who have seen the show and want to try some of this Pitmaster Champion's award-winning recipe.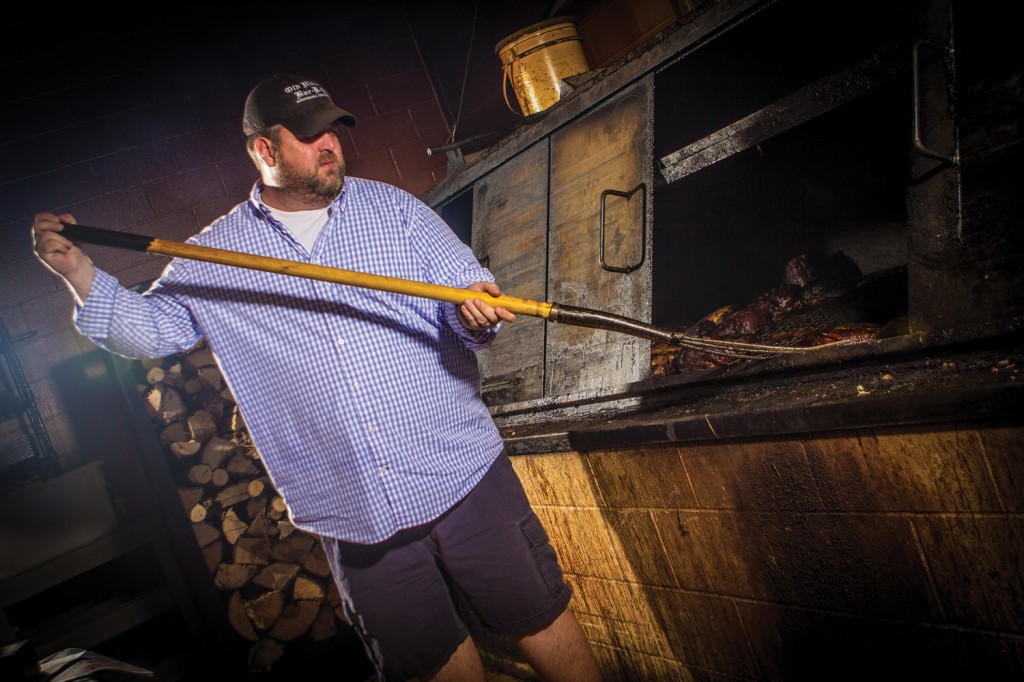 [tw-divider]Pork Tenderloin Recipe[/tw-divider]
BBQ men are often times very protective of the secret recipes that their finger lickin' empires are built on, but Foreman agreed to share a short Pork Tenderloin recipe with us.
Split a whole pork tenderloin down the middle into a canoe.
Smother it in sauce, either Old Hickory BBQ sauce or one of your choosing.
Stuff the tenderloin with cream cheese – really pack it in there.
Add sliced jalapeno peppers along the top of the cream cheese
Wrap the whole tenderloin in bacon (yeah we thought you'd like this part).
Add a generous portion of brown sugar to the wrapped tenderloin.
Put the meat on a grill or in a pit for 3 to 4 hours at 250 degrees.
Once it's cooked to your liking, enjoy!