The timing couldn't be better for an expansion to the International Bluegrass Museum. In the past few years, ROMP attendance has tripled, downtown Owensboro has been completely revived, and Bluegrass music has become arguably the fastest-growing genre in the world. All of a sudden, acoustic bands like Mumford & Sons are winning Grammys and blaring their banjos and tambourines on mainstream radio. We're hearing Bluegrass's influence on more and more "Top 40" bands with no drum sets, more acoustic instruments, and tighter harmonies. Bluegrass festivals are exploding across Europe and Japan, not just in Owensboro.
But that's the key! It all began right here. And that's what has International Bluegrass Museum director Gabrielle Gray all smiles these days! "The economic potential of this new museum is tremendous," says Gray. "We are the only International Bluegrass Museum in the world. We are the heart of it all."
Local fiddle player Randy Lanham agrees. "The museum helps brand Owensboro as the Bluegrass capitol of the world," Lanham says, "and the new museum is just going to make that presence even stronger."
Fans are already coming in droves. Just flipping through the guest registry at the front desk gives you an indication: visitors from Virginia, Indiana, Maryland, Alabama, California, West Virginia, Australia, North Carolina, a college group from Italy, and a film crew from London. And that's just the last few weeks. "Working here kind of feels like the U.N. sometimes. We really do meet people from all over the world." Gray said. Attendance has steadily increased since Gray became director 11 years ago, with major jumps due to the school programs and the influx during ROMP weekend. The past several years the museum has averaged 45,000-50,000 visitors a year.
[tw-divider]The GROWTH OF ROMP[/tw-divider]
One of the first things Gabrielle Gray did when she took the director position was start a Bluegrass music festival. The "River Of Music Party," as it was known in the beginning, drew crowds of up to three to four thousand fans.
The festival got a major boost in 2010, when Gabrielle proposed the idea to broaden the scope by changing the name to "ROMP: Bluegrass Roots and Branches Festival." With the board's approval, Gray went right to work, booking headliners Steve Martin and Emmy Lou Harris, and then rounding it out with jam bands, more big-name acts, and several lesser known bands that had a strong following of younger fans. The result: an increase of tickets sales from 4,000 in 2009 to 15,000 in 2010.
A lot of the credit for that growth goes to a dedicated street team of mostly college students who met over their Christmas break in December 2010. After brainstorming a list of bands to invite, they began promoting heavily through social media and handing out brochures at their respective colleges the next semester. Their work paid off, gaining a younger audience in just a few short months After tickets sales surpassed 20,000 in 2012, ROMP was named Bluegrass Festival of the Year by the International Bluegrass Music Association.
[tw-divider]MUSIC OF COMMUNITY[/tw-divider]
One of those early street team members was Owensboro native Chris Langdon, who now works the front desk at the museum. "I grew up in Owensboro, so I always heard about Bluegrass and knew what it was. But I never really experienced it until my girlfriend invited me to go to ROMP," Langdon explained. "I fell in love with it immediately; the music, the atmosphere, just everything that goes on at ROMP. It's more than just the music. They say Bluegrass is the 'music of community,' but it really is true. Everybody is so welcoming and everybody gets along so well. Jam sessions just happen and it's all part of it. It's not like other festivals. There's just a different vibe at ROMP."
That "vibe" seems to be what attracts people the most to Bluegrass, whether it's at a festival like ROMP, the front porch of someone's house, "Bluegrass on the Banks," or the Lanham Brother's Jamboree at Diamond Lakes. Owensboro has plenty of opportunities to hear traditional Bluegrass and explore all its roots and branches year round.
[tw-divider]PLANS FOR THE NEW BUILDING[/tw-divider]
"When people think of country music, they think Nashville. When people think of New Orleans, they think Jazz. When people think of Bluegrass, we want them to think Owensboro!" says downtown developer Terry Woodward.
Woodward continued, "With all the development downtown, the new museum puts the missing piece in place. The new riverfront appeals to Owensboro residents and is a regional draw. The new convention center will bring in more statewide tourism. But this new International Bluegrass Museum will draw tourists from around the world. It's going to help fill the hotels and restaurants. Plus, it will help give our area even more international recognition."
What can we expect at the new building? "More exhibits, more live music, and more of everything we love about the museum," said Gray. "We'd love to have live Bluegrass six nights a week in the summer."
If everything goes according to plan, the new museum hopes to open in early 2015. According to Woodward, the plan includes a 1,000 seat theater with an additional outdoor venue as well. The extra space in the new facility is much needed since the current museum has reached capacity. One of the new features developers are excited about is a children's exhibit where kids can take quick lessons and learn simple melodies on mandolin, fiddle, and guitar. An international hall is also being planned to highlight the history and growth of Bluegrass in other countries around the world.
This is an interesting point in the history of Bluegrass, both locally and globally. Driven by the energy of a word-wide folk movement, the groundswell from 20,000 ROMP fans each summer, and plans for a new building, the new Bluegrass Museum is poised to be the next crown jewel in the downtown master plan.
[tw-divider]RANDY LANHAM[/tw-divider]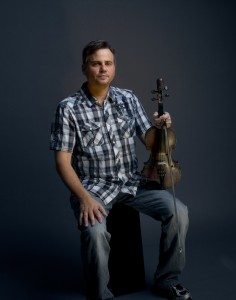 "It all started with my granddad," says Randy Lanham. "He was a fiddle player and he loved the old time mountain music; the same music that influenced Bill Monroe." Randy learned by playing along with his granddad almost every weekend.
After graduating from Daviess County High School, Randy started playing on the road with MCA recording artist Marty Brown (who was featured on this season of "America's Got Talent"). Two years later, at age 20, Randy decided to move to Nashville, and spent the next ten years touring with country stars like Wade Hayes, Tracy Lawrence, Clay Walker, and Tanya Tucker. "It was an awesome season in my life," says Lanham, "but I'm past that now. And I'm glad to be back home."
Since moving back to Owensboro, Lanham has spent the last ten years running the Bluegrass Museum's "Bluegrass in the Schools" program, which teaches students in twenty-three local elementary schools about the history of Bluegrass and an introduction to banjo, fiddle, mandolin, and guitar. Another one of his roles as Education Director at the Museum is running the Saturday lesson program, which averages around 300 people. When the new museum opens, Lanham hopes to offer tourists a one-day workshop where visitors can learn a simple melody on fiddle or mandolin, and record it all in the same day right there at the museum.
Randy and his brother, Barry, also host the "Lanham Brother's Jamboree" at Diamond Lakes Resort's "Good Time" Theater. The idea behind the jamboree is to provide a family friendly variety show featuring Bluegrass, country, rock, comedy and clogging, but "Bluegrass and clogging definitely take center stage," Lanham explained.
You can also see Randy playing at "Bluegrass on the Banks," a free live Bluegrass concert held the second and fourth Tuesday of each month at the Overlook Stage at Smother's Park from 7-9pm.
[tw-divider]kings highway[/tw-divider]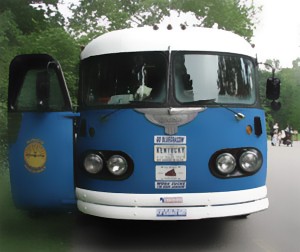 When you see that retro blue 1946 tour bus, you know you're in for some old-fashioned, foot-tapping, Bluegrass music. The bus is a rolling museum, filled with pictures, memorabilia, and autographs from other Bluegrass bands. The name "King's Highway" alludes to following their influences; the kings of Bluegrass, like Bill Monroe and Flatt & Scruggs. Although King's Highway is not technically "from" Owensboro, all the members live fairly close (Evansville, Henderson, Rosine, Bowling Green) and the band was actually formed here eight years ago at a jam session during ROMP when it was still back at English Park. Since then, they've taken their traditional style of Bluegrass on the road, averaging 60-70 shows a year, mostly at festivals within a 200-300 mile radius. You can catch them at the Jerusalem Ridge Bluegrass Festival in Rosine on October 2-5th.
[tw-divider]blackberry jam[/tw-divider]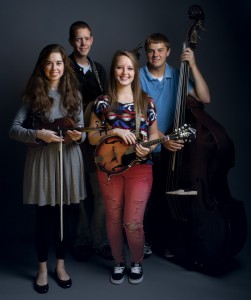 Up-and-coming band Blackberry Jam represents a fresh, younger sound known as "Newgrass." With appearances at the Lanham Brother's Jamboree and several others around town, Blackberry Jam has been generating a lot of interest and building a steady following.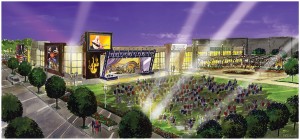 In an unprecedented show of support for the preservation of Bluegrass music's history, artifacts, recordings and collections, the City of Owensboro, Kentucky pledged to give $3 million to the International Bluegrass Music Museum, provided that the museum can raise the remaining $7 million needed to convert the former "state office building" into a fabulous new International Bluegrass Music Center. The museum needs your help. Please consider donating to this capital campaign to make the museum possible.