Though distinctly different, two local family businesses speak of a common bond — one of genuine love, hard work and mutual respect. That's not to say that tempers do not flare occasionally, or that being in a family business is easy. It's anything but that.
Tucked just off Highway 144 East sits one of the oldest family farms in Daviess County. Reid's Orchard began with Billy Reid's great-grandfather in 1873, and has evolved into an agritourism business. With the 94-year-old patriarch of the family greeting shoppers in the Apple House and the matriarch rocking in the morning sunlight on a nearby porch, the sense of family is ever-present. "We want this place to be the family farm," said Valerie Reid Reel, who oversees all special events such as weddings, birthday parties, receptions and music festivals. Little did her mom Kathy know that in high school, Valerie's friends were coming in the back road as she was leaving out the front. "I was just practicing (as the events coordinator)," Valerie said with an audible giggle.
The orchard is truly a family affair. Four separate Reid families run the 200+-acre orchard. To do that successfully, they have had to diversify. In addition to the "events" component, son Brad manages the satellite stores, and is learning the farm operation; daughter Katie uses her degree in business horticulture to oversee the production of the Proven Winners flowers (spring and fall), in addition to helping manage the Apple House's retail sales and Farmers' Market sales.
"They all play an integral part in the orchard itself. Without that, we couldn't do all this. Billy (the dad) can only do so much," Kathy said. They rely on word of mouth communication—not formal team meetings—and hard work. Brad and Billy start as early as 6 a.m. and work late, with Katie and Valerie arriving as early as 7 a.m. Although Billy is more "in the middle of what goes on than anybody," Kathy said that she does what others don't want to do, making the store pretty and sweetening it up with her fudge-making and management of the Apple Festival (Oct. 19-20). With a whopping 27,000 attendance over the two-day span, the 27-year-old Apple Festival acts as a community-wide family affair, attracting visitors from multiple states. Clearly, there's not a lot of down time on the farm. The family pulls together and offers to do what needs to be done, regardless of whether it's in their so-called job description or whether it's the weekend.
The upside to all the hard work? "For me, my family is here…all my kids are here, all my grandkids are here at this point. We're all together. If you need help, just make a phone call and someone will come running," Kathy said.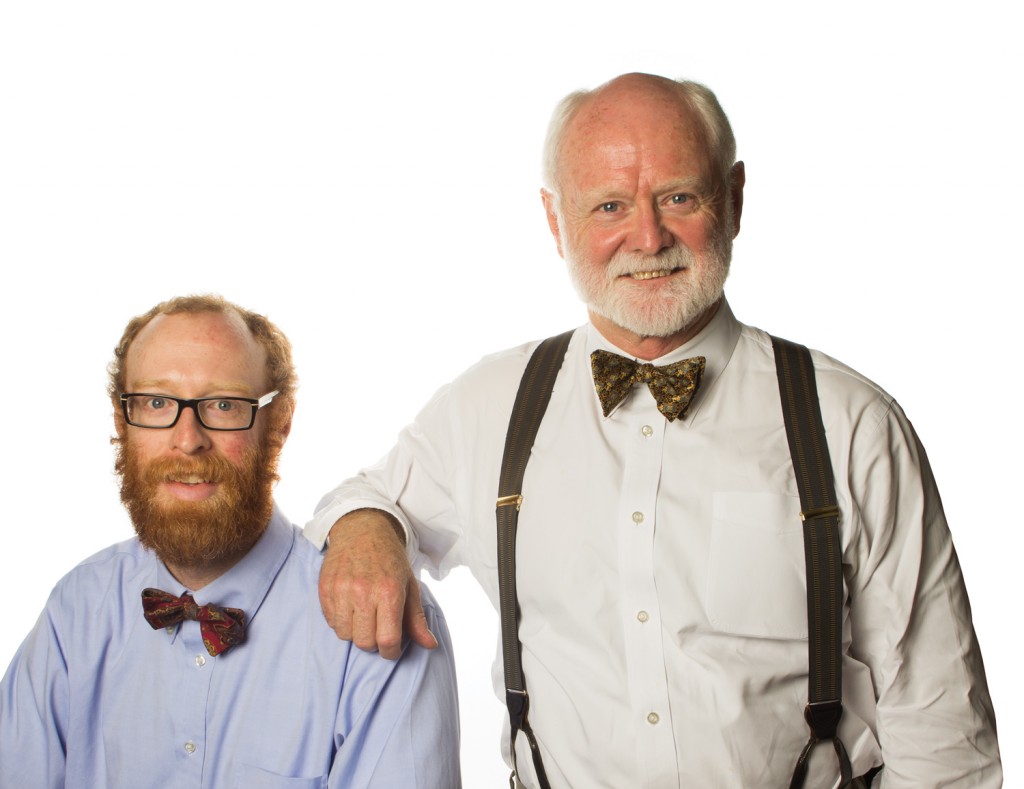 About four miles east on Second Street (across from Famous Bistro, another family business) resides the Wilkey-Wilson law firm in which father Russ Wilkey and son Clay practice law. In 2011, Clay moved back to Owensboro, back into the home where he had grown up, and back to the yard that he once resented mowing. He had been commuting from Lexington to Frankfort where he served as a public defender. Clay asked his mom if she thought his dad would have room for him in the practice. "Oh, he would find room for you in a heartbeat," said his mom (Amy). That he did.
Clay practices primarily in the areas of criminal defense and family law; Russ and his law partner Steven Wilson concentrate in bankruptcy, personal injury and social security cases. The upside of working with his dad? "He's not a jerk," Clay said emphatically. "Maybe not every father and son could work together, but Dad and I have always been close…we have lunch over there every Sunday. Anytime I need anything, if it's personal, professional or otherwise, I know I can call my mom or my dad… " Clay said.
Clay says that he's probably not the most loyal of associates, and that his dad probably lets him get away with things he might not allow of another junior associate. Although he tries to not take unfair advantage, he chuckled as he said, "I probably do."
If they need a vacation, they take one; if one of them needs a Friday off, they take it. That's one of the sweeter advantages of working in a small family business. Steven and Clay are actually fourth cousins.
What is the upside of working with your son? "I'm looking for it. Maybe in the course of this interview, it will come out," said Russ. Clay noted that sarcasm does not translate well in print.
It was not a given that Clay would come into the family business, although he had adopted his dad's trademark bowtie and beard. So what is the secret to a family business? "Gosh, having a forgiving father," said Russ, with gentle humor. More seriously, Clay said, "If the personal relationship stays intact, then the business relationship is going to follow."
From a dad's perspective, "The upside has to be that you get to spend time with someone you love… It was once observed that women work face to face; men work shoulder to shoulder. That's how you relate to each other… out of those shared experiences comes a closeness that you value," Russ said.
"Clay did not come in here with a sense of entitlement; he has worked very hard from day one." That work ethic runs deep. "Both these guys (Clay and Steven) come in early, stay late, work nights and weekends…" Russ said. He underscored the necessity of an unwavering work ethic: "It would not do well for me to get here at 8 and Clay to stroll in at 10."
Family businesses abound and seem to thrive in Owensboro. "We're not the only father-son or parent-child relationship in the practice of law, the practice of medicine or practice of accounting," Russ pointed out, while easily naming business upon family business within a stone's throw of theirs. With retirement or semi-retirement in the not-too-distant future, Russ spoke to the heart of the issue: "You know that whatever you've built up gets carried on by someone who's concerned about it, so you feel like you've created something that has a life beyond you."