Holiday World & Splashin' Safari's Wildebeest water coaster took top honors during the 2014 Golden Ticket Awards ceremony, held this evening at SeaWorld San Diego in California.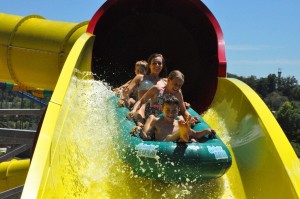 2014 Golden Ticket Awards For the fifth year in a row, Holiday World's Wildebeest water coaster was named the World's #1 Waterpark Ride. This top honor was announced by Amusement Today magazine, which presented the results of its annual survey of the "best of the best" in the amusement park industry during Saturday evening's Golden Ticket Awards ceremony.
For the fifteenth consecutive year, Holiday World & Splashin' Safari were named the #1 Cleanest Park, outranking such parks as Disney World, Kings Island, Dollywood, and Cedar Point.
"For this award, we once again thank our amazing Hosts and Hostesses," says park president Matt Eckert. "We're borderline obsessive about keeping our parks clean – and always will be."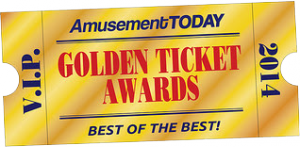 In other categories, Holiday World's Voyage and Raven roller coasters were named among the world's Top 15 wooden coasters, Splashin' Safari was named the #2 water park, plus the parks' staff was named the second friendliest in the world.
Amusement Today is an international monthly trade journal for the amusement and water park industries, based in Arlington, Texas. The Golden Ticket Awards are determined by surveys submitted by well-traveled park enthusiasts from around the world.
Holiday World & Splashin' Safari will be open to the public on September 13 and closed for a private outing on September 14. Happy Halloween Weekends begin September 20. For more information, visit HolidayWorld.com or call 1-800-467-2682.