Photos by Jamie Alexander
Bill's Restaurant is celebrating its 10th year in business, but chef and owner Bill Hughes said it is not only a celebration of his restaurant, but also the landmark building where the restaurant is housed. Mike Callas built Callas Sweet Shop in 1921, and the 100-year celebration of the building makes it even better, according to Hughes.
The exterior of Bill's Restaurant, located at 420 Frederica Street, is created in Beaux Arts architecture, which helped it be placed on the National Register of Historic Places in 1986.
The interior of the building has exposed brick walls that are original, although Hughes said that because of a previous fire, the tin-tiled ceiling is not original.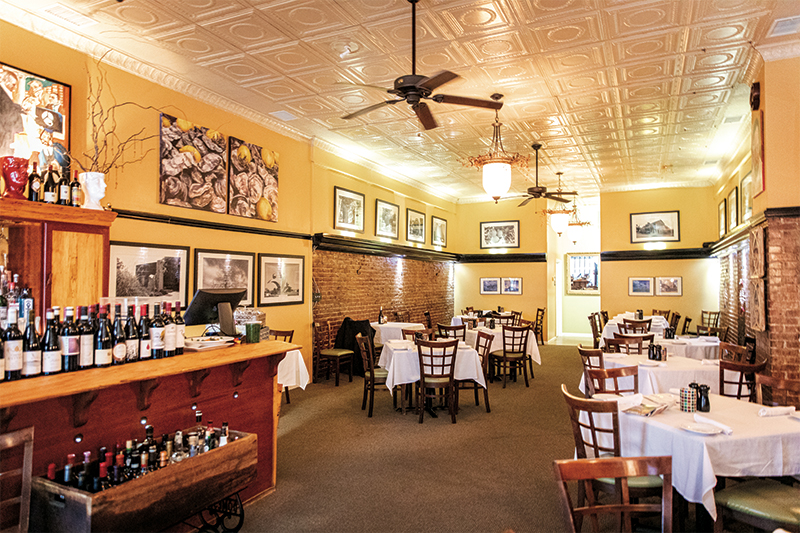 Around the shotgun interior are stunning black-and-white original photographs that Hughes has taken of local landmarks, nature and scenery. The three-story-building boasts art gallery space on the second floor that also is used to host events. More of Hughes' photographs line the walls upstairs.
Chef Hughes said that the 56-seat restaurant is the right size for the meals he serves and the customers who dine there. With an ever-changing menu, Bill's offers traditional starts but accents them with global offerings.
Looking back, Hughes said that he was always interested in cooking. Beginning at the age of 6, he said that he figured out that by cooking, he was able to eat what he wanted. And one of his culinary delights was Bananas Foster, a dessert made with bananas, butter, brown sugar, cinnamon and rum— and then ignited.
As the youngest in the family, Hughes said cooking was always part of life—and eating great meals.
"We killed cows and we had a garden," Hughes said.
After graduating from Centre College with a major in English and Economics, Hughes "immediately" moved to Charleston, South Carolina to attend culinary school at Johnson & Wales University.
He then co-owned the Primrose House restaurant before returning to Owensboro to be the chef at the now-closed Campbell Club. After nine years as executive chef, Hughes left the culinary world and became a broker for Edward Jones. This decision, he said, was made so he could spend time with his then-two-year-old daughter, Martha Sharp.
But the culinary world lured him back in 2011, and Hughes opened Bill's Restaurant.
His favorite item to make is seafood stew—any style, including Vietnamese, Chinese, Korean, Indian.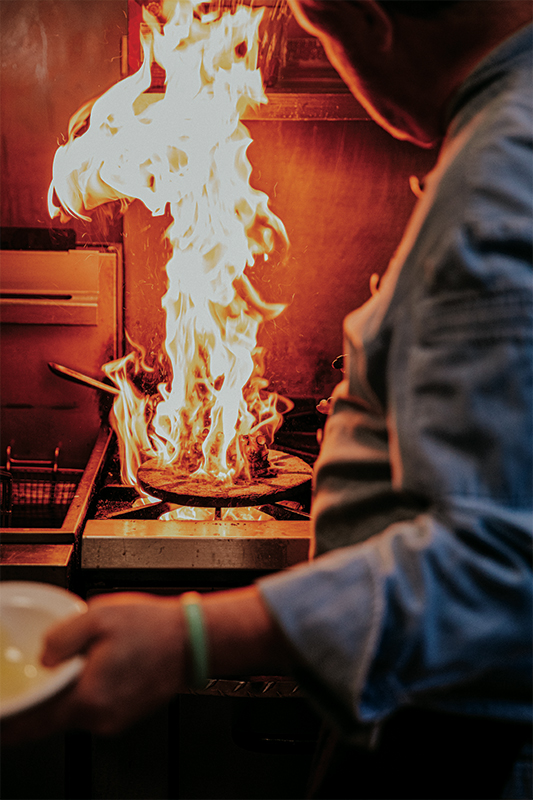 "And our bread…I love our bread," he said. The restaurant's specialty—and a customer favorite—is their Vietnamese flash-fried Brussels Sprouts.
The desserts are all scratch made by Hughes and assistant Sherry Garrity, and they often collaborate on the flavors.
"She might make the cakes and then we decide how to fill and ice it," he said, describing making a traditional Italian cake but then filling it with layers of banana-flavor and icing.
During the forced closing of dining establishments during the pandemic, Hughes used the time to think about opportunities for his restaurant and didn't reopen until October when there could be a higher capacity.
And during this time, while watching the NBA's 2020 season that was played in a bubble, Hughes began considering ways to keep his patrons safe that dine there frequently. He is planning to convert the restaurant into a private dining club with membership-only privileges.
"I said we wouldn't open until Bill's could be Bill's again," Hughes said of the delayed opening.
Menus are posed on the restaurant's Facebook page and often include featured wines.