Photos by Jamie Alexander
Using local products and vendors, a local home, and a local design team, Owensboro Living collaborated with Laura Ruth Edge and a host of Owensboro businesses to stage a one-of-a-kind project that showcases some of the finest quality and craftsmanship that Owensboro has to offer.
Laura Ruth Edge, interior designer, and Stephanie Hardesty, local realtor, have been friends since grade school.
When Hardesty entered the world of real estate a year ago, Edge got the opportunity to enjoy their friendship in a new way. Sharing a passion for beautiful spaces and the unique needs of each client is something the pair know well in their industry.
"Stephanie is a design enthusiast. It comes in handy as a real estate agent because instead of checking boxes off, she sees past that. She and I are able to collaborate and discuss trends between the two industries; they have to exist together," Edge said.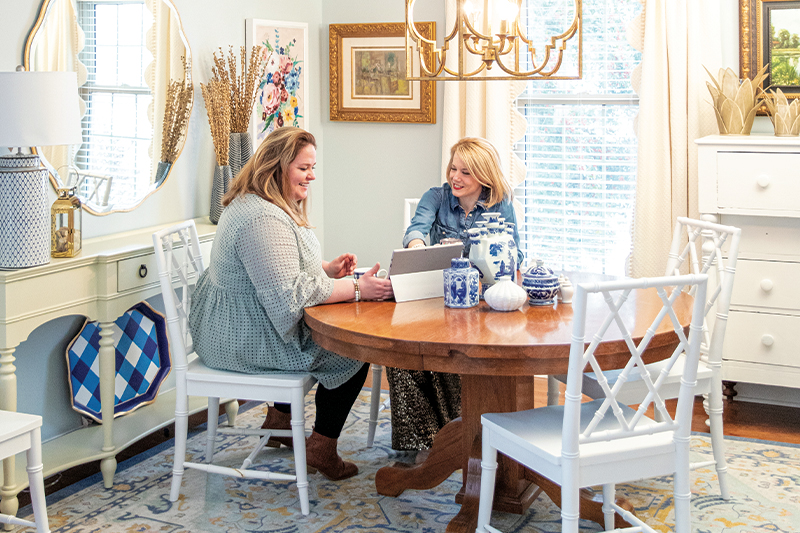 To showcase local businesses and vendors, Edge is leading a design team in a one-of-a-kind project that proves there are numerous benefits to shopping local and supporting vendors within the community.
Local businesses and vendors collaborating on the project include interior design by Laura Ruth Edge of L. Ruth Interior Design, home staging opportunity provided by Stephanie Hardesty, Realtor with The Ryan Rutman Real Estate Group of RE/MAX Professional Realty Group, Mantled Home, WinSupply, Home Inspired, Studio 105, Tom Blue Furniture, Integrity, Studio Slant, Disaster Team and painting by Mathey Services Inc.
When looking for a space to stage using local products and materials, Edge realized that Hardesty's house could be the perfect spot.
"She started talking about doing this— I'm a client of hers anyway and she's my go-to for ideas. I already had an interest in design, and I knew she had a team in place. It was an awesome idea honestly," Hardesty said.
Both agree there is somewhat of a shift in the housing market towards traditional floor plans. Although the open concept will always have its place, the demands of the past year have shown many families that their space needs are changing.
"We look at what the client is experiencing right now from a design standpoint, but also a functional standpoint. People had to learn how to work from home, go to school from home, do all the things from home. They need spaces big enough to gather, but also more personal space, too," Edge said.
With Hardesty's home showcasing a traditional floor plan with updated spaces, the community can see an example of the best of both worlds.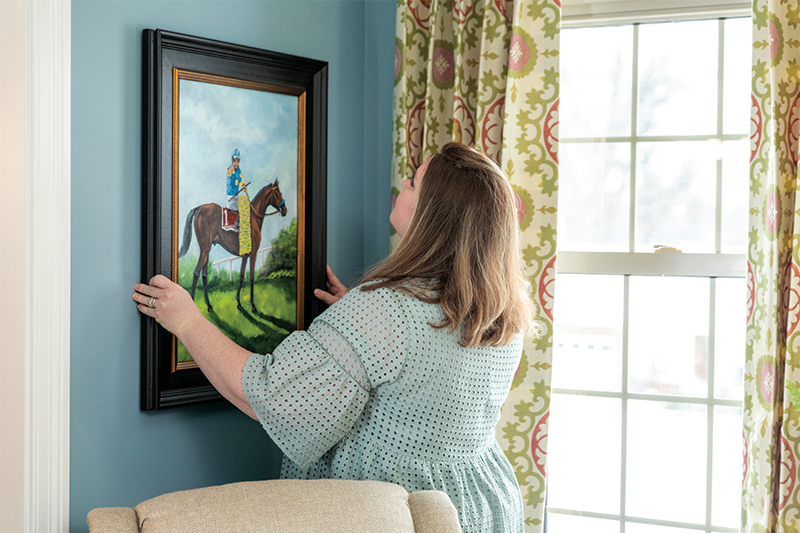 "She has widened a few case openings in her home. All the rooms tie together but at the end of the day, the room itself is multi-purpose. You can have both worlds in one space if necessary," Edge said.
Both acknowledge that some of the traditional floor plans may be appreciated in a new way with the influx of so many working from home.
"A different style of home or repurposing rooms may be a need for many clients. They may even need help to create a legitimate space in their home. These needs design-wise and real estate wise are being created out of nowhere," Hardesty said.
Hardesty believes the realization is starting to hit home that some changes society has encountered may be bigger than working from home for six months.
"It's odd to think these changes may be longer-lasting for some people. We will help navigate this for our clients one change at a time. Design is so much more than putting pillows out; it's about making your home work for you, making it more adequate for where your needs are," Hardesty said.
In most open concept houses, the open space holds the kitchen and living room. The demand for a multi-faceted room or a separate space to do work has caused the shift in housing needs.
"From a design perspective and a real estate perspective, we see something similar from clients—everyone has had to make do and have created makeshift spaces for these activities," Hardesty said.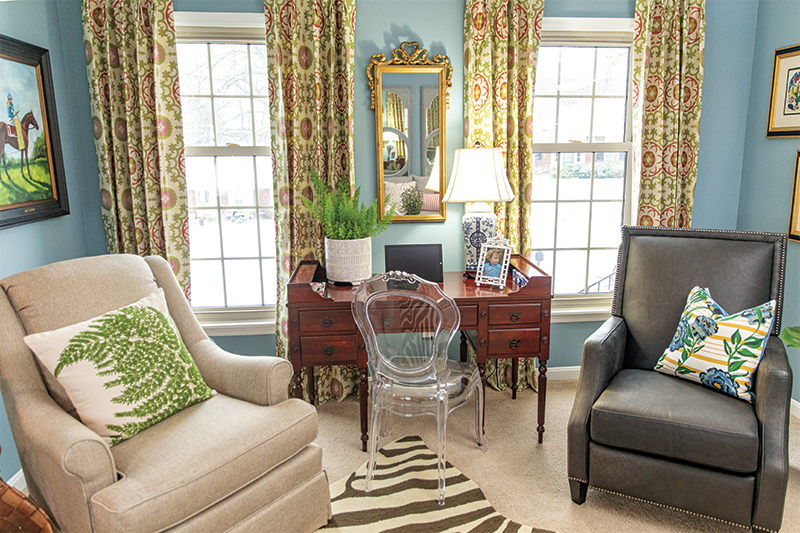 With Edge's passion for interior design and Hardesty's expertise in the housing market, staging a space using only local products and services fell into place. The pair have enjoyed the transformation process and collaborating with community partners along the way.
"We've had a ball with it, even just spending time together. We've put this together pretty quick; it's only been a couple of weeks. People have it in stock here locally, and you don't have to worry about waiting on a big box store to deliver it." Hardesty said.
One of the biggest perks of shopping local is not having to wait for pieces to arrive. The collaboration piece has also been special for Edge, who says her job would be nearly impossible without partnership from businesses and vendors in this community.
"Everything we used for this project was already available—it all came from local stores who provided items to be staged. These folks have been great partners to me—without them, we wouldn't have been able to stage this space and I couldn't do my job without them," Edge said.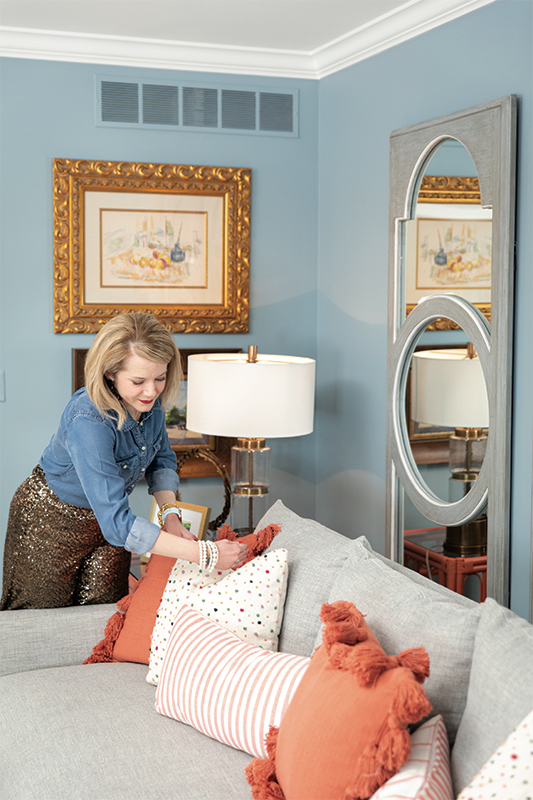 As a design team, Edge is proud to be able to provide so much for people from their own resources and also from the resources of local vendors.
"We can plan a space and work with clients, and then have the products delivered. We tailor things specifically to our customers, a very personalized process. No two clients are alike, and no two spaces are alike," Edge said.
One lesson Hardesty learned working with local vendors is that each person is a master of their own craft. Whether it's paint or flooring, or a different aspect of design, she has found that each business offers unique expertise.
"Everyone I have met takes pride in their work. It's important to them that they are doing things the right way. That's how I want to do business. It's inspiring to me," Hardesty said.
As far as a goal for this project, Hardesty hopes that readers will see something they like and it will bring some exposure for the business.
"Everything that was brought in for this project, store owners took pride in. They were proud of their business and wanted to showcase what they have to offer. They are experts in their area, and I feel like I'm learning from them," Hardesty said.
The duo considers this space transformation collaboration project to be a huge success, and are thankful for those who partnered with them.
"We want the community to know how awesome it is to work together. This was an opportunity to see what it's like to have things in stock, to change a space or make things function differently. It can come right to your door from a local furniture store or home boutique," Edge said.
Vendor List
Foyer
Floral art piece: Integrity
Bar cart: Studio Slant
White and gold mirror: WinSupply
Living Room
Painting of walls, trim and ceilings: Mathey Services (Cyrus Nale, Corey Mathey & Caleb Mathey)
Ceiling paint: Benjamin-Moore Ultraspec Flat, 2144-70 Snowfall White
Wall paint: Benjamin-Moore Aura Matte, CSP-605 Dusty Cornflower
Trim paint: Benjamin-Moore Advance Satin, 2144-70 Snowfall White
Three mirror panels: Home Inspired
Sofa: Tom Blue Furniture
Side tables: Client's personal collection
Gold and glass lamps: WinSupply
Blue and white striped Picture frame: Studio Slant
Gold laurel wreath stand: Mantled Home
Dark coral pillows with tassels: Integrity
Coral and white Plaid/Stripe Lumbar Pillows: Integrity
Owensboro Bridge Print on side table: Studio Slant (artist Kelly McClelland)
Custom Framed Derby Painting by Leisel Long Chaintreuil: Studio 105
Blue and white ginger jar: Studio Slant
Funfetti pillows: Integrity
Custom framed pastel: Studio 105
Custom framed bridge painting on wall: Studio 105
Column capital coffee table: Home Inspired
Brass tray: Client's personal collection
Pale blue coasters: Studio Slant
Bubble blue ceramic planter and Plant: Integrity Nursery
Cream swivel rocker: Tom Blue Furniture
Pillow with greenery: Integrity
Yellow stripe/blue floral/velvet pillow: Mantled Home
Dark brown leather recliner: Tom Blue Furniture
Five custom framed authenticated paintings: Studio 105
Gold mirror between windows: Client's Personal Collection
Blue and white chinoiserie lamp: Client's Personal Collection
Acrylic Louis XV style side chair: Designer's Personal Collection
Custom framed American Pharaoh painting: Studio 105
Brown and cream zebra rug: Integrity Nursery
Large fig plants in blue and white ceramic planters: Integrity Nursery
Blue & white desk box/candle set: Studio Slant
Multi colored leopard print tray: Studio Slant
Antique design: Designer's personal collection
Medallion draperies: Designer's custom collection
Plant Spritzer: Integrity
Breakfast Room
Table and chairs: Client's personal collection
Blue and white chinoiserie pieces: Studio Slant
White temple jar salt and pepper shakers: Studio Slant
Rug: Client's personal collection
Custom framed landscape: Studio 105
Chest: Client's personal collection
Large and small gold mesh aloe vases: Mantled Home
Tall basket lantern: Mantled Home
Console: Client's Personal Collection
Brushed gold lantern light: WinSupply
Large gold scalloped mirror: WinSupply
Two floral prints: Mantled Home
Dark blue grey feathered porcelain vases: Mantled Home
Gold vase filler: Mantled Home
Blue and white lamp: Studio Slant
Blue and white gingham tray: Studio Slant
Cream quilted draperies and rod: Designer's personal collection
Brass lantern: Integrity
Custom Gold Framed Pastel: Studio 105