Photos by Jamie Alexander
When Balance owner Kimberly Montgomery is describing her business model, she makes one thing very clear: "Don't put me in a box," she said.
Montgomery's four-year ownership of Balance has been anything but conformative, starting with the immediate peeling back of the label of "boutique fitness" that had been established by the previous owner. "I have been moving away from that since day one," she said.
Women comprise 90% of Balance's membership, but Montgomery said the men who attend classes and special events bring such great energy to the classes that she can't imagine operating without their support, and does not want to shut them out.
And while the studio started as a fitness studio by the previous owners, physical health is not Montgomery's only interest.
"That's just one facet," she said. "I teach fitness, and that's what I bought, but I have to evolve with what is happening at the time both culturally and with the zero-waste movement."
After buying the business, the first thing Montgomery did was change the name to include "Health+Body" and added natural products, including a line of natural bath and skincare from an Evansville woman-owned business that she said has changed her perspective on environmental health.
Sixth+Zero owner Mary Allen, also called a Master Soapist, has expanded into a zero-waste mission in Evansville, Newburgh and now Owensboro, and Montgomery believes this facet needs a huge spotlight.
"The recycling programs are no longer an answer to this crisis," she said. "We need to shift our focus to reducing our waste and refilling our containers."
With the addition of these product lines, Montgomery began thinking of other ways to support companies that are creating products that put the environment first, and opened what she calls the Filling Station, an area of the store that hosts a wide selection of household and self-care staples where customers and clients bring in empty containers and refill with fresh, organic and effective products.
Quickly, Montgomery's clients settled into her routine and began purchasing from her while attending sessions offered at the Frederica Street studio.
And that box—the one she doesn't want to be in—began to fill up, and Montgomery needed more space, although she had two locations at one time. And when considering what this space would look like, she had more ideas and people she wanted to include.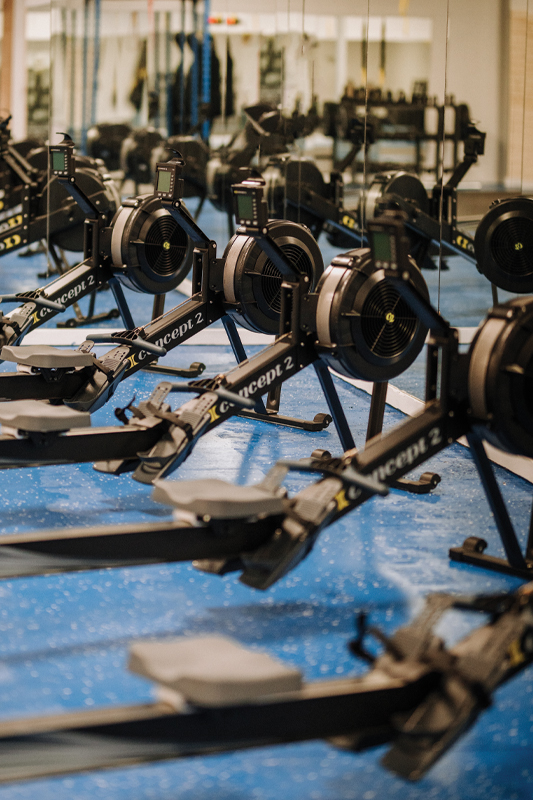 With Montgomery's purchase of the defunct Athenian in November of 2020, which had most recently been part of the YMCA, Montgomery began envisioning and incorporating several working businesses as part of her club.
But first, she had to remodel the space with the help of friends and family. Except for a couple of projects, Montgomery and her friends and family have been the sole people responsible for painstakingly removing carpet that had been on-site for 40 years, getting the adhesive off the floors after removing the carpet, painting and remodeling the interior space to become a place that clients go not just to get a workout session in, but to also meet up and enjoy time with others. Other service providers at Balance helped her tackle the project, and worked in their spare time, which does not go unnoticed by Montgomery.
Included in this 26,000 square-foot space are several expansions of services offered for self-care. Each instructor owns her own sessions and builds rapport with her clients, which allows all that attend to feel good about what they are doing, Montgomery said.
"We offer what's missing out there," she said, including sessions that combine Laci Clark, a massage therapist, with yoga teacher Julie Moore, and together they teach a 90-minute Restorative Yoga session that offers a combination of relaxation and recovery.
A Break Room Smoothie+Coffee Lounge, which is run by Montgomery's mother, and charcuterie boards for order and grab-n-go boxes from Board & Graze OBKY's owner, Rebecca Glenn, are available daily.
"I can't believe I own a commercial kitchen; it sounds absurd," she said. "But it has brought my mom back out of retirement, and it allows us to spend time together."
And this summer, manicurist Madi Miller will begin offering luxury scrubs and nail services at the club.
All of this fits into Montgomery's idea of health across a broader spectrum, which also includes incorporating plants into people's lives, and Sydney Ellis brings plants to Balance each week, curating the ones that haven't sold and bringing new ones to fill the space. Ellis plans to host monthly #werkshops (Balance's spin on workshops) that will teach attendees about the care of plants. And Montgomery said they will collaborate to start a community garden onsite that will provide greens for the smoothies served at Balance and herbs for people to take as they like.
With the addition of those women-led businesses, Montgomery isn't finished. She wants to include all women in this powerhouse because she believes that everyone will profit from more exposure.
"Everyone (included in the offerings at Balance) is too talented to have their business in different places and then not survive," she said. "The relationships built from this business are irreplaceable, and we are just getting started."
Montgomery is motivated to host more #werkshops on weekends that interest adults and children alike. Kids' Camps are also part of the plan with school-aged children being able to use the recreational areas of the club for free play.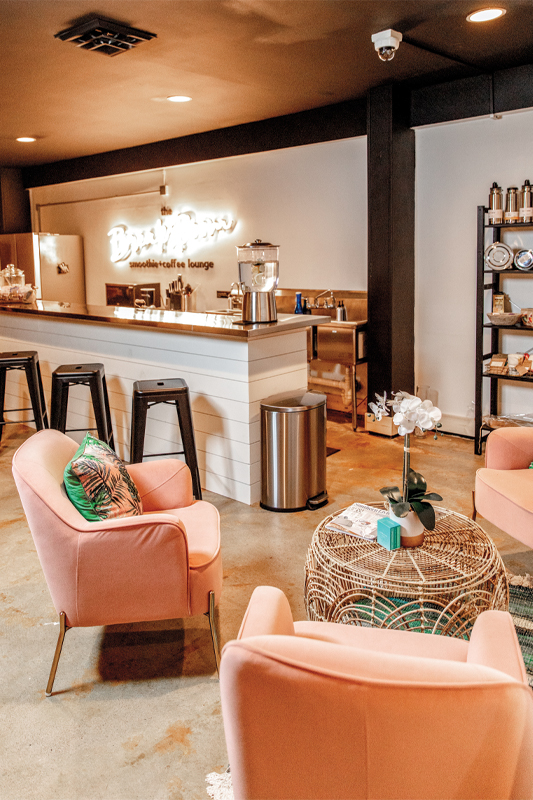 Other #werkshops, with one specifically for mental health, combines mental wellness components, and is hosted by Kara Allen and Moore, who offer meditation and the importance of calmness and breath, and a group discussion that focuses on effecting communication and productivity. After, the group breaks for refreshments in the lounge and can use the club's fitness space to enjoy court sports, fitness sessions or chair massages.
"We have already hosted our first group, and it was a major success," Montgomery said. "Our goal with these retreats is to help create healthier and happier work environments for our community."
One physical area that Montgomery said she had not planned for with an expansion was moving into recreational sports, but because of the existing space and now that it has happened, she can't imagine the club focusing solely on group fitness as she enjoys playing sports and staying active with her husband and friends.
Racquetball, pickleball, basketball, wallyball, spike ball, dodgeball and many more recreational sports can be played on Balance's 5,000 square-feet of court space. Corey Wilford, a training coach, has joined Balance's team working with basketball programs.
A first-floor Metcon room offers metabolic conditioning equipment, including TRX, mini trampolines and rowing machines, while upstairs, clients can take yoga or spin classes in the spin den, which was designed with client feedback. The den is painted black and is lit with blue bulbs because clients want to feel sexy, Montgomery said.
Montgomery isn't finished and already has a phase two expansion in the works, which welcomes Occupational Therapist Kalin Phelps, who plans to revive the pool area to include in her therapies, which will also be housed in the club.
"Through the many conversations I've had with clients and creators alike, the overall takeaway is a healthier self," Montgomery said. "Whether healthy looks like a purposeful movement, complete rest, mental maintenance or a big serving of gourmet cheese, we want to provide that support at Balance Wellness Club."
Just don't call it a gym. Or put it in a box, because Montgomery will not be boxed in.
Balance is located at 650 Chuck Gray Court.