Daviess County archers went into this weekend's state tournament with hopes of maintaining their momentum from last season's 2016 outdoor 3D State and National titles to claim its first Kentucky State Indoor Archery championship title on Saturday, March 4th, 2017 in Madisonville, KY.
The Panthers not only brought home the title of #1 indoor archery team in the state, but also showed to be very strong in the individual shooter placements having 3 shooters win individual state titles in their respected division:
(Sophomore) Manon George-Female Olympic Recurve,
(Senior) Ryan Dozer- Male Traditional,
and (Freshman) C.J. Jones- Male Fixed Pins.
Winning didn't come without overcoming adversities and determination with the team narrowly edging out 2nd place Boyd County by only 1 point and C.J Jones claiming the Male Fixed Pin title in dramatic fashion breaking a 2-way tie in a five arrow shoot off. Students not only claimed the top prize and title but several shooters were awarded college scholarship money at the State tournament.
The Panthers had many other archers who placed high in their respective divisions/classes as well as many others shooting their own personal best scores. "We have a great group of competitive archers in this program and each one is a team player who is willing to help out their fellow teammates as well as friends who compete for other teams. This is a program where many friends have been made all over the state of Kentucky as well as the Nation. This program allows kids who may not be interested in any other sport to have the chance to be part of a "team,"  Head DC Archery coach, Mike Wilson said.
DC's archery season started the year out by hosting the region's first ever Scholastic archery tournament in January. Since then DC has traveled across the state of Kentucky to regional tournaments and have come away with individual wins along with a team win at every tournament. DC archery went into the state tournament with hopes and determination, that along with hard work and long nights of practice paid off for the local archers.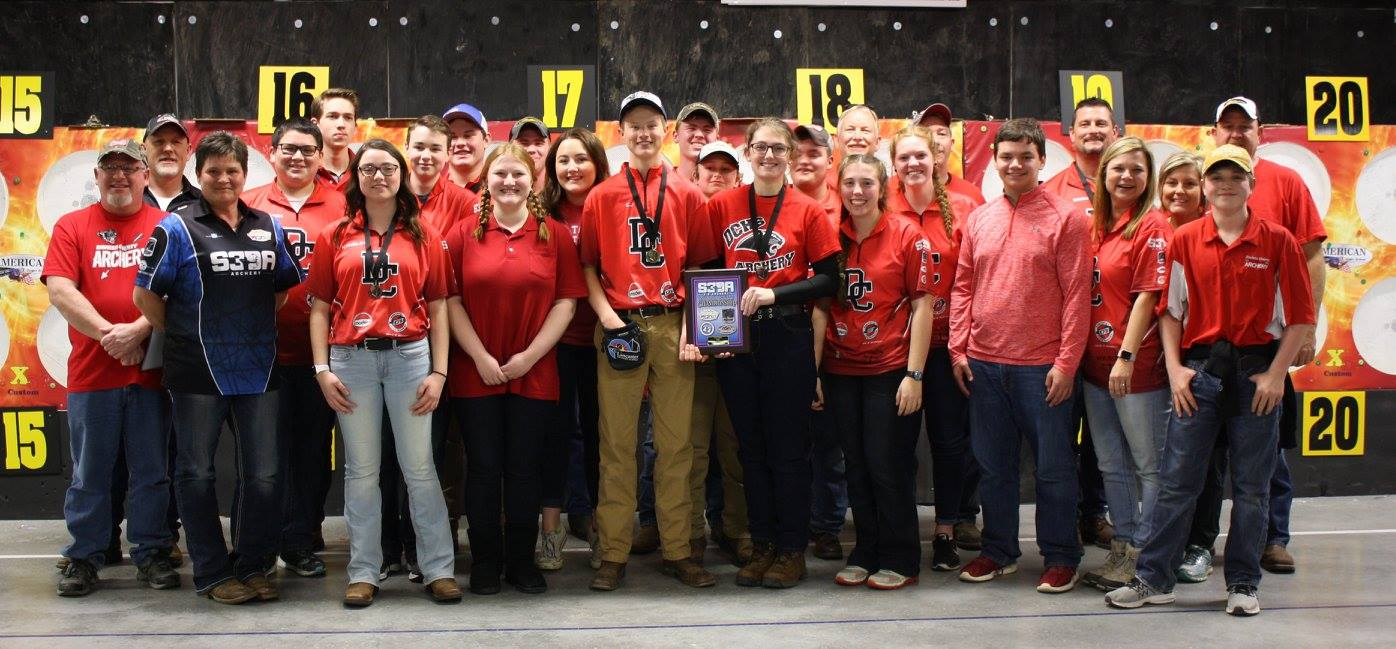 Several teams from Daviess County competed in this weekend's tournament which had 216 archers from across the state of Kentucky battling it out Bluegrass style. Daviess County High School, Owensboro Catholic High School, Apollo High School, Daviess County Elementary team, Burns Middle School, College View Middle School, and Daviess County Middle School all had students representing Daviess County in strong fashion. Archers walked away with gold, bronze, silver and smiles this weekend. Area Archers will now head to Cincinnati, Ohio on March 17, 2017, to compete in the Indoor National Archery Tournament where teams from across the United States will compete for top honors.
College View Middle School, who's students will move on to either Apollo or Daviess County also had an outstanding showing. Not only did they claim the high honors of Middle School Team State Champions but also claimed individual state champions and shooters of the year in both male and female fixed pin with 8th grader Grayson Montgomery winning both titles in male division and 8th Grader Ann Katherine (AK47) Warren winning both titles in the female division.
Team Results:
1st place- Daviess County High School
3rd place- Apollo High School
4th place- Owensboro Catholic High School
Individual shooter placements for Daviess County as a whole include:
Callie Carlton (DC Elementary): 2nd place female elementary fixed pins
AK Warren (CVMS): 1st place female fixed pin middle school
Haley Bradshaw (DCMS): 3rd place female fixed pin middle school
Collin Montgomery (CVMS): 1st place middle school male Olympic recurve
Grayson Montgomery (CVMS): 1st place middle school male open
Dave Hast (CVMS): 2nd place middle school male open
Michaela McDonald (DCHS): 3rd place high school female fixed pins
Meg Curtis (Apollo): 2nd place high school female open class
Manon George(DCHS): 1st place high school Olympic recurve
Geneva Renshaw(Catholic): 1st place high school female traditional
C.J. Jones (DCHS): 1st place high school male fixed pins
Lucas Gillaspie (DCHS): 3rd place high school male fixed pins
Ryan Dozer (DCHS): 1st place high school male traditional
Logan Luong (DCHS): 2nd place high school male traditional
Jared Wink (Catholic): 3rd place high school male traditional
TEAM STANDINGS:
High School:
1st place- Daviess County
3rd place: Apollo
4th place Catholic
Middle School:
1st place- College View
2nd place: Daviess County
3rd place: Burns
Shooter of the Year Awards:
AK Warren (CVMS): 1st place middle school female fixed pin
Grayson Montgomery (CVMS) 1st place middle school male open
Dave Hast (CVMS) 3rd place middle school male open
Harley Wilson (CVMS): 3rd place middle school female fixed pins
Meg Curtis (Apollo): 2nd place high school female open
Hallie French (Apollo): 2nd place high school female fixed pins
Kynsley Redman (DCHS) 3rd place high school female fixed pins