The Alma Randolph Charitable Foundation (ARCF) announced the keynote speaker for its 24th annual fundraising event, which will be held Saturday, July 22, 2017, at the Owensboro Convention Center.
Baseball fans are going to be happy! This year's speaker will be Darryl Strawberry, Major League Baseball great and World Series Champion, who is now an ordained Christian Minister and Author.
More information about the event will be forthcoming, but Alma Randolph says reservations are now being taken for table sponsors. Anyone interested in reserving a table of seven can contact [email protected].  For more information and updates, follow the Foundation's Facebook page.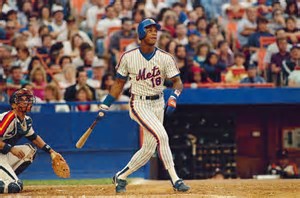 At the height of his baseball career, Darryl Strawberry won four World Series titles: with the New York Mets in '86, and the New York Yankees in '96, '98, and '99. But off the field, his life was tormented by addictions, abuse, divorces, cancer, jail-time and other issues. In 2011, Darryl founded Strawberry Ministries. Today, he is an author, ordained minister, and keynote speaker who travels the country spreading a message of hope and restoration in Christ.
The annual fundraising dinner is the largest fundraiser for the ARCF, a local non-profit organization designed to clothe children in need and enhance the living conditions of disadvantaged families. With the support of contributors, the foundation has provided clothing to approximately 15,680 children and raised $1.2 million (net) since 1993.  The foundation is governed by a board of directors and does not receive any federal, state, or local government funding.  The ARCF is 100% volunteer driven.
In December, the Foundation also announced a recently expanded vision for its ministry in three major areas. The Foundation will continue to clothe disadvantaged children enrolled in pre-school through high school in Owensboro-Daviess County with referrals from the local school systems, homeless shelters, Cliff Hagan's Boys & Girls Club, H L Neblett Center, St. Joseph's Peace Mission and Girls, Inc.
But the Foundation will also begin to fund the H.U.T.S. (Hands Up to Succeed) Project, a newly created project designed to enhance the living conditions of families by providing furniture, appliances, and household items to families in need. Randolph says the goal is to upgrade the homes of 5-6 families this year.
Additionally, the ARCF will support the Family YMCA, Mentor Kids, and Habitat for Humanity with donations from the Foundation this year.