Owensboro Health is working to elevate the health and well-being of communities throughout the region with a new magazine, Lift.
The inaugural issue, which went out by mail in February 2017 to more than 125,000 households throughout the health system's coverage area, brings fitness and fun into the spotlight. This issue highlights some of the capabilities of the Owensboro Health Healthpark, including a free walking and running club, and one-on-one sessions with professional personal trainers.
This issue also features general health tips to stay well and get better, information about Owensboro Health and One Health providers and locations, and interviews that share more information to help readers get to know our healthcare providers.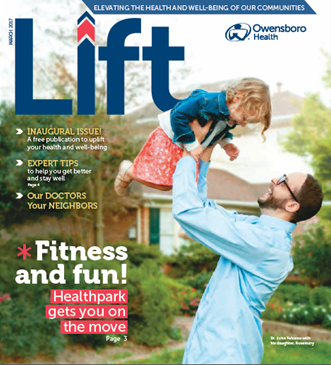 President and CEO of Owensboro Health, Greg Strahan, said Lift is meant to help encourage, educate and engage people as they change their lives in order to be healthier. Changes can be anything from making better choices at the dinner table to spending a few extra minutes walking each day.
"Lift is designed to educate and inspire you along your health journey," Strahan said. "Owensboro Health is on a mission to improve the health of the communities we serve. Every day our team of more than 4,000 rolls up our sleeves to make health care work for you. Lift brings their knowledge and expertise straight to people's homes at no cost."