Adams & Sons Fine Men's Clothiers is selling a scarf designed specifically for women.  Yes, you read that right.  And if you're wondering why, there are several good reasons. On one level, it's to break from the perception that Adams & Sons is a traditional men's boutique store. "We are really much more of a creative studio that designs men's wardrobes," owner Eric Adams explained from across a table that serves as a workstation to collaborate with clients more often than a desk.
But on a much deeper level, the IMPACT 100 scarf project reflects Adams' desire to use creativity and connections to do custom textile designs for the good of others. Each year, Adams & Sons launches a philanthropic project to raise money for a worthy cause in the community. "For me, it's about giving back. But I want to do it with style and a good sense of design," Adams explained.
You may remember Adams & Sons' 2015 Blue Bridge Tie Project, which raised $7,500 for the Owensboro Health Foundation. The concept was to produce 75 limited edition ties in celebration of the 75th anniversary year of the Glover Cary "blue" Bridge, with the goal of donating $7,500 in proceeds to the Owensboro Health Foundation.
That initial Adams & Sons charity project was a success. The 75 ties sold out in seven weeks, well ahead of the expected time frame, leaving Adams pleasantly surprised, but also wondering if there could have been a demand for a second run of ties.
For the sophomore effort, Adams set his mark a little higher. "Our goal with this project is to raise $20,000 for charity. Because we're not tied to a particular number this time, like we were set on 75 last year, we can order as many runs as we need."
With the inaugural philanthropic project behind him, Adams set his sights immediately on the 2016 project, hoping to appeal to female clientele.
Making an Impact
The first issue to address was to decide on a new recipient for the proceeds. "It was always our intention to pick a new charity within the community every year," Adams explained.
After talking with Marianne Smith Edge, co-founder and current president of IMPACT 100, the full scope of the project started coming into focus. Maybe it could be a woman's scarf to benefit IMPACT 100's efforts?
From Smith Edge's perspective, the idea for the scarf project immediately resonated with a concept the IMPACT 100 board had been discussing for some time: a "girls giving circle" modeled on Austin, Texas' IMPACT 100 chapter, which sponsors a "Girls Giving Grants" youth initiative.
IMPACT 100 Owensboro is a community of women that seeks to transform lives in the Greater Owensboro area through high-impact and lifelong giving. IMPACT 100 Owensboro combines annual donations from a minimum of 100 members to give large grants each fall to local worthy causes selected by the members.
"This is our 11th year for IMPACT 100. We have been creating a strategic plan to launch our young women initiative as we enter our second decade of grant-making. Proceeds from this scarf project will provide the perfect opportunity to secure the seed money for that program and provide stability to sustain during the first few crucial years," Smith Edge explained.
It was an immediate win-win for both parties. "IMPACT 100 does great things in our community by supporting so many worthy causes. But hearing that this project could provide the seed money for the junior chapter of IMPACT 100 got us excited. To think this project can help model philanthropy for the younger generation was really intriguing for us," Adams said.
The new group for grades 9-12 is "girls giving circle," but chairwoman Sara Hemingway says there will be a more official name when the group is officially launched later this year. The young members, like the women in IMPACT 100, will decide which non-profits to support with their contributions of time and money. Hemingway says the group serves three purposes:
1)    To empower young women through mentoring (with Impact100 members);
2)    To create a sense of community among the young women through engagement with non-profits; and
3)    To create a philanthropic spirit of giving back to the community with both time and money.
The goal is to launch an initial group of young women in 2017.
About the Scarf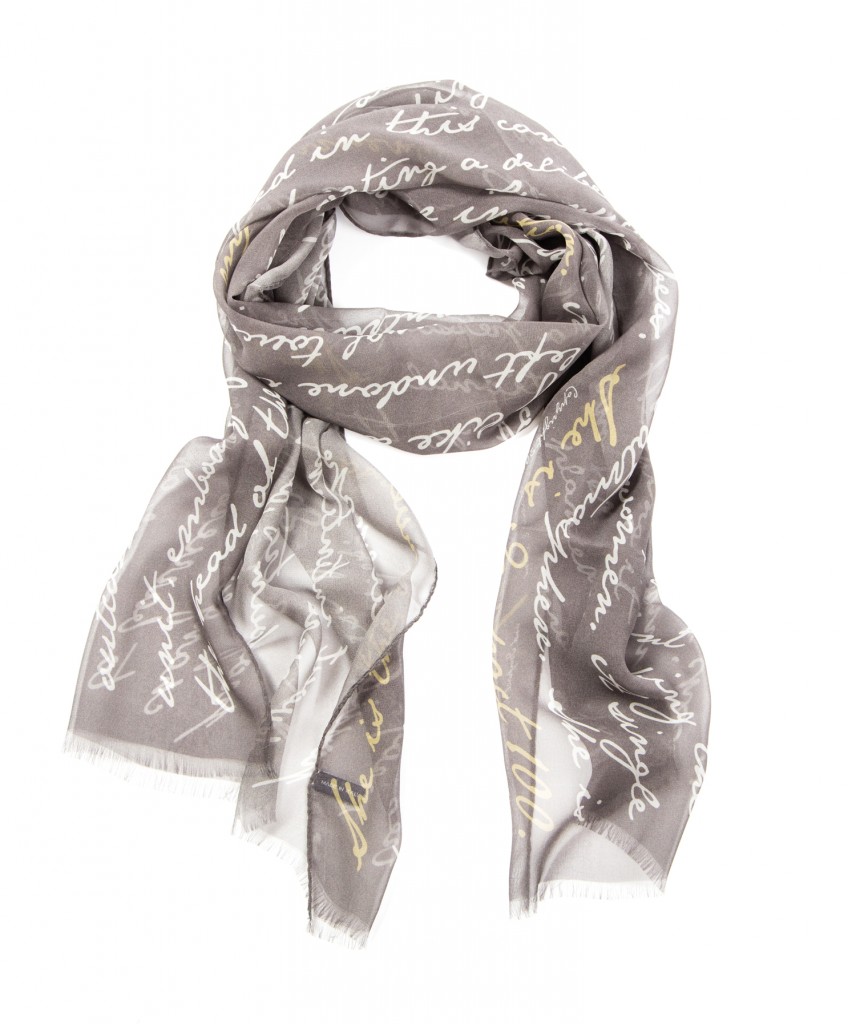 With that in mind, Adams went to work designing a scarf that exemplified the ethos of IMPACT 100.  Smith Edge helped decide on a neutral, warm gray tone that will match many outfits and styles.  Adams commissioned a poet to scribe an original poem entitled "She Is…" to be emblazoned on the 100% sheer silk scarf in Jane Austen font, and then called his supplier in Italy to begin production.
"It's a beautiful scarf. 100% silk, made in Italy. You don't have to be empowered to wear this scarf, but wearing it should also make any woman of any age feel empowered by the significance of the scarf," Adams explained, demonstrating how the words shine through as the scarf is wrapped and overlapped. "People will ask what the words mean, so anyone wearing this scarf will get to tell the story."
Presales began with IMPACT 100 members in late September, but scarves have been on sale since October 1, and will be officially unveiled at the annual Impact 100 meeting in October. To purchase a scarf, contact Adams & Sons at 270-993-3245 or email via adamsclothiers.com.
This article appeared in October issue of Owensboro Living Magazine.