Art is Rex Robinson's life so much so that it never was a hobby for him, yet therapy.
Robinson started doing visual art at a young age. His passion for art grew as he got older and he began teaching at Owensboro Middle School, something he never thought he would do. After a year, he moved on to teach at Owensboro High School in 2001. Upon retiring from teaching at Owensboro High School, Robinson took a "giant leap," he said, and wanted to open a visual arts center.
Immediately following his purchase of the location in February of 2016, Robinson began envisioning his studio and gallery. The location, 425 West 5th Street, has been transformed from the building it was before to Robinson's large-scale canvas.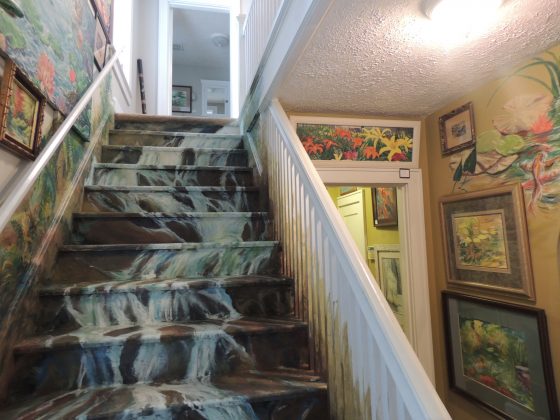 For the first part of the renovation, Robinson carved an archway out of the walls for doorways to create a more welcoming atmosphere and painted the stairway to mimic the flow of a rock waterfall. Robinson said he wanted to create an effect that made people want to come upstairs to see his portfolio room and studio.
Robinson is utilizing the five rooms on the ground level for his art projects. The second level will be Robinson's studio and portfolio room.
The walls are covered ceiling to floor with pieces Robinson, his sister Rhonda McEnroe, and former student Hae Soe have made. Soe was Robinson's student and graduated in 2014 from Owensboro High School. Son says, "Working with him (Robinson) as a teacher made me want to come back and help with his gallery."
Robinson is a traveling painter and his gallery is proof of his trips. Each room is dedicated to a different region of the United States. Robinson's largest exhibit is his area dedicated to Kentucky and the history of Owensboro.
His work is displayed throughout the town. His mural "The Blessing of Bluegrass" is painted across from the Hampton Inn downtown. He is also the painter of the ROMP owl.
Robinson paints across the forms of art, producing pieces from acrylic to watercolor art. His center is currently showcasing acrylic, oil, watercolor, ink, mixed media, pastel, slate, sculptures, and sketches.
"Every medium has its rewards and limits; acrylic, for example, has really bright colors that have challenged me to use them in a more subtle way," Robinson said.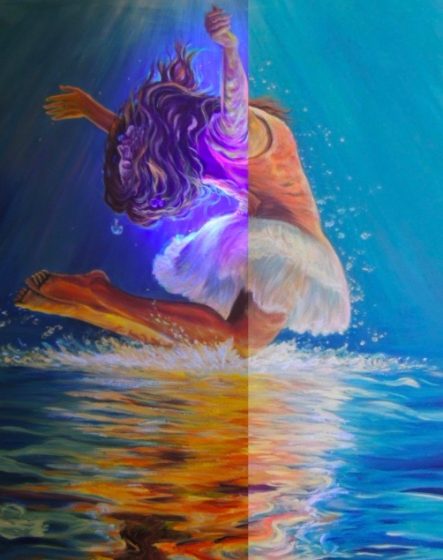 A technique he has been innovating with florescent paint under black light. His most popular piece of florescent is a double painting titled "Aquarina-Ascending;" In natural lighting, it depicts a girl doing a backflip underwater while in black light, vertically flipped, it depicts a spirit rising into the light. Through the experience of practicing with fluorescent lighting, he says he learned "That when you invest in fine art it comes back to you."
The grand opening of Rex Robinson's Visual Art Center is Friday, March 3rd, 2017. There will also be a chainsaw sculpture demonstration and mural demonstration Saturday, March 4th.
The Center will host the Owensboro Art Guild meetings and potentially art classes in the basement of the facility.
Robinson will also sell products in the "Gospel Revival" gift shop. The shop is currently stocked with shirts of both Aquarina and Ascending, hand-painted ties, and postcards.
Hours will be Monday – Friday 11 a.m. -6:00 pm, or by an appointment, and will be closed on all weekends and holidays.
If you have any questions for Robinson contact him at 270-313-7749 or his email.