We all face adversity.  And when we do, many of us find shelter and comfort in the walls of our churches.  But what happens when those walls are no longer there?  This is the story of how one local church has overcome adversity to continue to serve our community.
First Christian Church (FCC) has been part of downtown Owensboro for over 150 years. They believe in "stepping into a promising future hand-in-hand with our neighbors and our community." Proof of their mission statement was the successful birth of the church in spite of murmurings of an American Civil War. They grew as a congregation, just as Owensboro's population increased.
In March 2013, their mission would be placed into action once again.
Cate Gaddis recalls Sunday, March 17, 2013 as a day when regular church service was held at FCC of Owensboro, as it had been since its inception. Members didn't even contemplate it would be their last in the building they so lovingly knew as their church home on the corner of 7th and Daviess. During the early morning hours of March 18, 2013, a lightning strike to the Church caused a fire so catastrophic, the building could not be saved. Congregants awoke to the news of a fire striking a local church, in disbelief as they realized it was FCC. Shock and waves of memories, baby dedications, baptisms, weddings, funerals, Easter and Christmas services, and other special memories flooded their minds.
A fine mist and rain alternated throughout the day, as members came to see for themselves the tragedy that had occurred. Gaddis says, "That evening the congregation came together for a prayer service at Century Christian. The grief was palpable, but so was the hope- members were murmuring, then speaking more loudly and collectively, that a Church is more than a building. We loved the building but it did not and does not define us. We will survive."
Gaddis continued, "FCC's first Sunday service following the fire was kindly hosted by the members of Century, as well. The following Sunday was Easter and the congregation grappled with where they would gather. A sunrise service was held around the former Church footprint; followed by Journey Fellowship hosting a lovely and joyful service, complete with bagpipes. Members were welcomed with open arms and so much warmth by Journey Fellowship. The hospitality was idyllic.  It seemed unreal, much like waking to the news of the fire, but in a contradictory fashion. Their generous spirit helped FCC members realize they would still be and while the "where" was unknown, the "what" that they stood for would never change. In many ways Easter Sunday following this tragic event so closely was symbolic to members that they, too, would rise from this tragedy."
Stuart Gant says that Church members spent nearly 6 months determining future plans, ultimately deciding to rebuild. Then came the question of what to rebuild. During this initial phase and throughout, members of the congregation were heavily involved in providing input. This was a congregation project from the ground up.  In addition the clergy, administrative, and other staff were an integral part of the thoughtful suggestions. Feedback was taken to create the design, and matched to the scope of the project.
Next was development, taking scope and design and turning it into a specific planned project. Shortly thereafter, plans were presented to the congregation. Construction began Monday, July, 6, 2015.
Carroll Hayden says the initial groundbreaking occurred on March 18, 2015. The first service was held in the social hall on November 13, 2016, the same day that the first service was held in the sanctuary. Then November 14, 2016, a neighborhood open house for residents in the neighborhood was held, and on November 17, 2016, a community open house was held for firemen, policemen, and community leaders. On November 20, 2016, FCC was humbled to have 9 youths follow through in baptism.
The giving back to Owensboro continues at FCC. They made the commitment to stay in the neighborhood where they have resided for their 150-year history, and during this time of rebuilding, they felt the generous love from their Creator and their community.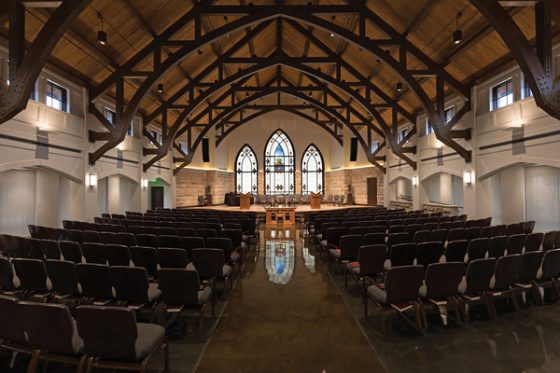 Although they are elated at the opening of the new church building, First Christian Church echoes the sentiments they felt at the prayer service the night of the fire – that they have always been much more than a building. They are about serving others, and have continued that mission even without a permanent home. Now they want to make that mission even larger, as they have returned to their home at 700 JR Miller Blvd.
The church has announced a new appreciation of their faith journey and how they wish to continue to spread God's love on a larger a scale through a mission they call The Legacy Fund. This grateful expression from the friends and members of First Christian Church has been established alongside, and in addition to, normal outreach efforts in the community. FCC combined years of mission giving, along with setting aside proceeds from their insurance settlement, to be able to make annual gifts to the community and world through an endowment fund. The proceeds of this endowment should distribute an extra $50,000 per year to outreach efforts with potential to grow in the years ahead. FCC is open to needs, both of individuals and organizations that "help cultivate the human spirit."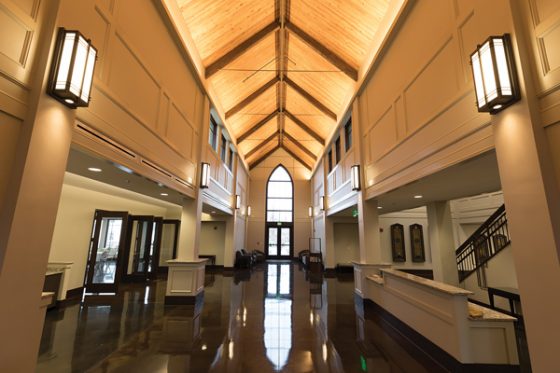 First Christian Church of Owensboro has been a symbol that God has the power to resurrect from the ashes, and help people overcome sadness, disbelief, and disappointment, and rebuild a spirit of faith, hope and love through His followers.
**Applications for the grants and gifts may be picked up at First Christian Church, 700 JR Miller Blvd., or if you wish to donate to the fund, please contact the church.
*This article first appeared in February '17 Owensboro Living Magazine.