In the 2000's, Nicky, Tommy, and Roger Lee Hayden made Owensboro world-famous for motorcycle racing. Collectively, the brothers have won almost every championship possible. Nicky won the American Motorcyclist Association (AMA) Supersport title in 1999 and Superbike title in 2002. Tommy won back to back AMA Supersport titles in 2004 and 2005. Nicky moved on to MotoGP and was crowned world champ in 2006. Then Roger won the AMA Supersport title in 2007. People started using the word "dynasty," and it all started at Windy Hollow and other local tracks. That's quite a legacy for Owensboro.
But it doesn't end there.
Now there seems to be another wave of motorcycle racers from Owensboro as Hayden Gillim and JD Beach are coming up the ranks. Gillim was 2014 AMA SuperSport champion and JD is consistently competitive in both dirt bike racing and road racing. Roger Hayden is still a seasoned contender and just finished second in points in this year's premier AMA SuperBike division. Together, these three Owensboro racers are turning heads, winning podiums, and having lots of fun racing motorcycles all around the country.
On a cold and rainy day in November, OwensboroLiving sat down for this exclusive interview with these three motorcycle stars to talk racing, what they love about Owensboro, and the highs and lows of the off-season.
OL –Do you three see yourselves as the second wave of racers who are kind of adding to the legacy that Tommy and Nicky started?
RH – I kind of feel like that because Tommy is not racing anymore. It used to be all three of us racing in the U.S. Then there were two for the longest time, and now it's just me. So I feel like I'm carrying on the Hayden family name here in America.
But now that people are hearing about Hayden, they associate him with us because we are cousins. It is kind of strange that you have three brothers who race and then a cousin who's comin up winning championships. So a lot of people ask me all the time, "Hayden Gillim is your cousin, right?" So they see that we're close and from the same town.
HG– And vice versa. Whenever people talk to me they always ask if I'm cousins with Roger and Nicky and Tommy. But I kind of feel like I'm chasing them up the ladder, like they're getting better and better as they go and I'm just trying to catch up with them. I don't know if that's ever gonna happen though. (Laughs.)
OL – Do you see that as pressure, or is it more like an inspiration to you?
HG- Oh definitely. Especially since the reason I started racing was because of them. On my sixth Christmas, Roger's dad and my grandpa got me my first motorcycle. So now I'm just trying to follow them and do as much as I can for the racing series in Owensboro and build on the family name. It's definitely pushing me to work harder.
OL – JD, what brought you to Owensboro?
JD – I knew Hayden and his family because Hayden and I were racing in the same series. About seven years ago I moved back here him with so we could ride and train together. And the racing here is better compared to Washington state where I'm from because there are so many more tracks within driving distance here.
RH – But you gotta understand, a six-hour drive for him is like us driving to Evansville. (All laugh.)
JD – Yeah, well back in Washington, most of the time we'd race on one track. And it was four hours away. But living here I can drive six hours and be a lot more tracks – in Ohio, Indiana, Illinois, Alabama.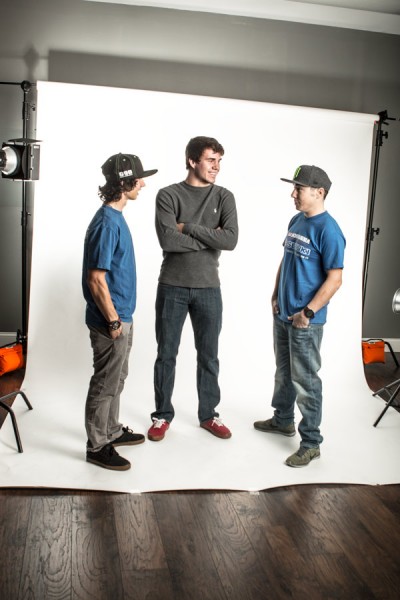 OL – So what do you like about Owensboro?
JD – I've been to a lot of places but I like it here. We live out in Philpot, so we can get away and ride and train at the house, but then we can be in the city in just a few minutes. It's like the best of both worlds. The weather here is really nice too, even the winter time – compared to winter in Washington.
OL – Tell our readers about your home tracks.
HG – The track the Hayden's built is a lot more flat. Ours has more hills and ruts from the weather. But we're lucky that we both have tracks where we can just walk right outside and go ride.
OL – Roger, you graduated OCHS in 2001 and still live here. What did you love about growing up in Owensboro?
RH – My favorite thing about Owensboro is where I live; right there by my parents, so I'm in the city but I can still hunt and ride. I think life here is a lot easier here than other places. I'm not a big city person. I couldn't live in L.A. or Chicago with all that traffic and stuff. I like it here. There's enough stuff to do. All my friends are here, too. I still hang out with the same guys today that I went through middle school with.
OL – Hayden, you grew up in Philpot and graduated from County in 2013. What's your favorite thing about Owensboro?
HG – I think the whole environment of Owensboro is really good. We've been a lot of places, and it's true that people are a lot nicer here. You can go out on Frederica and go to the movies, bowling, all the things most places have. But it's just big enough to where you feel like you're not in a small town, but it's not so big that you have bad traffic and it's not as expensive to live here.
It's funny because people I graduated with were always saying, "I can't wait to get out of here." And I'd be like, "What are you talking about? It's a lot better than anywhere else." Eventually they'll all be back.
RH – That's true. I went through the same thing. Everybody was like, "I can't wait to move out of Owensboro." But slowly they're all starting to come back. When I talk to them now they want to move back.
OL – What are your future hopes and plans?
RH – I just signed a two year deal, which is a big relief because since 2010 I've only been on one year contracts. It always leaves you wondering "What am I gonna do next year?" So this deal is a big relief for me. It's the same team I rode for last year but they renewed it for two more years. When I started out last year, I didn't get a ride till Christmas. So now that I got a two-year deal on a factory team that's a lot of stress off my shoulders. And it shows they have that much faith in me. Plus, Suzuki is coming out with a new bike next year, and now I'll have been in the Suzuki family for five years now.
JD- This past season was the first season I've raced for a factory team. I've been racing for 20 years and it's always been my goal to get on a factory team. The start of the year didn't go so hot so it was a lot of stress and pressure. They're still working some things out, but I hope to stay on that same Yamaha team this next year. It's not finalized yet.
HG – I don't know anything. I'm year to year.
JD – He's never had a contract, really.
HG – Out of the four years I've been racing pro, two years I've had a team and two years I've been racing out of our RV. The first year it was all us. The second year I had a team. The third year it was all us again and then this year I had a team. Last year I didn't even have a ride until February. So I was freakin' out because I thought we'd have to do it on our own again. If I didn't get a ride this year I might not have even raced anymore.
OL – That sounds strange because you'd think the current champion would have people snatching you up.
RH – But the thing is there's not that many factory rides out there now. There's only a handful of us out there who get a salary every year. My brothers and I came through at a really good time because there were more rides then. It hasn't been like that the last couple years, but I think there's hope now because of the new owners of our series (AMA). I hope it turns around.
HG – I was a "privateer," that's what they call it when you're doing it out of your own pocket. You have sponsors that give you a little money, but not a lot. I was lucky enough to have a couple good mechanics who would help me out even though I was only able to pay them a very little bit. So I was really lucky to have people who just wanted to help because they liked me I guess. It's a lot of stress on everyone when you have to do it out of your own pocket. It does stink that even if you're doing good, people are still iffy whether they want to take a chance on you or not.
JD – I had a ride last year, so I'd pay to put food and gas in the RV to get to the races to try and help out that way.
RH – And Hayden was going for a championship too. So that was pretty impressive what he did when the other guy shows up in a semi and a full team, and there they are running out of their RV like "Team Philpot." (All laugh.)
JD – But the cool thing about Owensboro is last year before the season started we posted on Facebook that we were trying to get Hayden some money to get going. There were a few times I'd be out eating or whatever and somebody would walk up and slip me a $100 just to help out. They'd be like, "It's not a lot of money, but it may help for food or gas or whatever." That's just awesome.
RH – For me, last year Michael Jordan's team folded up late and I had to wait till Christmas Eve to even know if I had a job. So every day when I don't want to work out or train I always think about that feeling I had. That's why this season I put everything I had into this because I never wanted to go back to that feeling of not having a salary. I was one phone call away from figuring out how I was gonna do it on my own. So it keeps me grounded when I see him working that hard. I know what it took. It's pretty impressive what they did.
JD – Yeah, people think racing motorcycles is awesome – which it is – but we're living year to year because we don't know what we're doing next. Hayden and I have been living year to year and just hoping that something comes up. Because I'm not ready to get a real job yet.
RH- Truck driver maybe. [All laugh again.]
Careers at a Glance:
[tw-divider]Roger Hayden[/tw-divider]
1998 Dirt Track Horizon Award winner
Turned pro in 1999
Swept the podium with Tommy and Nicky at Springfield TT in 2002
Won first pro race in '04
AMA Supersport Champion in 2007
First Top 10 MotoGP at Laguna Seca in 2007
First win in Superbike in 2012
Finished 3rd place, 4th place, and 2nd Place in Superbike Standings
[tw-divider]JD Beach[/tw-divider]
Last year, first person since Nicky to place on a professional podium in both road racing and dirt track in the same year.
2008 Rookie Cup in Europe
2009 raced AMA Supersport and pro in dirt track
2010 won Supersport class
[tw-divider]Hayden Gillim[/tw-divider]
2006 Amateur Youth Dirt Tracker of the Year
2010 won Horizon Award for Road Racing
Turned pro in 2011 and raced flat track and road racing
2014 Won Supersport Championship
All this "Supersport" "Sportbike" "Superbike" stuff can get confusing. To break it down in laymen's terms, we'll make the comparison with NASCAR. Supersport would be like the NASCAR Truck series. Sportbikes are like the Nationwide Series. And Superbike is NASCAR. MotoGP (what Nicky races) is more like the Formula One cars.