The numbers are impressive: 37 community organizations in the counties served by Owensboro Health were recipients of Owensboro Health Gives Community Grant Program awards totaling $683,206.46.
"It is our pleasure and honor to present these awards to – not just partners – but part of our health care family … agencies who are going to deliver and meet real needs in the community," said Greg Strahan, Interim President and CEO, addressing the award recipients directly. "You all do a great job of that every day."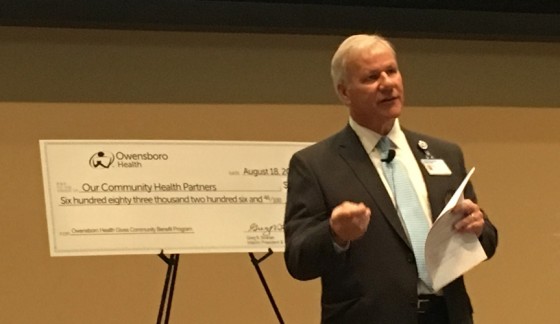 Strahan says being committed to health care is a calling. "The truth is that we all have to be committed to a level that we are passionate about it. If you have a heart for people then you have a heart to serve. And if you have a heart to serve, then health care couldn't be a better place to do it."
The Owensboro Health Gives Community Benefit Program awards grants to agencies addressing the top three health care issues identified by regional needs assessment: substance abuse, obesity, and access to healthcare. Additionally, mental health and dental health are considered.
Selection and allocation is an important component of Owensboro Health's mission. As Board Chair, Deborah Nunley, described it, "Positive community change takes teamwork."
One example is Oasis, a shelter for women with a domestic violence program and substance treatment program which was a grantee last year. According to their end of year grant report, ten babies were born substance-free this past year because of their programs.
Of the 37 grant recipients this year, 24 address access to care, 15 address obesity, 13 address substance abuse, and three address suicide prevention.
And every county served by One Health was represented in the disbursement.
To end the grant announcement, Community Engagement Director, Debbie Zuerner Johnson, revealed that according to grant applications, an estimated 491,410 lives will be impacted through these grant dollars.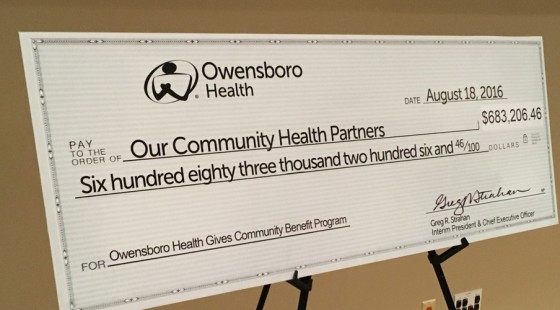 In addition to the 37 agency awards, Strahan says an additional $70,000 will be awarded this year through mini-grants and One Health will continue to support the community through investing in education, performing uncompensated care, and increasing access to care by building three healthplexes along the 69 corridor.