(7/11/15) Sparta, KY – It was six hours before the green flag dropped for NASCAR's Autozone 400, but OHS grad Getty Cavitt, Jr. was already busy on pit road, preparing diligently for his role as jackman on the pit crew for Tony Stewart's #14 Chevy.
Cavitt is one of five "over-the-wall" guys – the ones who literally jump over the wall and work on the racecar during pit stops. As jackman, Getty carries a 20-pound hydraulic jack around to the right side of the car, which he elevates off the ground in two or three pumps, then pulls the right rear tire off and hands it to the front tire carrier. Once the lugnuts are on the right side tires, he releases the jack, runs around to the left side of the car, and does it all over again.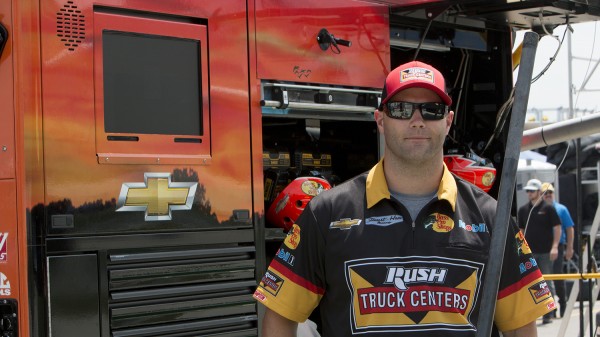 In a "good" pit stop, the car gets four new tires, a full tank of gas, and sometimes a clean windshield in under 12 seconds.
As evidenced by the back-and-forth battle between Kyle Bush and Joey Logano in the closing laps of Saturday night's race at Sparta, NASCAR is an extremely competitive, precision sport that can come down to a matter of inches and hundredths of a second at the end of a 400-mile race. Oftentimes, precious seconds shaved off a pit stop can give a driver the advantage he (or she, since Danica Patrick entered the Sprint Cup Series) needs to gain position on the track. For that reason, races can actually be won or lost on pit road.
"If we can average 11.6 or 11.7 it's a good day," Cavitt said. "If it's more than that, it's a bad Monday watching film, and we work much harder the next week on our practice stops."
Getty is no stranger to competitve sports. He played football for the Owensboro Red Devils, then went on to play college football at Western Kentucky University. All those workouts and countless hours in the weight room prepared Cavitt well for his current position on the Stewart-Haas Racing team.
Owensboro Living caught up with Getty in the #14 pit box just before Saturday night's race at Kentucky Speedway to talk about life in a NASCAR pit crew: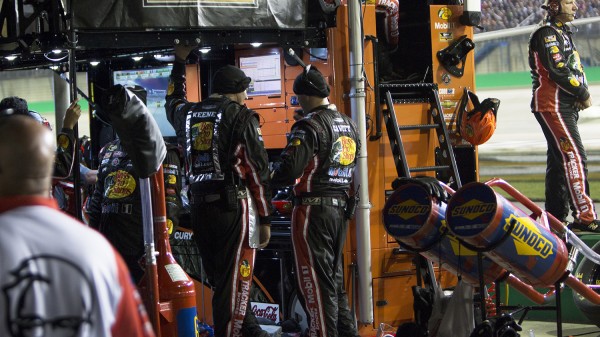 Tell us about your football career:
GC – I played football and baseball for senior high and graduated in 2000. Then I played football at Western from 2000-2005, where we won the national championship (Division 1-AA) in 2002. Those were good times.
How did you get involved in NASCAR?
GC – There was a racing team in Central City called Brewco. Shane Kennedy called me when I was done at Western and asked if I wanted to try out for their team. I tried out and they hired me a couple weeks later to be on the pit crew. But when they moved to Nashville I stayed back and finished my degree at Owensboro Community College. Then when I got done there I worked for an ARCA (Automobile Racing Club of America) team for a year and then moved to North Carolina to work for Michael Waltrip Racing. Now, this is my second year with Stewart-Haas.
Michael Waltrip, there's another Owensboro connection:
GC -Right, but I never even met Michael until I started working for MWR. I tried out for their pit crew coach, Kevin Sharpe, who is now here at Stewart-Haas, so I stuck with him. I pitted for Kevin Harvick last year, but they swapped pit crews at the end of the season, so now I pit for Tony Stewart.
What do you love about being a jackman?
GC – It's fun to compete every week. I've grown up competing, with football, so this is something that I can still stay competitive in. And it's a team atmosphere. We have five guys go over the wall, but we also have five more guys for support behind the wall. Then the road crew comes out and helps too, so it's 11 or 12 of us that travel for race days. So it really does feel like a team.
It's a good deal. We fly to the track together, work the race, then fly back home right after the race, which is really nice. It's a lot of hours. Most of the pit guys also work in the shop Monday through Thursday, then we usually get Friday and Saturday off because we have a race on Sunday.
What's your responsibility in the shop?
GC – When the cars come in, we take them all apart and take it back to the fabrication shop.
So you live in North Carolina now?
GC – Yeah, my wife and I live in Concord. It's only a seven minute drive from Stewart-Haas Racing so it's really convenient.
Do you get back to Owensboro much?
GC – I only have two weekends off a year during racing season, so I usually try to get back for one of those weekends. I was there a few months ago and I drove downtown to see everything. Yeah, it's changed a lot since I moved away, especially the new hospital.