The Red Devils Sports Network is now on the air on ESPN's 102.7 The Game. Thanks to a partnership with the Cromwell Radio group, several OHS athletic events will be broadcast live on 102.7 FM. You can also go to Owensbororadio.com and click on 102.7. If you're on the go, you can listen to the Red Devils on your mobile device if you download the iGoRadio app and click on 102.7.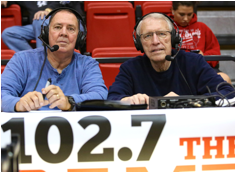 The voice of the devils will be broadcasting legend Jerry Birge."Owensboro High School has a rich tradition of incredible sports teams in Kentucky. I'm honored to get to share that tradition with listeners," said Birge.
The Red Devils Sports Network will broadcast several basketball games this season and will transition to football in the fall. However, the new radio station will serve as more than just a way to hear the Red Devils on the radio. The program will also highlight OPS success stories in both the fine arts and in academics.
"We know people who can't attend the games in person want to hear about how their Red Devils are doing on the court. But sports aren't the only thing that OPS is doing well," said Dr. Chris Gaddis, OPS athletic director.
The broadcast will also feature live interviews with students, which will serve as a huge benefit to OHS journalism students.
2015-2016 OWENSBORO HIGH SCHOOL BROADCAST SCHEDULE
Friday      Dec  4           Boys Basketball        Daviess County                   7:15 PM
Friday      Dec 11          Girls Basketball        @ Catholic                           5:30 PM
Friday      Dec 11          Boys Basketball       @ Catholic                           7:15 PM
Tuesday  Dec 15          Boys Basketball       Christian County              7:45 PM
Friday      Jan  8           Girls Basketball        Catholic                                5:30 PM
Friday      Jan  8           Boys Basketball       Catholic                                7:15 PM
Tuesday  Jan 12          Boys Basketball        Apollo                                   7:00 PM
Friday      Jan 15          Boys Basketball       @ Muhlenberg County      7:30 PM
Tuesday  Jan 19          Boys Basketball       Grayson County                  7:45 PM
Friday     Jan 22           Girls Basketball       @ Daviess County               5:30 PM
Friday     Jan 22           Boys Basketball       @ Daviess County              7:15 PM
Tuesday  Jan 26          Boys Basketball       Madisonville-NH                  7:45 PM
Friday      Feb  5          Girls Basketball       @ Apollo                                5:30 PM
Friday      Feb  5          Boys Basketball       @ Apollo                               7:15 PM
Tuesday   Feb  9          Boys Basketball       Bowling Green                    7:45 PM
Saturday  Feb 13         Boys Basketball       Whitesville Trinity                7:30 PM
Tuesday   Feb 16         Boys Basketball       Hopkinsville                        7:30 PM
Thursday  Feb 18         Boys Basketball       @ Henderson County        7:30 PM