Today, local bourbon distillery, O.Z. Tyler, became the 11th stop on the Kentucky Bourbon Trail. In a tree planting ceremony on the distillery grounds, community members gathered to witness the monumental accomplishment for O.Z. Tyler Distillery, raising a glass of bourbon to celebrate the event.
Earl Hewlitt, CEO of Terressentia Corporation and TerrePURE® Kentucky Distillers, Inc, opened the ceremony.
"I did not think that being 150 miles away from the epicenter of the bourbon trails meant that it had a lot of relevance for us here," Hewlitt said. "Now, that was my bad, actually. Because after we got the renovation done in August 2016, I by then had realized how strategically Owensboro was placed between two heavily traveled interstates. And we are uniquely positioned on the western edge of the Bourbon Trail."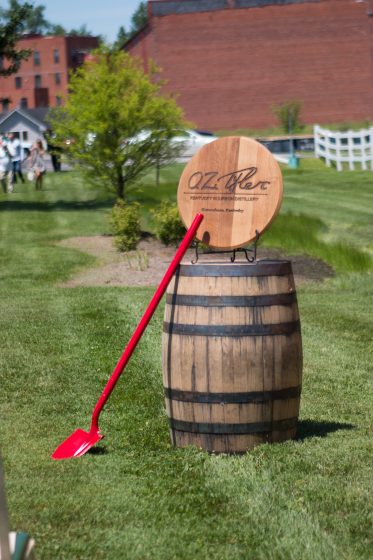 Congressman Brett Guthrie was also present for the event. "Having Owensboro is a part of the Bourbon Trail is important with everything that's going on downtown and in the community," Guthrie said. "I will be proud to tell my friends that Owensboro is a great stop to make on the Kentucky Bourbon Trail."
Visit Owensboro President and CEO, Mark Calitri, also spoke, recognizing that Owensboro is now known for three things: bluegrass, with the world's only bluegrass museum; barbeque, with Moonlite Bar-B-Que recognized as Kentucky best barbeque by Southern Living Magazine; and now bourbon with this significant accomplishment for O.Z. Tyler.
"I like to say every day that Owensboro touches the world, and today is a great day for Owensboro and Daviess County as we do touch the world with bourbon," Calitri said. "At Visit Owensboro, we see O.Z. Tyler as the western gateway to the Kentucky Bourbon Trail. Our message is going to be real simple to the world: You start here, or you end here, but we want you to stay here and experience everything we have to offer."
George Wathen spoke on behalf of the Daviess COunty Fiscal Court, mentioning that O.Z. Tyler has not only been a great source of tourism, but has also changed the lives of 50 employees that now have good jobs thanks to the distillery.
Eric Gregory, Executive Director for the Kentucky Distillers Association and the Kentucky Bourbon Trail, officially welcomed O.Z. Tyler into the Kentucky Bourbon Trail. The Kentucky Bourbon Trail was created 19 years ago by the Kentucky Distillers Association and according to Gregory, in 2017 trail visitors made more than 1.2 million stops at Kentucky Bourbon Trail distilleries. Attendance in the last 10 years has skyrocketed 314 percent. He says Owensboro will now be a part of that growth.
Mayor Tom Watson declared June 4, 2018 O.Z. Tyler Distillery Day with an official mayoral proclamation, commemorating the day with the planting of an oak tree, symbolic of the oak barrels needed for the aging of Kentucky bourbon, and stamping a Kentucky Bourbon Trail passport with the O.Z. Tyler stamp.
Bourbon Facts:
Kentucky bourbon is $8.5 billion industry for the Commonwealth, employing 17,500 people.
Kentucky Bourbon accounts for $800 million in payroll, $825 million in tax revenue and $1.2 billion in capital investment.
Here are some things Owensboro can now expect from Kentucky bourbon tourists:
70% are between 25 and 54 years old
The median household income is $75,000 to $100,000
42% have household incomes above $100,000
70% come from outside of Kentucky
67% have three or more in their group
75% stay in a hotel or bed and breakfast
73% visit more than one distillery
The average out of state group spends between $400 and $1,200 during their trip
"The bottom line is bourbon tourists are coming in packs, they are staying longer than the average visitor, they are shopping in your stores, eating in your restaurants and spending a lot of money in your local community." – Eric Gregory, Executive Director for the Kentucky Distillers Association and the Kentucky Bourbon Trail