Former UK star and Minnesota Timberwolves center, Karl-Anthony Towns, was named the 2015-16 NBA Rookie of the Year today (May 16, 2016) in a unanimous vote. Towns is only the fifth player to win unanimously, and the third in the past six years.
Local artist, Aaron Kizer, is partnering with Towns to release a limited-edition "ROY" (Rookie of the Year) print signed by Karl-Anthony.
Prints are 18×24.
Only 100 copies will be sold:
20 prints are gloss paper, signed in gold
80 prints are matte paper, signed in silver
Both come with certificate of authenticity
Unsigned prints will also be available.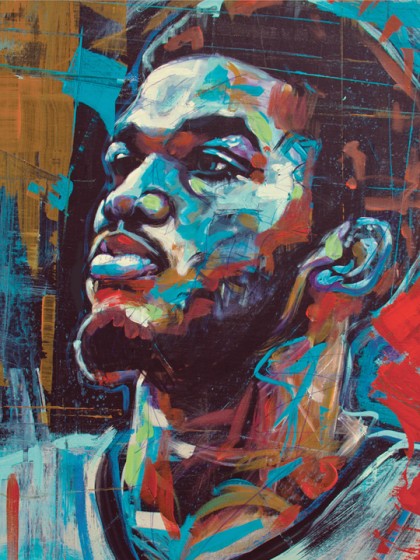 Kizer met with Towns on a recent trip to Lexington for the signing. The two have stayed in touch since KizerArts promoted an autograph signing event with Towns last May at the Owensboro Convention Center. "We've stayed in contact, and we've become friends through that event, so it just made sense that we would partner together on this project," Kizer explained.
Prints can be ordered directly through aaronkizer.com.
According to ESPN, Towns' rookie stats include: (rank)
Points Per Game: 18.3 – (1st)
Field Goal%: 54.2 – (4th)
Rebounds Per Game: 10.5 – (1st)
Blocks Per Game: 1.7 – (2nd)
Double-doubles:  51 (1st)
Player Efficiency Rating: 22.6 (1st)