Kentucky Wesleyan College received $147,472 in charitable gifts during yesterday's Giving Tuesday effort – a 30 percent increase over last year's total of $113,054 – from 230 alumni and friends of the College. Giving Tuesday is a worldwide effort that has generated billions of dollars in support of charitable organizations since its inception in 2012. This is the second year Wesleyan has participated.
The fundraising effort was preceded by the second annual Wesleyan Way Day of Service, which included 320 hours of community service throughout Owensboro and Daviess County carried out by Wesleyan students, employees and alumni. Service projects were conducted in partnership with Audubon Elementary School, Boulware Mission, Cravens Elementary School, Cliff Hagan Boys & Girls Club, Daniel Pitino Shelter, New Beginnings and Puzzle Pieces, among others. The 320 service hours nearly doubled last year's output of 172 hours.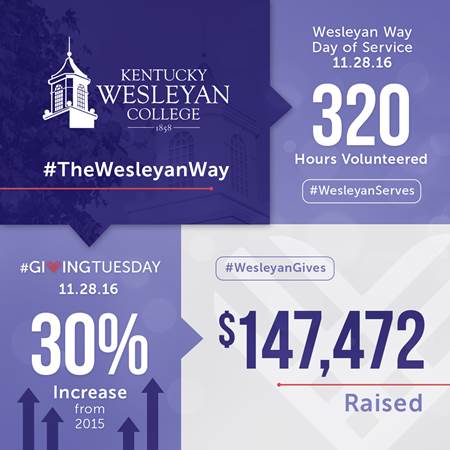 "Wesleyan is grateful and humbled by the tremendous support the College received on Giving Tuesday. It is satisfying to see that offering an affordable and faith-based higher education is seen as important by others," said President Barton D. Darrell. "I was particularly gratified by our 'Day of Service' on Monday, when our Wesleyan family gave over 300 hours of service to our community in one day. We don't just welcome investments from others in what we do, we are committed to investing in others as well. It's 'The Wesleyan Way.'"
The service effort was sponsored by ADventures/Wax Works, Butler County United Methodist Women, Hendrick Screen Company, Independence Bank and the Owensboro District of the United Methodist Church.
"We applaud Kentucky Wesleyan's investment of time and talent in service to our community," said Darrell Higginbotham, president of Independence Bank. "We share the same commitment to giving back and are proud to be a financial partner in the Day of Service."
In 2017, the Wesleyan Way Day of Service and Giving Tuesday will take place on Nov. 27-28.