In a high-energy press conference at the Owensboro Sportscenter, the Kentucky Mavericks announced Thursday that they will be relocating their franchise to Owensboro. The Mavericks have a winning tradition in the American Basketball Association, but will now be moving to the Premiere Basketball League.
Having professional basketball in Owensboro, Mayor Ron Payne said, "reinforces our title as Sportstown USA." The Mavericks are bringing a legacy of success with them to Owensboro, including: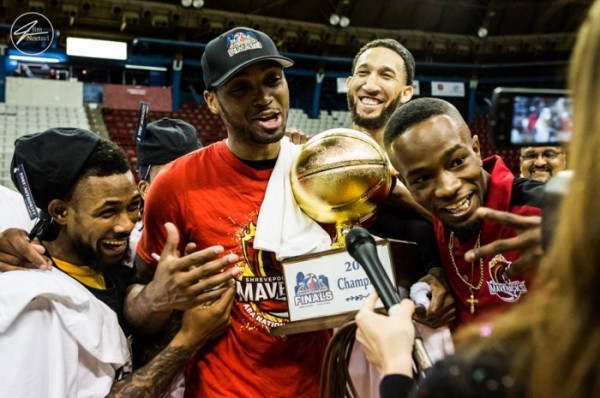 4 ABA Championship Titles
A 92 game winning streak (longest streak in pro basketball history)
Total record of 155-7 (2008-2015)
Team History
Owner Jerry Nelson purchased the team in 2008 and hosted the Mavericks in his hometown of Beaumont, Texas, until moving the team to Shreveport, Louisiana.
"Then Mr. Nelson sent us out to find a city that was very basketball oriented and wanted us (in their town)," said General Manager Debra Green.
Head Coach Steve Tucker, who has been with the organization since day one, said the reason they considered Owensboro goes back to game one of the 2010 ABA championship, when the Mavs played the Owensboro Bisons here at the Sportscenter.  The crowd and the environment in the Sportscenter that night left an impression on Coach Tucker. Jerry Nelson was in attendance that night as well. "It was actually our Operations Manager, Gary Green, who said we should look at Owensboro," Tucker said. "When we came to visit and saw how progressive city officials are and how much the city is growing. We knew we wanted to be a part of it," he said.
The Facility
Another selling point for Gary Green was the opportunity to have their own training facility here in Owensboro. The building which used to be the tennis club next to the former Executive Inn will be repurposed as the Mavericks training facility and center of operations. Along with a practice court and goals, "we'll have our daily operations there, our offices will be there, and fans can purchase tickets and merchandise there," Green said. The facility will also be used to host their summer camp and an open try-out camp that the Mavs plan to host in November. "We'd love to pick up some local talent," Green said.
The Team
Players Alex Sanders, Anthony Jackson, Jon Rogers, and Mike Crain were on hand for the announcement. Off the court, the Mavericks have a tradition of community involvement and appearances like school and library visits.
On the court, Coach Tucker explained the Mav's style of play as "fast paced, fast break basketball with good defense," which Tucker hopes translates to packed crowds at the Sportscenter. "We need your help to spread the word and pack this arena," he challenged the crowd gathered for the press conference. "You do that, and we'll give you something to watch every time we run out on this court."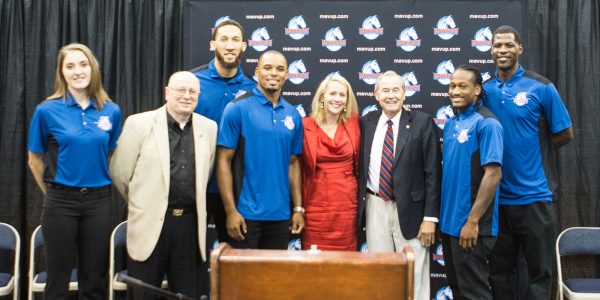 Mayor Ron Payne assured Coach Tucker that there is plenty of room along the Sportscenter rafters to raise some Mavericks banners next to all those Kentucky Wesleyan Banners. "We want to hang some banners here,"  Tucker responded.  "We will start by retiring four numbers. Then we'll hang some championship banners in this building. We want to extend to our winning streak to 100 wins in front of you. And we want to be a part of the #1 Sports Town in Kentucky. We're excited about that.  We're proud to be in Owensboro and we want to continue our Mavericks tradition here."
To schedule an appearance with the Kentucky Mavericks at your non-profit or organization's activities, contact [email protected] or call 1-866-218-5346 ext 104.
For information about sponsorships, or any other questions about the team, contact [email protected] or 1-866-218-5346 ext 104.
To get a glimpse of the team roster, history and stats, visit www.mavup.com or their Facebook page.