Friday morning, Jan. 8, 2016, at the age of 65, Owensboro musician Bobby Blackford died peacefully in Louisville after a lengthy and hard-fought battle with pulmonary fibrosis.
Sunday night, Jan. 17, following a heart-felt memorial service at Christ Community Church, the lights at the Owensboro Music Center came on just to celebrate Bobby's life, as his closest friends and family came together to share their favorite memories and stories of Bobby's long and winding road.
It was a fitting show of respect to a man who was a fixture at the Music Center for 27 years, where he worked, handled sales and mentored countless musicians.
The guitar accessories display counter was turned into a Moonlite catering buffet line;  tables and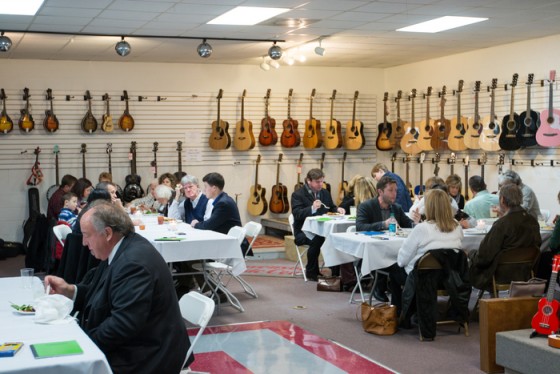 chairs were set up between racks of guitars and stacks of amplifiers; and classic rock played from a PA system as toasts were made and memories were shared.
From the stories that were told around the showroom and counter where Bobby spent the majority of his working years, it's clear that Bobby got by with a little help from his friends.
In the middle of the celebration, with smiles all around, everyone crowded under a banner that was hung from the showroom ceiling with the words "I'm a Duck from Duckberg," a reference – as it was explained to me – to a particular "crew" of musicians and friends in the late 70's.  Duckberg is more a myth than a place.
For this special, after-hours opening, all the "ducks" swam back to the "pond" inside Owensboro Music Center – and then some! Former bandmates and relatives came from Pennsylvania, Nashville, St. Louis and everywhere in between. Former and current Music Center employees mingled with local musicians and family members.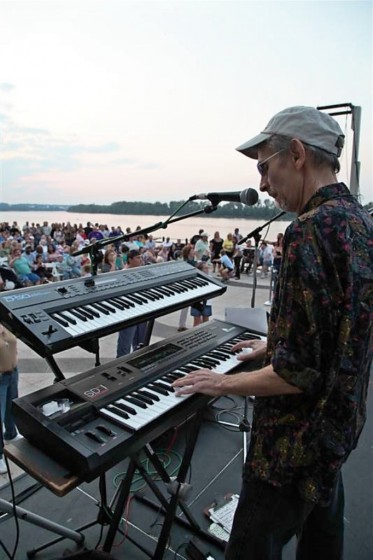 Blackford's obituary described him as having a natural gift for making beautiful music. His guitar gently weeped in several bands, including the 1960s-era The Mags; the 1970s-era Midwest; the 1980s-era Justin Case; and since 1994, The Velvet Bombers.
All these places have their moments, but in Bobby's life, he's loved them all.
Drew Aud, who started taking guitar lessons at the Music Center when he was eight, remembers buying his first SG guitar from Bobby. "I asked him about it, and he took it down and started playing it so I could hear what it sounded like." Bringing that memory full circle, Drew now teaches guitar lessons at the Music Center, and plays in the rock band Insulated.
Mike Tanner, who Drew took lessons from, is still an instructor at the Music Center. Bobby was the guy the other instructors would come to, Tanner said.  "I would show him a lick, and he would say, 'Well, try it like this.'  I'd work on it and come back the next day and he'd say, 'Almost there.' Next day: 'Now you're getting somewhere,' which meant I nailed it! His little bit of approval was all I needed.'
Sound engineer, Steve Chandler, remembered so many recording sessions and concerts with Bobby that it was hard to choose a favorite story.
Gordon, "Gordy" Wilcher marveled at Bobby's incredible ability to recognize harmony guitar parts and 3- or 4-part vocal harmonies. One story recalled the time Bobby laid lead guitar tracks for ten songs in one sitting while the gospel group Chandler was recording was on their dinner break.
On stage and in the studio, "Bobby had a knack for playing the right notes at precisely the right time, and not playing where it didn't belong," Wilcher said.
Gordy, Bobby and the rest of the Velvet Bombers started their 25-year-plus run in Electric Arts Studio, the building that is now CYO Brewery.  Wilcher says Bobby was a prolific songwriter. "We recorded several of his songs, but he had a ton of songs nobody else ever heard."
True Greatness
Gordy believes most people never heard those songs because Bobby was content working at the Music Center and playing in the Bombers, not pursuing a career as a "famous" musician. "He was humble.  And his family was the utmost to him. They came first.  Always.  He was a great husband and a great father."
Daughter, Carrie Blackford King, commented, "I once asked dad if he was regretful that he didn't pursue greatness and fame. His thoughtful reply was 'I did choose greatness. I chose family- this family, that Mom and I started. No. No regrets.'"
Music till the end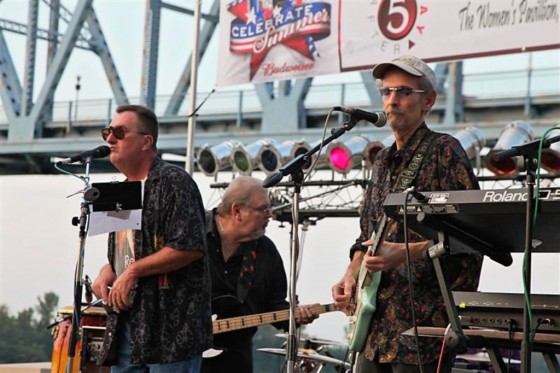 After a life of music and creating memories, Bobby had a song on his mind right up until the end. Carrie remembers, "His love of music pushed him, even as his lungs were failing him. In his last weeks on Earth, while sleeping, we often saw him tapping imaginary change in the pocket of jeans he was not wearing and strumming a true air guitar."
Shine on till tomorrow, Bobby.
Special thanks to Kirk Kirkpatrick for providing photos from Friday After 5 archive.