The Fresh by Gene's food truck is making its debut at an event Saturday at J's Liquor and Cheese Shop.
The truck will be in the parking lot at 2216 New Hartford Road from 2-6 p.m., or until they sell out, owner Andrew Keller told Owensboro Living Thursday afternoon.
Now that the health food truck is ready, you can expect to find it at local parks, especially when the weather gets warmer. Or you may see it by invitation at businesses during lunch hour. If the permit application goes through next week, you'll start noticing it parked downtown within walking distance of the Convention Center and Smothers Park.
Gene's Health Food has been a staple in Owensboro since it began in 1980. Andrew and his sister, Karissa Costello, bought the store from their grandfather in 2013 to carry on the family business.  Andrew says he's had the idea to expand with a food truck since 2014, but plans were understandably pushed back when his wife delivered twins.
Now, the timing seems perfect. "I believe life is timing. Timing is everything," Andrew said. "We've seen a good growth period in the store. The deli has expanded. I'm at a good place personally, and we've got the time to commit to it. And, people are asking for it! Since we've started talking about it, our customers have given us great feedback."
In fact, it was Keller's plan to introduce the truck April 1.  But as word trickled out into the community, requests already started coming in. In addition to J's, the truck is booked for events at River City Church and Legends, and Andrew just filled out the vendor application for ROMP. Other events are in the works as well.  "When the weather breaks, I think we'll be really busy with it," Andrew said.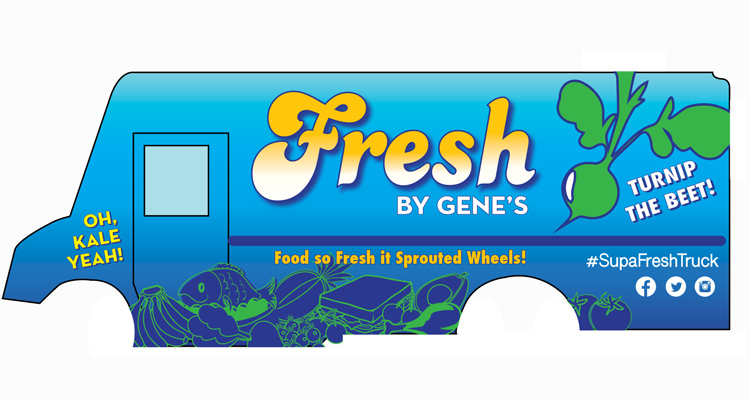 The main goal of the truck, as it is with the store, is to provide Owensboro with healthy options. "Owensboro is very fortunate to have a health food store like this. My grandfather always said 'Health is wealth.' It was his vision to spread that message. What you put into your body affects your body. Health food has become my passion too," Keller explained, recognizing that as a parent, his kids' nutrition is paramount. "Now this truck is our opportunity to show even more people in Owensboro that healthy food can taste good."
By healthy he means freshly prepared, clean, organic, non-GMO (genetically modified organism) food. The truck will only serve food prepared that day using fresh ingredients. Hence the name, "Fresh by Gene's."
As far as the menu, customers can expect to see a few popular items from the store deli, but most menu items will be new offerings. "The truck gives us the chance to experiment with flavors. We want to keep it fun. We'll also cater the menu to the specific audience, depending on where we take the truck," Keller said. "If people like what they taste from the truck, they can always find more dishes here in the store."
The menu this weekend, for example, will feature chocolate chili and apple butter grilled cheese.
You can keep up with the Fresh by Gene's food truck on Twitter @1supafreshtruck or on Facebook.