For many, Legion Park is where people go to enjoy the scenery, the playground, or one of the two basketball courts. Now with the installment of the new futsal soccer court, there are hopes to attract a more diverse group.
The project came about a year ago and for Amanda Rogers, parks director, it has been a wonderful and very exciting experience. However, the court didn't get accomplished through the work of just the Parks & Recreation Department; the idea first originated in the minds of the Agisilaou brothers.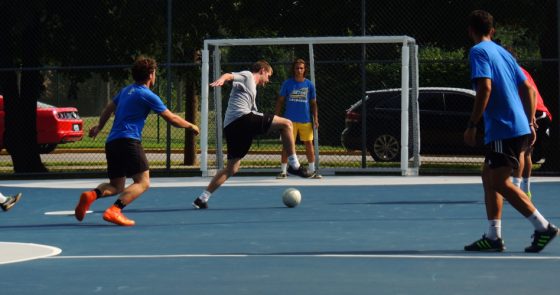 The brothers' connection to the community started at a young age as they are alumni of the Owensboro Public Schools system and also attended Kentucky Wesleyan College. Nikos Agisilaou said that when he and his brother were younger, they would play soccer on the tennis court at Legion. So when it came to building the court, it was something he had a heart attachment to. And now years later, the same court that they played on is now being enjoyed by people of all ages. Christakis was unavailable for comment as he is currently on vacation.
"It's been a long time coming for street soccer to come about here," Nikos said at the opening of the court. Agisilaou cites a large amount of help coming from Ty Stauffer, the head of SportsTutor, for helping speed the initiative up along with Rogers for getting the project into motion.
This is the first futsal court in Kentucky. "As Owensboro being the number one sports town in Kentucky we're always glad to be first to something so this is great and this is just another example of innovation," Rogers said.
First term commissioner, Larry Conder recognized that the installment of the court would be good for the community of Owensboro. The court had three possible locations but the Legion location was the best not only economically, but also for the diverse community, the street visibility, and access.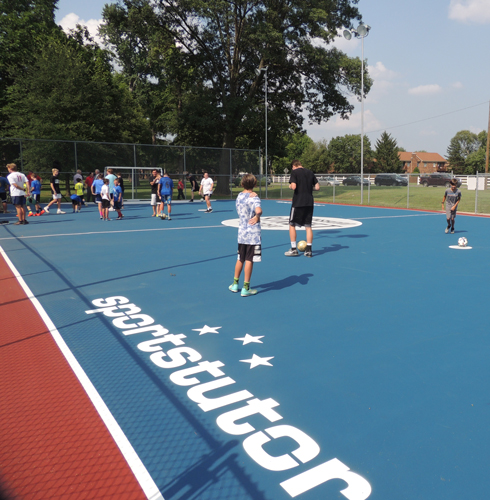 As for student appeal, the court brings promise to help improve player's ability, "It gives me a place to play that we didn't have in Owensboro and to train my skills," Joe Lewis, senior at Owensboro High School says.
So what's next for this court? Rogers plans on making leagues and potential tournaments for the community.
The court is available from 5am to 10:30pm with lights to keep the court well lit at night.