Eighty-six bands.16 Fridays. Six venues. One "Summer of Love." Friday After 5 celebrates its 21st anniversary with a wide variety of bands all hoping to spread the love during this year's "Summer of Love."
"There has been so much division in the past year," explains Chairperson Chad Day, "We wanted to use our free, family-friendly summer season to provide an atmosphere to bring us together. It's the 50th anniversary of the original 'summer of love' in 1967 so we thought it was time to remind everyone what is really important: each other."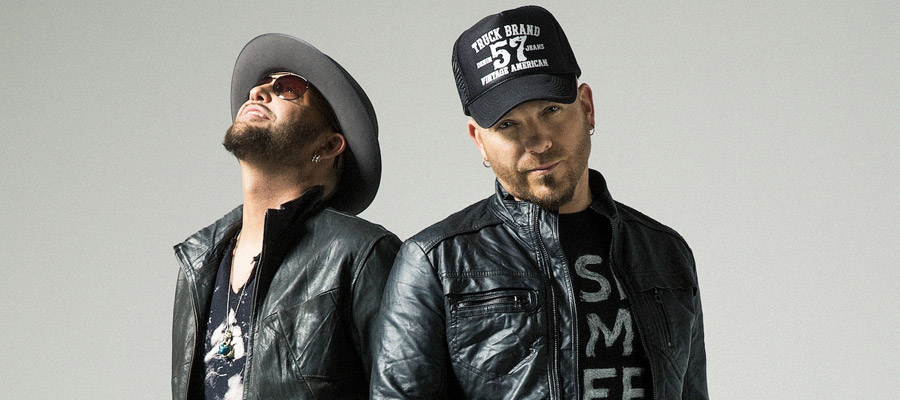 The award-winning duo "LOCASH" returns to Owensboro on July 21st but will appear for the first time at Friday After 5 (which means their performance is FREE to the public!) thanks to contributions from Duke and Tyler Brubaker of Champion Ford. As LOCASH, the duo made a presence on radio with such records as the feel-good anthem of "Here Comes Summer," and the tender emotions of "Keep In Mind," and "Best Seat In The House."
Many other favorite bands are back again this season including "The Springs", "Louisville Crashers", "Jimmy Church Review" and "Naked Karate Girls" plus new additions including "RetroShock", "Soulunique", "The Mighty Pines" and "Brutally Handsome."
"Fun. Free. Friends. Family. That's our mission statement," said Executive Director Teresa Thomas. "We have planned another great summer for our region. All events are free thanks to our sponsors."
Sixteen different bands will be on the BB&T Plaza at the RiverPark Center starting each Friday at 6:30pm with a different sponsor. Each Friday "acoustic artists" will perform in the Atmos Energy courtyard beginning at 7pm.
"New,up and coming" artists, singers and dancers will perform on the Cromwell New Sound Overlook beginning each Friday at 7pm. "We had an overwhelming response to the artists performing on the overlook last season," said Paula Vuksinic, one of Overlook producers. "The iconic stage allows younger artists a wonderful venue and a great opportunity to perform at Friday After 5. We will feature all types of entertainment including the top ten finalists of Owensboro's Got Talent named earlier this year. We still have many openings on the Overlook because we can showcase two or three acts each Friday. Any acts interested in performing should contact us at Friday After 5."
"The Kroger Street Fair will expand to include most of Veterans Boulevard," according to producer Starling Lambert. "We will have many more vendors and food trucks plus, as part of our policy, we allow non-profits to have booths each Friday at no charge." "The Kroger Street Fair will have a different theme each week, too," states Casey Taylor, street fair producer, "including the 2nd annual Ahoy Boat Parade on July 28th."
"It's our third year for our Party at the Pier venue," says producer Katie Keller. "We have the best line-up ever. The venue opens early and the bands will play from 8pm-11:30pm each Friday on the Party Pier at the Owensboro Convention Center."
"Glenn's Gospel on the River" returns with six gospel concerts during the season each featuring a wide-variety of touring gospel acts performing in Cannon Hall inside the RiverPark Center.
"We'll be offering free Class PreUnions again this season," according to Class PreUnion producer Becky Barnhart. "Most class reunions take place on Saturdays. That's why we host them the evening before and call them class 'preunions'. We provide a gathering table, chairs, great band, wonderful venue and will even help the classes promote their reunion all at no charge. Classes have a choice to gather at either at the RiverPark Center or the Owensboro Convention Center."
"There are so many bands, events, artists and additions each week, the best way to access all of the information is to download the Friday After 5 app," explains Thomas. "It's free and provides all of the latest information and updates for the summer season that runs from May 19th through September 1st."
"I was just a kid when Friday After 5 began," relates Brandon Gentry, board chair, "and I have so many great memories of my summers downtown. I never dreamed that it would grow into the region's most successful summer festival."
"No tickets. No wristbands. No kidding," said Chad Day. "We'll have two free photo booths, free balloon animals and popcorn for the kids plus the water balloon and hula hoop contests each Friday.
TD's Tuff Decisions costumes will be providing costume characters each week. "We love this community and providing a way to keep the kids entertained is a way for us to stay active and give back to our beautiful downtown", explained Tom Deyton of TDS.
Teresa Thomas said, "We are proud to have something for everyone at no cost to anyone. We will be part of the Rooster Booster program on May 4th and plan to have a new huge mural up on the east wall of the Owensboro Convention Center all summer courtesy of Greenwell-Chisholm."
The entire line-up is accessible on Friday After 5's website using a PC: FridayAfter5.com. The mobile app is available for both Ios and Android phones.
Friday After 5 is Owensboro's summer-long free music festival that takes place along the six-block riverfront running from the RiverPark Center to the Owensboro Convention Center. The event began twenty years ago in the courtyard of then four-year-old RiverPark Center. The festival has grown to include five venues of entertainment including the RPC patio, courtyard, Cannon Hall as well as a street fair along Veteran's Boulevard, entertainment on the city's "Overlook" as well as the Owensboro Convention Center's "Pier".
The festival has named the "Platinum Reader's Choice Award for Community Event" last year and was named among the "Top 10 Summer Events in Kentucky" by the Kentucky Tourism Council.
All events are free. For more information you may access FridayAfter5.com or contact them via e-mail at [email protected].