Owensboro Public Schools are celebrating the 18th Anniversary of the OPS Fine Arts Festival at the RiverPark Center beginning March 20 and running through March 30. This annual celebration of creativity in the arts brings over 3,000 student performers together for 7,000 audience members over two weeks of performances.
All performances are free and open to the public and begin at 7 p.m.; doors open at 6:30 p.m. (Visual arts on display in the lobby every day.)
The promotional video above was produced by an OHS student.
"Collectively, 30,000 OPS students have performed on stage or had their artwork exhibited over the past 18 years! To stage evening performances in a professional venue for Orchestra, Choir, Band, Theatre and Dance with over 700 works of Art also on public display is pretty amazing. The commitment from our district that every school is represented and that every child has the opportunity to participate is truly remarkable," said Tom Stites, OPS Fine Arts Coordinator.
Stites estimates audiences have totaled over 100,000 during that 18-year period.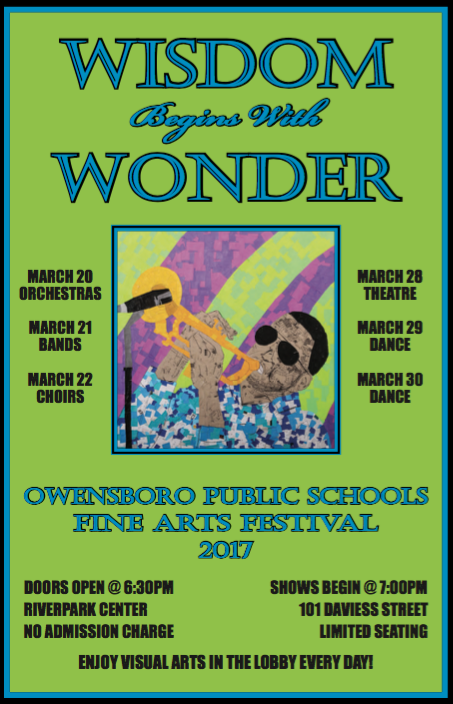 "Our 2017 Fine Arts Festival theme 'Wisdom Begins With Wonder' is a reflection from Socrates on how all real learning (Wisdom) is based upon an awareness of the world around us (Wonder). Socrates valued the arts as a way to gain valuable insight in nature and in all learning," said Stites.
In summer of 2016, the Owensboro Public Schools' Board of Education was given the Award for Excellence by the Kennedy Center and the National School Boards Association.
Performance Schedule:
March 20-30 – Visual Art Display
March 20 – Orchestra
March 21 – Band
March 22 – Choir
March 28 – Theatre
March 29 – Dance Night