My dad taught me to change my own oil when I was a teenager. And I do think there is something manly about changing my own oil, in my own garage, with my own tools.
But he also taught me to work "smarter, not harder."
So when I found out that we (Tanner+West and OwensboroLiving) were getting a visit from On Site Oil Change this morning, I was intrigued. After seeing Michael Liles in action though, I am now a believer. Especially when we got the bill.
While Michael was changing oil in our vehicles, I grabbed a camera and got the inside story on the man behind On Site Oil Change. To keep it neat and speedy for you, like my oil change this morning, I've condensed what we experienced into Four Reasons to Use On Site Oil Change:
1- Convenience. They come to you wherever you are, whether at home or at the office.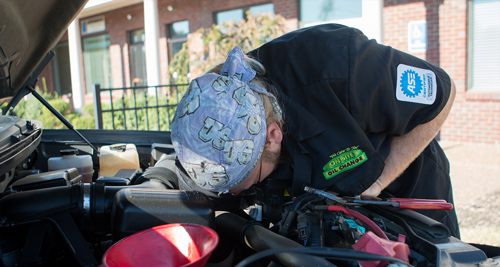 2- It's affordable. Regular $34.95 (including oil & filter), but with a $5 discount special its only $29.95 throughout the rest of September.
3- No mess, no hassle, no worries. Lile's goal is to not leave a drop of oil.
4- More than oil. Michael is an ASE (Automotive Service Excellence) certified automotive technician. He was a mechanic for two years before he and his dad bought On Site, so Michael also does other maintenance and mechanic work like breaks, battery, alternator, power steering, radiator and more.
We were very happy with our service this morning, so we're just trying to spread the word.
To give it a try for yourself, call On Site Oil Change at 270-302-9122 or find them on Facebook.