Photos by Jamie Alexander
For years, real estate agents told us to bake a batch of cookies right before an open house to make homes seem more inviting (and smell amazing). While this sales tactic isn't quite as popular today as it used to be (it turns out, cookies being baked makes people more distracted with sugar cravings instead of paying attention to the home itself), there is still nothing better than the smell of warm cookies filling your home. So if you aren't planning on baking a batch of cookies to help sell your old home, try saving these recipes to christen your brand new kitchen! Your new home will smell amazing, and trust me—you won't want to share these anyway. 
Kentucky Bourbon Brown Butter Pecan Cookies
INGREDIENTS:
2 sticks unsalted butter
2 1/4 cup all-purpose flour (unpacked)
1 tsp salt
1/2 tsp cinnamon
1 tsp baking soda
1 cup brown sugar (packed)
1/2 cup granulated sugar
2 tsp vanilla extract
3 Tbsp KY bourbon
2 large eggs (room temp)
1 1/2 cups chopped pecans (plus pecan halves for decoration, if desired)
10 oz. semi-sweet chocolate or dark chocolate
Optional: pinch of finishing sea salt
INSTRUCTIONS:
1. Optional step: In a large skillet, toss the chopped pecans in 2 tablespoons of butter on medium heat until lightly toasted—let cool before using in recipe. It makes them so much more flavorful!
2. Brown 2 sticks of butter, then let it cool back to room temperature. You can put it in the refrigerator for a couple of hours—make sure the butter has resolidified and is no longer liquid. If you are not familiar with the process of browning butter, there are a lot of easy-to-follow online resources!
3. Once the butter is prepped, preheat oven to 375, and line two large baking sheets with parchment paper
4. Whisk together flour, cinnamon, and baking soda in a bowl, then set aside.
5. Beat browned butter, granulated sugar, and brown sugar in your stand mixer (or a large bowl with handheld mixer) using a paddle attachment for two minutes until the mixture stops crumbling and turns fluffy. Then add vanilla and bourbon and beat until combined.
6. Add one egg at a time—let the mixture fully combine before adding the next egg. Then turn off the mixer and gently fold in the flour mixture until the flour disappears. Fold in chocolate and pecans.
7. Roll dough between your hands to form a ball (fairly big—around 3 tablespoons), then place onto the prepared sheet, about two inches apart. If desired, after the dough is rolled, add a pecan half to the top of the ball.
8. Bake cookies about 9 minutes (look for golden edges—we are aiming for soft middles!). When they come out of the oven, you also have the option to sprinkle with some sea salt as they cool!
Recipe adapted from Baker by Nature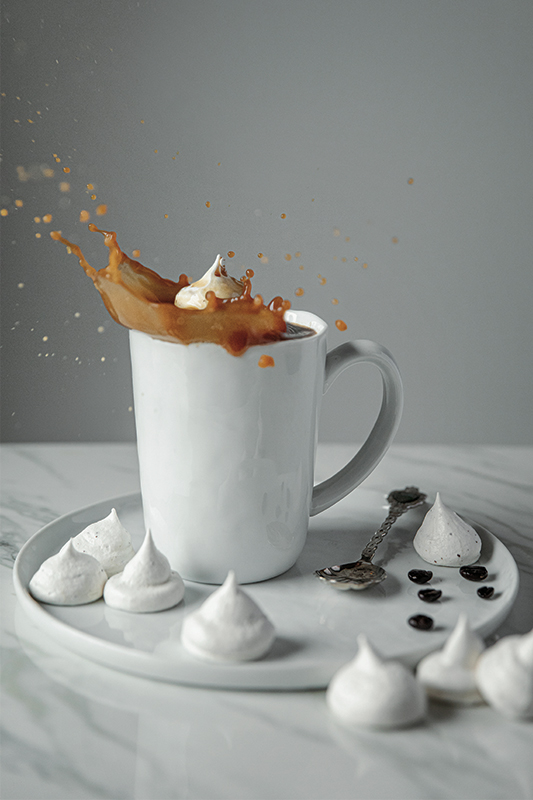 Espresso Meringue Cookies
INGREDIENTS:
2 egg whites (room temperature)
1/3 tsp salt
1/4 tsp cream of tartar
1/2 cup granulated sugar
1/4 tsp espresso powder
1 Tbsp finely grated dark chocolate
INSTRUCTIONS:
1. Preheat oven to 200, and line two large baking sheets with parchment paper
2. Use a whisk attachment in a stand mixer to whip egg whites with salt and cream of tartar until stiff peaks form (this could take around 10 minutes)
3. Once stiff peaks have formed, add sugar in one tablespoon at a time, letting the mixture whip back to stiff peaks in-between each. Once all the sugar has been added, wait until the peaks look glossy (making sure all the sugar is incorporated).
4. Add espresso powder and continue whipping until combined, then gently fold in chocolate shavings.
5. Transfer mixture into pastry bags and pipe the meringue on each baking sheet. Bake for one hour, then turn off the heat, leaving the cookies in the oven as it cools down (2-3 hours or overnight).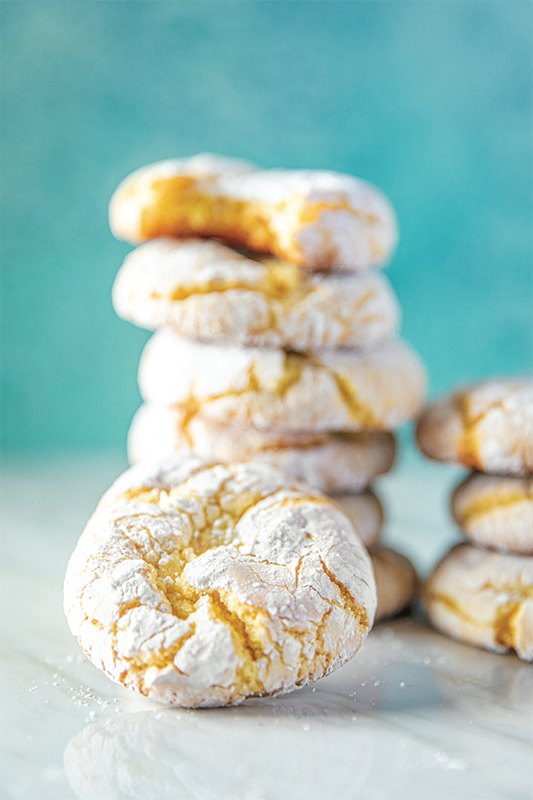 Easy Lemon Cake Mix Cookies
INGREDIENTS:
1 box Lemon Cake mix
2 eggs
1/3 cup vegetable oil
1/2 cup powdered sugar
INSTRUCTIONS:
1. Preheat the oven to 375, and line two large baking sheets with parchment paper
2. Whisk together cake mix, oil, and eggs until combined. Place powdered sugar in a separate bowl.
3. Roll dough between your hands to form a ball (around 2 tablespoons). If dough is too runny/sticky, place in the freezer for about 10 minutes (or longer if still sticky). You can also use shortening on your hands if this doesn't help. Roll each ball in the bowl of powdered sugar before placing on the prepared baking sheet.
4. Bake for 7-9 minutes (until golden around the edges).