The City of Owensboro, Daviess County Fiscal Court, Greater Owensboro Chamber of Commerce, and Greater Owensboro Economic Development Corporation released the 2016-2017 Community Priorities List today at a press conference held inside the Wendell H. Ford Government Education Center at the Owensboro Museum of Science and History.
The Community Priorities were developed based upon a series of meetings over the past year including a public forum, input from elected officials, a Chamber of Commerce membership survey and  input from the Board of Directors from both the Chamber and EDC.
That collaborative effort has been going on since last April, Greater Owensboro Chamber of Commerce President and CEO, Candance Castlen Brake, said.
The Community Priorities were developed to illustrate the important Transportation and Capital Projects needed in Owensboro during the General Assembly session in Frankfort. The list was compiled in an effort for the community to send a clear and unified message.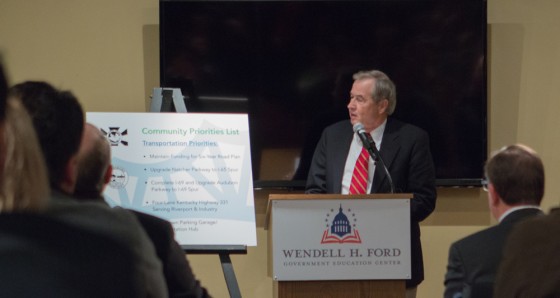 "When we speak with one voice, we make progress," Mayor Ron Payne said, explaining the importance of sending a consistent message to Frankfort.
The list is printed on both sides of a small card, which can be passed out like a business card.
County Commissioner Charlie Castlen encouraged all Owensboro and Daviess County residents to hand the cards to elected officials.  
One side of the card lists Capital Priorities:
First Family Court Judge
Family Residency Program at Owensboro Health
Downtown Development Plan: Phase 2
New Judicial Center
The other side of the card lists Transportation Priorities:
Maintain Funding for Six-year Road Plan
Upgrade Natcher Parkway to I-65 Spur
Complete I-69 and Upgrade Audubon Parkway to I-69 Spur
Four-lane Kentucky Highway 331 serving Riverport & Industy (Industrial Drive)
Downtown Parking Garage / Transportation Hub
According to Mayor Payne, the interstate spurs are going to happen. "We have the support, it's just a matter of time," he said.
Greater Owensboro Economic Development Corporation President and CEO, Madison Silvert, commented that several of the projects listed on the previous Community Priorities list have been checked off. "We hope to see as many of these checked off the list as possible by the next time we make these priorities again," he said.
The Community Priority Cards can be picked up at the Chamber of Commerce or GO-EDC offices, 200 E 3rd Street.