A few years ago, many Owensboro residents tuned in to NBC's "The Sing-Off" to cheer for Owensboro native, Kevin Olusola, 23, a competitor on the a cappella singing competition show. Olusola's group, Pentatonix, won the show and are now signed to Sony/Epic Records. Owensboro Parent sat down with Olusola to ask him about his fame, his talent and his Owensboro roots.
Can you give us a little background on your accomplishments?
Sure! I started playing cello and saxophone when I was young, and I was fortunate enough to be recognized on the national level on those instruments via national competitions, PBS, NBC's "Today" Show, NPR and others. When I started college at Yale, I was mainly an East Asian Studies major and pre-med student wanting to go to medical school. Yet, after opening for KRS-One and winning second place in a competition hosted by Yo-Yo Ma in my junior year, I felt moved to pursue music.
I lived in China for a year and a half, studying Chinese on a Yale Fellowship and performed on Chinese TV. I also hosted a TV show in China and did a lot of cultural diplomacy work through the US Embassy in Beijing. Those experiences gave me more confidence to pursue the entertainment business. In April of my senior year, I posted a video of me celloboxing (playing cello and beatboxing simultaneously) a piece by Mark Summers called "Julie-O", which went viral (now has approx. 1.3 millions views). From that, I was called by Gungor to go on tour with them and the David Crowder Band, in addition to audition with three singers from Texas and bass singer from central California for NBC's "The Sing-Off." Turns out this group, Pentatonix, won the show, and now we're signed to Sony/Epic Records!
When and how did you begin playing the cello?
I started playing cello when I was 6 years old. My sister started taking violin lessons from a woman named Dr. Mack, who was actually a cellist. She offered to give me lessons, but I didn't want to try it. I didn't know what it was, and I thought the saxophone was a cooler instrument since Bill Clinton played it. However, she gave me a small cello, and started giving me lessons. Mom said she'd stop the lessons when I said "nope, I'm done." Six months went by… I didn't say anything. A year went by, I didn't say anything… 5 years… 10 years… and here I am today, and I still haven't told my parents, "nope, I'm done."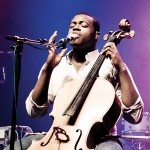 How did you develop your style?
That's an interesting question! Let me start off by saying I never knew I wanted to be a musician when I was a student. I wasn't one of those pre-college, conservatory-trained students who practiced three to four hours a day consistently on one style or on one instrument. I played multiple instruments, and did activities like jazz band, marching band, Christian fellowship worship band, etc., and I beatboxed for fun! I think this is fundamental to answering this question because I wasn't constricted to just one thing. I listened to everything and tried everything! Nobody told me that the cello was only made for classical music, which I think was the initial point. I learned licks and styles of playing from performing on my saxophone and piano, and transfered that to my cello. And then the beatboxing and cello combination just kinda happened naturally from my own curiosity. Now that I do want to be an artist, my work is more concentrated on trying to sound like who I want to be. So, my word of advice: try everything. Play everything. You'll never know what you'll learn.
How did your parents contribute to your success?
My dad is a psychiatrist from Nigeria, and my mother is a nurse from the island of Grenada. They sacrificed everything to make sure I had opportunities to do what I wanted to the fullest. They always pushed values of working efficiently in everything I did, whether it was academia or music. I especially got inspired when they told me some of the trials they went through in order to survive and make a living for themselves. I think their influence has been instrumental in why I've been able to accomplish so much at 23 years old.
Were they a significant part of your decision to pursue music?
No and yes. I made the decision to pursue music on my own. My parents didn't agree with me at first because doing music is the risky path that may not lead anywhere. I think this is something that many children of immigrant parents go through. But once I started getting awards in college and had the viral video, that's when they became excited in me pursuing music as my career. Now there are times where I think they are more excited than I am!
When was your talent recognized?
My parents realized I had talent from about 6 months old to 2 years old when I was playing simple songs on the piano, and so they began nurturing it with piano, sax and cello lessons. What a time! It was a period where I could play for fun, without any pressure from anybody.
How did you feel about your success on The Sing Off?
I'm so excited to have won with my group Pentatonix! It came with a lot of hard work. The one thing I learned from it all is that in the entertainment industry, you must be resilient, tenacious and you must go for the goal with everything you have and never look back. Now, we're doing what we love and are trying to make a cappella fun for everyone to enjoy!
Did your parents watch you on the show? Any fun stories about their support?
My parents did watch the show! They were rooting the whole way for Pentatonix! They came out to Los Angeles to watch the finale and were so excited that I won (although I think my Dad was a little bit more anxious about giving me his iPhone 4 so that he could start using his new iPhone 4S!).
Are you proud of your world-wide success as an artist, coming from a small town like Owensboro?
I am thankful that I've been able to be a blessing to so many people, but I am more thankful to the place that has been a blessing to me, Owensboro. It is where I had my beginnings, and it was there that people gave me a chance to explore. They taught me to believe in myself and whatever I've been given, and fostered a seed in me to truthfully realize that anything is possible. Now that I'm making entertainment my career, I want to make my friends and family in Owensboro very proud.
What advice do you have for other kids that want to pursue their dreams?
Someone very successful once told me, "you can have all the success in the world, but be humble." I am always trying to keep that in the back of my mind. Work extremely hard, but as you continue to rise up the ladder, never forget your roots or where you came from or the people that helped you along the way. Humility takes people the farthest.