Highland Elementary School was full of caps (for a cure) today in support of juvenile diabetes.
The school has rallied around second-grade students Brennan Faught, 9, and Macy Roberts, 8, who both have Type 1 Diabetes, to raise money for Juvenile Diabetes Research Foundation (JDRF). For a $1 donation, students earned a chance every day this week to win Holiday World tickets, t-shirts, WalMart gift cards, and lokai bracelets.
Staff can also donate $15 for a "dress down day" until the end of the school year.
Several students and staff have also purchased blue "Macy's Squad" or "Brennan's Dojang" t-shirts to participate in the JDRF walk May 15 at Holiday World. Their goal is to raise $10,000 for JDRF, Macy's dad, Gavin Roberts, said. "We started out with a goal of $5,000, but we already hit that, so we've bumped it up to $10,000."
"We (Highland) are trying to help them meet that goal," said Carrie Munsey, HES Assistant Principal.
Today was "Caps for a Cure" day, where students were invited to wear their favorite hat to school. Macy and Brennan pulled today's winning names out of the box during a pep rally, where the grand total raised was announced. The pep rally also served as encouragement for students to give a "good faith effort" for next week's assessments.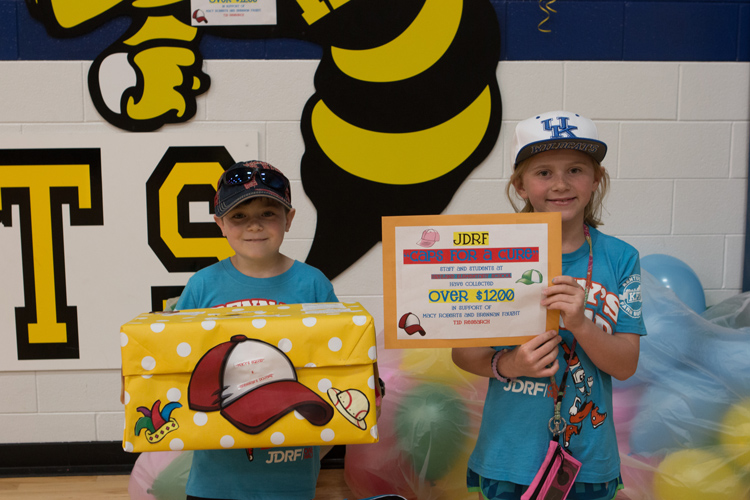 Altogether, HES students and staff raised over $1,200 for JDRF this week and donations are still coming in. "We expect more donations to come in next week as well," Munsey said.
According to JDRF, Type 1 diabetes causes a person's body to stop producing insulin, a hormone that provides energy to the body. Approximately 200,000 children in the U.S. have been diagnosed with T1D, which can strike people of any age. The foundation's goal is to "turn Type One into Type None."