The Student Lighthouse Team at East View Elementary School recently completed a "Buddy Bench" to place on their school playground.
The Buddy Bench is designed to promote inclusion and friendship. Students who are new to the school, students whose friends may not be at school on a particular day, students who want to play something other than what their friends are playing or any child who just wants to make new friends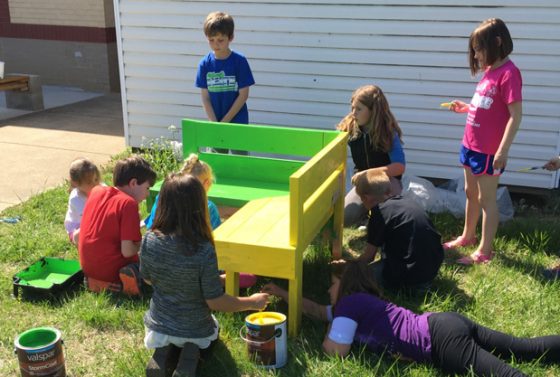 and meet children outside their regular circle of friends are encouraged to sit on the Buddy Bench, and other students will join them there to make new connections and forge new friendships.
EVES guidance counselor LeVon Cozart said, "This is a way to give students a safe place to eliminate loneliness and foster friendships."
EVES students have embraced the spirit of the Buddy Bench. Two students shared the following stories about their experiences:
Ethan Payne – "The Buddy Bench is great! When I don't have a friend, I sit there. One time a friend came over and invited me to a party they were having. I went!"
Cassidy Plain – "The Buddy Bench really works! Sometimes I sit there and just wait for someone that may be embarrassed to sit there but doesn't have a friend. They have come up to me and then we play!"
Materials for this project were generously donated by Lowe's Home Improvement. A parent volunteer built the bench and the EVES Lighthouse Team painted it in school colors.