Thanks to a partnership with Brescia University announced this morning, Owensboro Innovation Academy (OIA) students can earn an Associate Degree from Brescia while still in high school. Incoming junior class at OIA can begin taking courses at Brescia this fall.
Options include:
Associate of Arts in Integrated Studies
Associate of Science in Integrated Studies
Associate of Science in Health Science
Associate of Science in Engineering Studies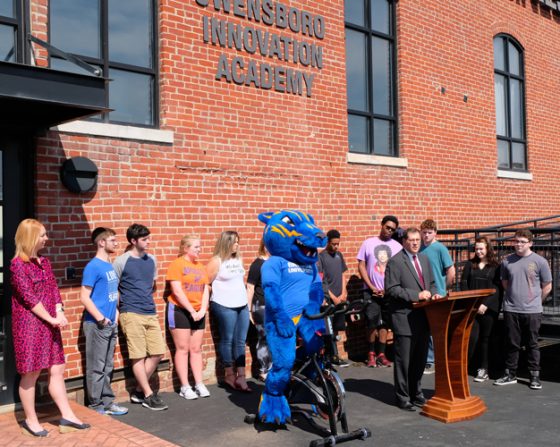 "At just $90 a class, this gives our students an incredible opportunity to further their education.  We cannot thank Brescia enough for offering this prospect for our students," said Dr. Nick Brake, OPS Superintendent.
"When the Owensboro Innovation Academy presented this partnership to us, we felt it to be a perfect fit. Our institutions share the same intimate, one-on-one learning experience that caters to the educational needs of each student," stated Father Larry Hostetter, President of Brescia University. "We admire the innovative educational approach that OIA provides students, and we are honored to be an extension of that educational experience.  By taking classes at Brescia University, our hope is that the students at OIA will benefit from direct learning at the collegiate academic level that will allow them to seamlessly transition into college and find success in their lives," added Father Larry.
The partnership will also allow all OIA students to use the new health complex that is currently under construction at Brescia."Our students will get to use brand new facilities as part of a comprehensive wellness plan for each student.  This ensures that our students are not only getting a quality education in STEM fields, but will hopefully improve their overall health," said Beth Benjamin, OIA principal.
"From day one, Brescia has opened its doors to OIA students and staff to offer unique spaces for different learning activities.  This exciting announcement is another example of two education entities working together to produce the best options for the students of our shared community," said Owens Saylor, DCPS Superintendent.
Brescia will also allow OIA to use some of its chemistry lab space making it easier to offer more science classes.
"Right now we are meeting with Brescia leaders and are hammering out all of the details of the new opportunity.  We will host a parent information night on May 22 at 6 p.m. at OIA to let parents and students know what the next steps are to starting their degree," added Benjamin.