Brescia University held its annual Honors Convocation on Sunday, April 25th to celebrate the academic achievements of its students and awarded a number of honors, scholarships and other recognition.
Brescia University alumna Trasey Holloway Falcone, DO '05 was the featured speaker and addressed the students, giving them pointers for being successful as student leaders and as graduates, including surrounding themselves with people who make them a better version of themselves.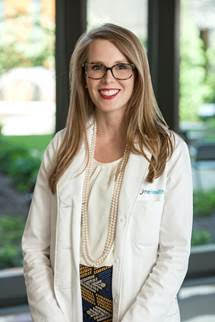 "All experiences that you've collected are just little pieces of your puzzle and tokens that other people are putting pieces in your life's puzzle as well," Falcone said. "I pray that your lives flourish as you pursue your distinct paths."
Falcone attended Brescia University and was a member of the Lady Bearcats Softball team. She graduated in 2005 Magna Cum Laude with a bachelors in science. She received her degree as doctor of osteopathic medicine in 2009 from Lake Erie College of Osteopathic Medicine (LECOM) in Bradenton, Florida.
From there she started residency training at the University of Pittsburgh Medical Center in Pittsburgh, PA in the field of Physical Medicine and Rehabilitation (PM&R). Upon residency graduation in 2013 she began work at Owensboro Health as the Medical Director of the acute inpatient rehab unit as well as the outpatient Comprehensive Outpatient Rehabilitation Facility (CORF). She continues her position at Owensboro health today.
The following students received honors at the event:
Scholarships
Leah Armstrong, Bowling Green – St. Mary Carmel Browning Literature Scholarship
Tonice Banks, Radcliff – Lincoln Service Business Scholarship and Gruelich Scholarship
Cheyenne Bennett, Utica – Margarite Hawkett Art Scholarship and Theophilia Joan oexmann Art Show Award for Stained Glass
Reagan Calloway, Whitesville – Phillip Hayden Memorial Scholarship
Shaun Conklin, Owensboro – Sr. Mary Jean Cotter Art Scholarship; Theophilia Joan Oexmann Art Show Award for Ceramics and Photography
Karyssa Creager, Clarksville, OH – Phillip Hayden Memorial Scholarship
Devin Ford, Philpot, Gary Karr – Music Scholarship
Whitney Galloway, Owensboro, William M. Elmer Business Scholarship
Kassi Gilbert, Lebanon Junction, Sr. Casimir Czurles Biology Scholarship; Theodore Swigert Carlisle Chemistry Scholarship; and St. Catherine Award for Student Athletes
Katilyn Hamilton, Madisonville, Sr. Sharon Sullivan Education Scholarship
Adam Hayden, Maceo, Robert McDowell Scholarship
Makenzie Jackson, Owensboro, August C. Muckler Education Scholarship; Owensboro Civitan Jack Keeney Education Scholarship
Marla Lanham Phillips, Owensboro, J.B. Hocker Good Government Scholarship
Sara Lewis, Lewisport, Bill & Jacinta Garinger Scholarship and Alpha Chi New Member
Taylor Love, Hartford, John D. & Anna Marie Byrne Family Education Scholarship
Antonio Figueroa-Martinez, Goodlettsville, TN, Florence Henderson Music Scholarship
Angela Kurz, Owensboro, Charles E. Field Business Scholarship
Audrey McIntosh, Owensboro, Sr. Irene Hayden Music Scholarship
Taylor Noble, Lewisport, Geoffrey Ferry Scholarship and Freshman Mathematics Award
Mallorie Polston, Utica, Suzetta Ebelhar Education Scholarship
Lauren Reynolds, Fordsville, Florence Henderson Music Scholarship
Cameron Robinson, White Plains, Delbert S. Murphy Alumni Scholarship
Mateo Ruales, Brazil, Sr. Alberta Birkhead Memorial Business Scholarship
Morgan Thomas, Owensboro, Virginia Stout Fitzgerald Endowed Scholarship
Autumn Tonkins, Evansville, IN, Sr. Robert Irene Golden Art Scholarship and Theophilia Joan
Oexmann Art Show Award for Sculpture
Teresa Whitten, Owensboro, Phillip Hayden Memorial Scholarship
Awards
Preye Agbana, Nigeria, High Scholastic Achievement; Fred J. Clements Honors Award for Science; and St. Sebastian Award for Student Athletes
Millicent Akere, Nigeria, High Scholastic Achievement; Outstanding Student in Mathematics and Alpha Chi Leadership
Jerabai Andrew-JaJa, Nigeria, Theophilia Joan Oexmann Art Show Award for Drawing and Best in Show; and Alpha Chi Leadership
Dakota Barron, Manhattan, KS, Outstanding Achievement in Computer Science Award and Outstanding First Year Advocate Award
John Bolin, Lewisport, Theophilia Joan Oexmann Art Show Award for Watercolor, Printmaking & Juror's Choice
Jonathan Brey, Philpot, High Scholastic Achievement
Olivia Conder, Philpot, Theophilia Joan Oexmann Art Show Award for Painting
Jacob Fischer, Owensboro, LaVega Clements History Award
Hadley Fitzgerald Boaz, Owensboro, Outstanding Middle School Clinical Practice Candidate
Hunter Gaddis, Owensboro, Outstanding First Year Computer Science Student Award
Danielle Hancock, Owensboro, Outstanding Service Award in the Biology Area
Nathan Huff, Philpot, Theophilia Joan Oexmann Art Show Award for Digital Art
Daniel Matthew Lageman, Union, Maggie Clements Religious Studies Award
Dulce Lopez, San Diego, CA, Outstanding MSW Field Practicum Student
Marissa Meader, Friendswood, TX, High Scholastic Achievement
Tami Moreno, Ann Arbor, MI, Outstanding Bachelors of Social Work Student
Alanna Mudd, Caneyville, Sr. George Ann Cecil Leadership Award for Excellence in the Field of Education
Shelby Nelson, Nolensville, TN, High Scholastic Achievement; Honors College Graduate; Outstanding Achievement in Speech Pathology and Audiology; and Alpha Chi Leadership
Yasmani Ochoa, Lewisport, Sr. Michelle Morek Award for Outstanding Senior in Biology
Joan Radford, Idaho Falls, ID, High Scholastic Achievement
Andrew Robert, Utica, Outstanding Accounting Student and Alpha Chi Leadership
Lauren Rodgers, Henderson, Special Recognition in the Biology Area
Victoria Shaffer, Owensboro, Outstanding Achievement in Spanish
Samantha Steckler, Leopold, IN, Outstanding Business Student
Rachel Tanner, Owensboro, Certification in Public Child Welfare in the Commonwealth of Kentucky
Tonya Tivitt, Hardinsburg, Computer Science Sportsman Award
Sophia Walker, Hartwell, GA, High Scholastic Achievement
Josh Wetzel, Metropolis, IL, Institute of Management Accountants Honors Award
Laurie White, Anthem, AZ, Outstanding BSW Field Practicum Student
Honors College Graduates
Jessica Burk, Hawesville
Kumari Logan, Radcliff
Shelby Nelson, Nolensville, TN
Savannah Stivers, Maysville, IN
Student Athletes
Jose Alcazar, Malaga, St. Sebastian Award for Student Athletes
Haley Coons, Owensboro, St. Catherine Award for Student Athletes
Nickole Durbin, Mascoutah, IL, St. Catherine Award for Student Athletes; Alpha Chi Leadership; and Alpha Chi New Member
Courtney Klueppel, Eddyville, St. Catherine Award for Student Athletes
Chase McCauley, Louisville, St. Sebastian Award for Student Athletes
Justin Roberts, Mayfield, St. Sebastian Award for Student Athletes
Jayde Robinson, Elkton, St. Catherine Award for Student Athletes
Jennie Satterfield, Owensboro, St. Catherine Award for Student Athletes
Zachary Scheid, Washington, IN, St. Sebastian Award for Student Athletes
Brandon Stacker, Bowling Green, St. Sebastian Award for Student Athletes
Naruemon Wiriyachon, Prince Frederick, MD, St. Catherine Award for Student Athletes
Alpha Chi
Jamie Chowning, Louisville
Cynthia Foote, Wetumpka, AL
Chemika Green, Tupelo, MS
Keeley Kooken, Monroe, GA
Angela Kurz, Owensboro
Deborah Ogulu, Nigeria
Courtney Onwuzuruigbo, Forestdale, MA
Deborah Sanchez, Lindale, TX
Erin Ticarat, Olivehurst, CA
Stephanie Wall, Owensboro
Phi Alpha Honor Society of Social Work
Amy Bassett, Henderon
Dawn Batten, Fresno, CA
Tiffany Berg, Chippewa Falls, WI
Terina Buentello, Austin, TX
Jessica Castillo, Winnetka, CA
Jeanne Etheridge, Kennesaw, GA
Tammera Ferguson, Seatac, WA
Sarah Funk, Luck, WI
Rachel Gorlitz, Battle Creek, MI
Pamela Hammon, Sacramento, CA
Elandis Hardy, Vincent, AL
Jaimie Harlow, Wethersfield, CT
Michele Herrington, Monroe Township, NJ
Ashley Sanchez, Universal City, TX
Tynan Ipaye, Charlotte, NC
Michele Johnston, Pensacola, FL
Christina Kirkland, Huntsville, AL
Jenifer McLuskie, Herndon, VA
Julie Miller, Fayetteville, TN
Jennifer Monier, Inverness, FL
Jessica Seabolt, Blairsville, GA
Molly Steinseifer, Marquette Heights, IL
Natasha Tackett, Pikeville
Sara Tear, Kasson, MN